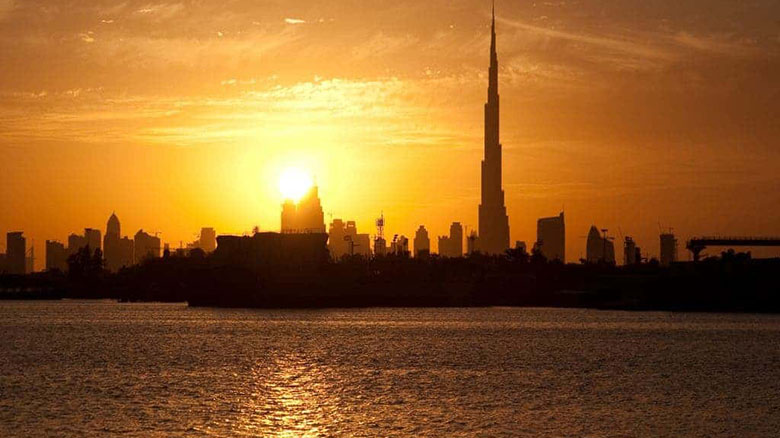 The state-run Dubai Electricity and Water Authority (DEWA) has been showcasing the construction progress of its first solar thermal power tower.
The 100MW project will use Concentrated Solar Power (CSP) to heat molten salt at the top of the 260-meter tower. The residual heat of the salt will be capable of generating power for 15 hours even once the sun has gone down.
The installation is part of the fourth phase of the, which combines several phases of more conventional photovoltaic (PV) electricity generation and two different solar thermal technology. A further 600MW is being added using parabolic trough technology which heats a tube of fluid flowing along the focal point of the trough. Another 250MW of PV capacity is also being added.
The contract for the 700MW of combined solar thermal power is 7.3 cents per kWh, the lowest achieved worldwide for this class of generation. The PV portion notched up a joint record low of 2.4 cents per kWh.
The fourth phase, Noor Energy 1, is being developed by a consortium of DEWA, Saudi Arabia's ACWA Power and China's Silk Road Fund.
Progress on the tower including the leveling and foundations for the project was summarized by HE Saeed Mohammed Al Tayer, managing director and CEO of DEWA during a visit to the desert site. A total of 128 piles have been set in place. The entire park will reach 5GW once it is complete in 2030.
Summer temperatures in Dubai remain as high as 29 degrees Celsius overnight meaning that a load created by air conditioning remains. This makes the 15-hour storage capability even more valuable. A similar power tower project completed in Morocco in 2016 only has a storage capacity of three hours. Phases two and three managed a seven-hour stint. At the Dubai's latitude, a longer period is required to bridge the long nights. Even on the longest day in Dubai in 2018, there were more than ten hours of darkness.
Other energy storage options struggle to hold their output for such long durations. Lithium-ion batteries can typically perform at a MW-scale for 30 minutes to three hours. Flow batteries can do more than four hours. Hydropower options are limited although a 250MW project is in development on the border of Oman and the UAE. It will be the first in the Gulf.
The next landmark for the $13.6 billion solar park is the completion of the 800MW third phase, which is entirely PV-based, expected in 2020. The first batch of 200MW is up and running.
I am the head of content at Solar Media, a publishing and events company rooted in solar, energy storage and the technologies and business models driving us towards low carbon power. I oversee our flagship solar energy news site PV-Tech.org. I have spent the majority of my career covering climate change politics, clean tech manufacturing, investment and the companies delivering our future power systems.
Read more:
Source: Forbes.com