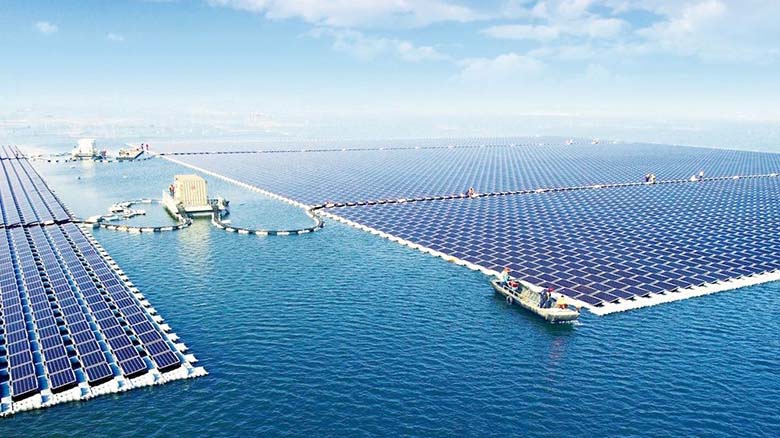 The new hot trend in renewable energy technologies seems to be to test whether it will float, and a new report from the World Bank published last week revealed that there is currently 1.1 gigawatt (GW) worth of floating solar around the globe and that the market could potentially support up to 400 GW worth of total capacity.
We have been hearing about floating solar projects for a while now — and they have become particularly popular in Asia, where the local topography is more likely to provide ideal locations for the combination of water and solar. According to the new report published by the World Bank, Where Sun Meets Water, floating solar is "particularly promising" for the fast-growing economies of Asia, and interest has been high in places like China, India, and Southeast Asia.
According to the report, "capacity for floating solar is growing exponentially" — a fact borne out by the figures; specifically, at the end of 2014, total global floating solar capacity had only reached 10 megawatts (MW), but as of September 2018, that figure had increased more than 100-fold to 1.1 GW.
Current capacity is not the only bright spot from the floating solar sector, according to the report, which estimates that the sector could potentially support 400 GW worth of total capacity. More specifically, this is referring to conservative estimates of floating solar's global potential when installed on man-made water surfaces — although, such reservoirs total more than 400,000 square kilometers, so the high-end of potential enters the terawatt scale.
"Floating solar passing the 1 GW milestone is very impressive, considering it came from just 10 MW in 2014," explained Kristina Thoring, the Communications Director at SolarPower Europe. "It is now a proven market sector and we expect to see many more floating solar projects in Europe and the world in the coming years."
In addition to providing renewable energy generation, floating solar has the added benefit of working well with other projects — be they hydropower projects or agricultural systems. The report also outlines the regional potential, which is primarily led by North America, followed by the Middle East & Asia, and Africa.
Peak capacity and energy generation potential of floating solar on freshwater man-made reservoirs, by continent
I asked SolarPower Europe's Kristina Thoring what she thought of the potential for floating solar in Europe. According to the report, Europe is on the smaller scale of available surface area and potential capacity, but Thoring was nevertheless up-beat about the potential.
"There is huge potential for floating solar in Europe," she said.
"Already in 2016, Lightsource Renewable Energy completed and connected Europe's largest floating solar farm (6.3MW installation) on the surface of the Queen Elizabeth the Second reservoir just outside of London. Several large and small-sized floating solar projects have recently been announced across Europe. In the Netherlands, the Lingewaard floating solar park will begin producing energy this year and supply clean energy to up to 600 homes. In France, the French power producer Akuo Energy is planning to deploy a 17 MW floating PV power plant in Piolenc, Vaucluse, southeast France. Similarly, in Belgium, the Flemish government has announced that they will support a pilot floating solar project on lakes or ponds that are not being utilised for other purposes. In Portugal, there are plans for a hybrid hydro-solar project which involves installing floating solar panels on a reservoir to supplement an existing hydro plant.
"This is only the beginning for floating solar in Europe. It is a perfect solution for countries with restricted land areas or underutilised areas, such as dam reservoirs, to become solar power-generating stations." – Thoring
In the end, I think it is probably best that we didn't get around to testing if power sources would float while we were haring down the coal and nuclear rabbit holes.
Read more:
Source: Cleantechnica.com