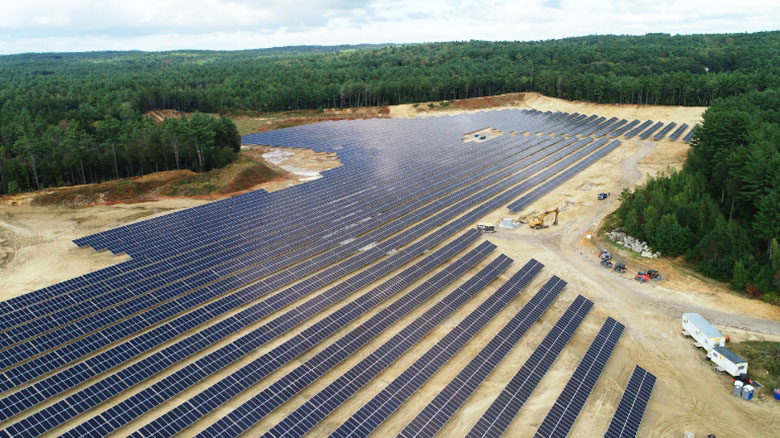 The largest community solar and energy storage installation in Massachusetts is now open for business. The 7.1 MW Happy Hollow Community Solar + Storage Farm is built at the site of a former gravel pit in Winchendon, a town in central Massachusetts, and includes 3.3 MWh of battery storage.
The project is owned by SunRaise Investments. It was developed and constructed by Borrego Solar with CleanChoice Energy acting as the manager for subscriber services, which include acquisition, management, customer care, billing, and customer retention.
"SunRaise is excited to bring the benefits of solar energy to hundreds of community members and to utilize one of the first large scale solar plus storage systems in New England," said Pat Jackson, senior vice president of business development at SunRaise, a commercial solar energy owner, operator, and development group. SunRaise helps municipalities, schools, and community members to finance solar energy projects which reduce customers' electricity costs, provide educational and community engagement, and transition our region to a low-carbon economy. It specializes in being a one stop source for guiding property owners through the permitting, interconnection, construction, financing needed to make new solar energy projects possible.
"Lease your land or roof and receive long-term predictable revenue from SunRaise. We develop projects on farm land, roof tops, landfills, gravel pits, parking lot canopies, industrial sites, forested land and more. We invest in these solar projects so our electricity consumers don't have to pay the upfront cost of solar. Instead, we provide consumers with a low, stable electricity rate, significant savings, and environmental leadership," the company says.
The Happy Hollow facility is expected to generate 9,000,000 kWh of electricity each year — enough energy to power 1,200 average Massachusetts homes for a year, according to Solar Power World. Best of all, those who participate in the new community solar project can expect to see up to a 10% reduction in their utility bills. Community solar is ideal for those who either do not own their own home or who have a roof that is not suitable for solar panels. There are no application, installation, or account set up fees that subscribers have to pay.
"We're proud to be part of this innovative community solar plus storage farm. This project provides people the opportunity to support clean energy innovation, while reducing their climate impact and saving money on their energy bills," said Tom Matzzie, CEO of CleanChoice Energy. "Massachusetts continues to be a clean energy leader and this solar farm is a prime example of that leadership delivering benefits to the community."
Source: Cleantechnica.com