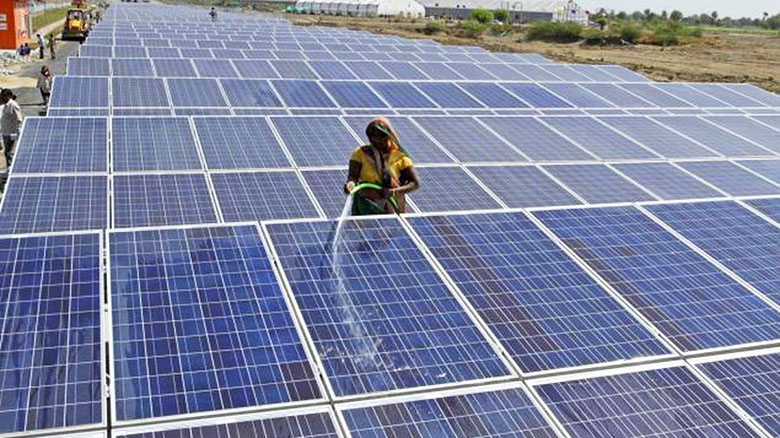 Figures released by the Central Electricity Authority today show that the Indian solar energy sector crossed a milestone in January – generating over 10 billion units of electricity for the first time.
In the April 2016-Januray 2017 period, solar power plants in India generated more than 10,565 million kWhr of electricity—roughly twice (5,726 million kWhr) as much as it did in the corresponding period of last year, albeit on a higher installed capacity base.
It is pertinent to mention that the installed capacity of solar also crossed the 10,000 MW mark in January, and amounted to a fifth of the total renewable energy capacity in India, which, incidentally, also crossed the milestone of 50,000 MW in January.
But in the context of overall power generation in the country, which amounted to 1,038 billion kWhr in April '16 – January '17, solar's contribution was just a little above one per cent.
Wind power sector, which has 30,000 MW of capacity standing on Indian soil, produced 41,159 million units.
On the overall, the renewable energy sector, comprising mainly wind and solar but also a little of small hydro and biomass, generated 70 billion units of electricity—contributing 7 per cent to the country's total generation. Electricity generation from this sector grew 26.31 per cent, compared with the first ten months of last year.
Thermal power continues to dominate the country's energy sector, growing 31 per cent in terms of generation (968 billion units.)
India has total electricity generation capacity of 315,426 MW, of which 189,048 MW is coal-fired. Another 25,329 MW of natural gas fired plants also come under 'thermal'. Hydro capacity of 44,413 MW and nuclear of 5,780 MW come only after renewable energy's 50,018 MW.
It is also noteworthy that the 12th Plan target for power capacity addition of 88,537 MW has already been met—achievement in the Plan period, which ends this month, stood in January at 94,689 MW.
Read more:
Source: Thehindubusinessline.com