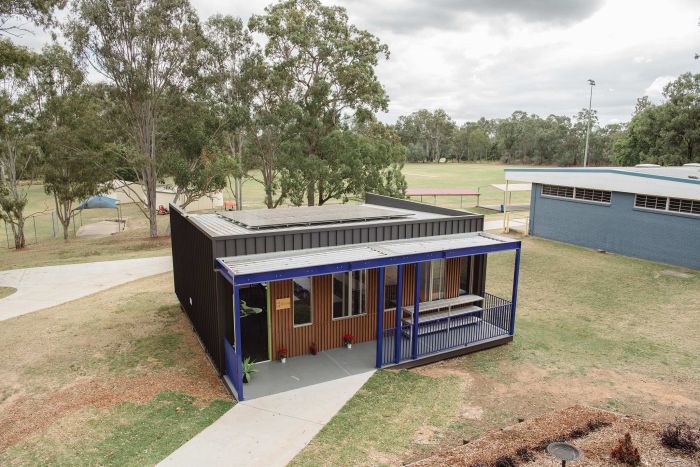 A Brisbane school has gone "off grid", becoming the first in Australia to rely entirely on renewables to power a classroom around the clock, according to the Australian Government.
Technology start-up Hivve Technology has been trialling the use of rooftop solar panels and a Tesla Powerwall battery system at Bracken Ridge State High School for the past five months.
Hivve executive director David Wrench said in that time, the off-grid classroom has been entirely energy self-sufficient, even on cloudy days.
"The lowest the battery has ever got to is around 70 per cent capacity and we've had some pretty overcast and rainy conditions over the past few weeks," he said.
The one classroom is expected to save the school around $3,000 a year in power bills, and Mr Wrench said the upfront costs also proved cheaper than connecting to the grid.
"This classroom has no power bills because it's completely off-grid," Mr Wrench said.
"In fact, the cost of the solar and battery system was lower than the cost of connecting it to the grid."
The company is also trialling off-grid classrooms in New South Wales — a project made possible with a $370,000 grant from the Australian Renewable Energy Agency (ARENA).
The Coalition has previously tried to axe ARENA, and Energy Minister Angus Taylor is known to be lukewarm on renewable technologies.
PHOTO: Hivve have trialled the classroom at Bracken Ridge State High School for the past five months. (Supplied: Australian Government )
But Mr Wrench — who will be launching the pilot classroom in Brisbane with Mr Taylor today — said the project proved renewables can be "cheaper than the alternative".
"I think that meets both objectives; low-cost power and having power on a sustainable basis," he said.
ARENA chief executive officer Darren Miller said the successful trials would pave the way for the technology to be rolled out at other schools across the country.
"Many schools on the eastern seaboard are currently at capacity on-grid connection," he said in a statement.
"This Australian-developed solution could help schools reduce costs and emissions, while also reducing reliance and demand on the grid."
Source: ABC.net.au