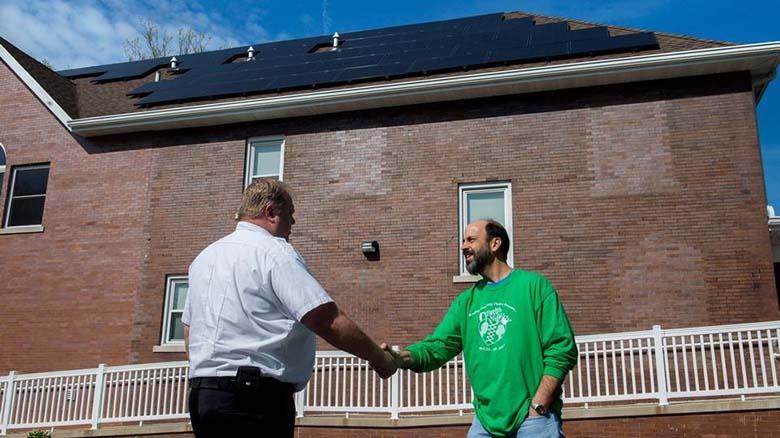 PEORIA — Solar panels were installed on the Bradley Hillel House roof in February, which means clean energy and an estimated savings of $55,000 in utilities over 25 years.
This is only the third Hillel in the United States and the first in the Midwest to run on solar energy. This carbon-free solution is powered by 47 panels that span across the south and east portions of the roof, providing almost all of the building's power. Hillel worked with Hawk Energy Solutions to develop the project and to find a way to finance it.
The project ended up being funded through a partnership between Hillel and investment company Hawk-Atollo LLC. They entered into a power purchase agreement, and Hawk-Atollo owns the panels for six years. That is how much time is needed for the investment company to actualize tax incentives and the renewable energy credits. This way, it is a profitable investment for Hawk-Atollo and Hillel gets the solar project for a 60 percent-reduced price.
Hillel is an international Jewish campus organization. The installation of solar panels distinctly matches up with Jewish values, said Seth Katz, Bradley Hillel executive director. Before the solar panels, Bradley Hillel had already implemented many green practices such as high standard insulation, high efficiency appliances, five-zone heating and cooling, on-demand hot water and using as few throwaways as possible.
"The idea in Judaism is that God has given us stewardship of the earth, and we are to treat it responsibly," Katz said. "So going green is sort of a contemporary way of doing that."
Because there are no moving parts, the panels need little to no maintenance and will actually extend the life of the roof. The panels are warranted to last for 25 years. They will lose efficiency over time, about half a percent every five years, said Kiersten Sheets, an energy solutions implementer at Ruyle Mechanical Services Inc., which installed the panels. The panels could make electricity for 30 to 40 years, though.
The solar panels were Bradley Hillel Corporate Board President Yona Lunken's pet project for one-and-a-half to two years. The Hillel board gave him the go-ahead for the project but stipulated he could not spend any of Hillel's money. So Lunken, who is also president of solar panel seller and installer Solar Harvest, paid for Hillel's portion of the project himself.
"The students that are at the university are going to live in the world that we are creating right now," Lunken said, "and as kind of the adult leadership, we need to be thoughtful and considerate of the world that we're giving to them. So both from a Hillel, Jewish perspective and from a perspective of our students, we're trying to show and model good stewardship. We need to go from fossil fuel to renewable energies, and we can do it. It is affordable. It is possible, and we've just shown that it is also financially doable."
Read more:
Source: Pjstar.com