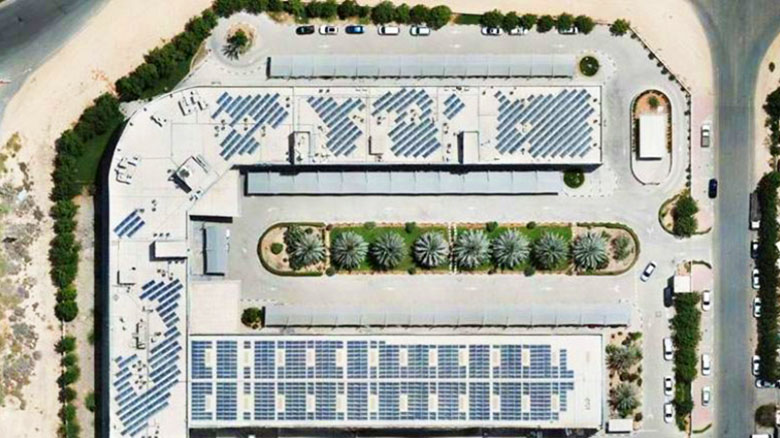 Yellow Door Energy provides solar solutions and energy savings contracts to help businesses save money.
After raising one of the largest funding, Yellow Door Energy, a UAE-based leading solar developer, now focuses on expanding its business in the region in the next two years.
Jeremy Crane, its CEO and co-founder, says Yellow Door Energy is planning to invest $20 million (Dh73.4 million) in the UAE and $70 million (Dh257 million) in Jordan.
Yellow Door Energy recently raised $65 million in Series A financing to scale its investments in solar energy and energy efficiency solutions in the Middle East and Africa. This is one of the Middle East's largest private placements in distributed solar.
Yellow Door Energy provides solar solutions and energy savings contracts to help businesses save money, improve efficiencies and enhance sustainability.
"Through our solar lease agreements, businesses can expect to save between 10-40 per cent on utility bills per annum. They can see the savings in the first month of the solar plant's operation," Crane says.
A solar lease is a performance-based long-term contract which does not expose the business to any technical or performance risk, nor does it require any capital investment. As the solar lease provider, Yellow Door Energy manages all stages of the solar plant, from installation all the way to operation and maintenance. The business only pays a monthly solar bill once the solar plant is operational.
"Our customers like the leasing model as opposed to a capital expense purchase for three main reasons:
One, provide no upfront investment – the customer only pays when the solar plant starts producing electricity; two, focus on their core business and entrust the solar plant to us, the experts; and three, manage electricity in the long-term – we lock in a solar lease payment for 15 or 20 years. This helps our customers forecast their future expenses," Crane explains.
In the UAE, Yellow Door Energy's customers include Nestlé Middle East, Al Nabooda Automobiles, Elcome International, among others. "The UAE is a great incubator for new businesses. Strategically positioned geographically and logistically, it is a great hub for growth through the Middle East, Africa, and Asia," he says.
"Our reputation is our currency. While we provide price-competitive rates with the market, we will provide quality and reliability. Our relationships with customers are through long-term leases, such as 10, 15 and 20-year long, so it is important that we build trusting relationships from day one. This leads to repeat business and referrals," Crane notes.
Crane says Yellow Door Energy is the market leader in Jordan and provides Build-Operate-Transfer (BOT) and wheeling solar projects for shopping malls, hospitals, restaurants and major retailers.
"Last October, we commissioned a 4-megawatt solar park, which now provides clean renewable energy to The Specialty Hospital and Istiklal Mall in Amman."
In the next two years, Yellow Door Energy is planning to deploy 300 megawatts of solar in the Middle East, Africa and Asia.
"The new markets we're considering are Bahrain, Oman, Saudi Arabia, Lebanon, Egypt, Kenya and Pakistan," Crane elaborates.
Crane says that Yellow Door Energy's business is growing quickly and he expects to do a follow-on funding round in the next two years.
"This may come from our current investors. The focus right now is to effectively expand our business in the region."
The recent investment came from International Finance Corporation (IFC), a World Bank member, Mitsui & Co, Ltd, Equinor Energy Ventures (Equinor), Arab Petroleum Investments Corporation (Apicorp), and UAE-based Adenium Energy Capital, the founding investor of Yellow Door Energy since 2015.
Wassef Sawaf, CEO of Adenium and Chairman of Yellow Door Energy, commented: "We are thrilled that the company we established with Jeremy Crane in 2015 continues to expand and attract a new pool of investors. We strongly believe in its future growth, which is why we are making further investments alongside the other Series A investors, as we continue to support the C&I space in solar. With the support of Adenium and the other Series A investors, Yellow Door Energy is now well positioned to grow exponentially over the coming years."
Bennie Burger, managing director of Investments at Apicorp, believes that solar energy projects will be at the forefront of efforts to meet rising power demand in the Mena region and beyond.
"Apicorp will continue to finance projects in the renewable space, encouraging private investments in the sector and facilitating the growth of the nascent sector. By pioneering innovative financing models, we ultimately aim to support the development of the renewable energy sector, particularly in a region with such a large market potential," Burger says.
Crane says as innovation is one of its values, Yellow Door Energy will continue to innovate and constantly monitor the market for new technologies, such as storage, electric vehicles, etc.
Read more:
Source: Khaleejtimes.com