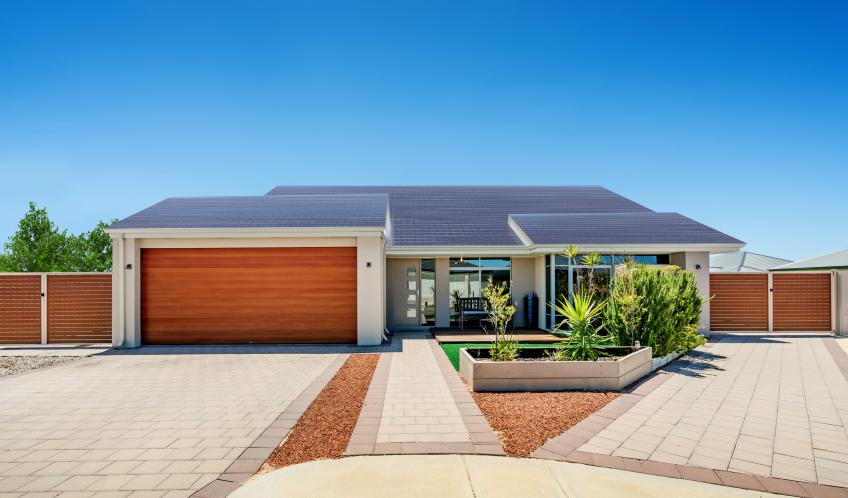 There may be a growing number of solar application ideas that die off before going mainstream, never having tapped enough technology, financial backing, and market savvy to last. But it seems solar roof shingles is not one of those.
Dow withdrew from the market, but Exasun and Tesla moved in. Now, there's also a smart new set of patent-pending thin-film CIGs solar shingles being offered by Sunflare Solar, based in La Verne, California. The company refers to the cell technology as Capture 4.
Sunflare's new solar shingle is very lightweight.
The company began offering commercial versions of the shingle two months ago for both flat TPO-covered roofs and for pitched metal roofs, including carports. Within 18 months, the residential version will be available, once UL certification is complete. All three shingle versions, based on a four-cell, 180 watt design, have been on display this week at Solar Power International 2018 in Anaheim, California.
"We started production last year and are launching now," says Elizabeth Sanderson, the chief marketing officer for the company. "We looked around to see what segment of the solar market was underserved and we decided on shingles," she says.
What is most appealing about the residential shingle design is that it actually looks like a typical asphalt shingle, not something five times as thick, nor obviously a blend of the cells and base material.
"We wanted a shingle that looked and felt like the same thing roofers are used to, so that installation would be fast," says Sanderson. While some past designs of solar shingles have weighed in at 5 pounds, the Solarflare shingle is only 0.6 pounds, she says.
Nguồn: Cleantechnica.com