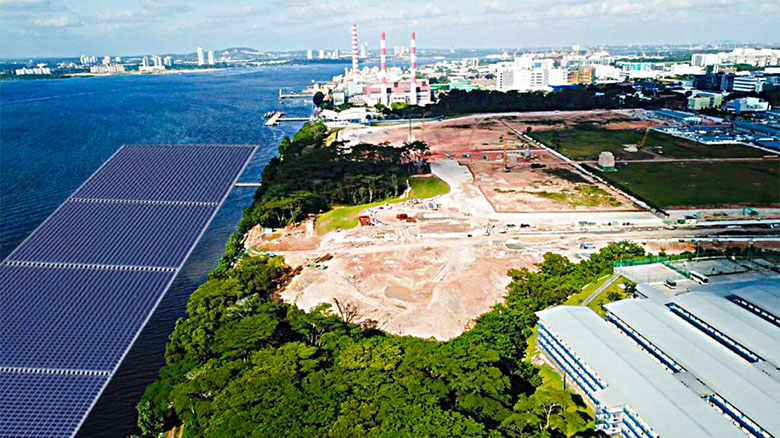 SINGAPORE: Sunseap, a sustainable energy provider, is building an offshore floating photovoltaic (PV) system in Singapore, it said in a press release on Friday (Nov 9).
The five-hectare development will be located north of Woodlands Waterfront Park, along the Straits of Johor.
"Originally, we were looking around the Straits of Johor; to put it simply, there was a concern about whether the floating platform would float elsewhere," said Mr Frank Phuan, co-founder and CEO of Sunseap Group.
"If you're in the southern waters, it may float to other parts that are unknown but if it's in the Straits of Johor we are restricted by the Causeway, we are restricted (within the waters) between Singapore – and Malaysia and I think the Maritime Port Authority felt that this was a safe location."
He added: "The Straits of Johor has less maritime activity compared to southern waters, so we feel more confident as well (with this area)."
Once completed, the five megawatt peak (MWp) floating solar energy system will generate about 6,388 megawatt hour (MWh) of renewable energy annually.
This is equivalent to powering about 1,250 4-room flats, with a reduction in greenhouse gas emissions of about 2,600 tonnes every year, over the next 25 years and beyond, Sunseap said in its release.
"Sunseap is excited to embark on this landmark project which demonstrates its engineering capabilities in research and development," said Mr Phuan.
"Our floating solar system supports Singapore's ambition to be a solar hub for Asia, and we hope it will ignite more deployment of alternative methods of tapping solar energy."
Sunseap previously worked on the world's largest floating PV test-bed in Singapore at Tengeh Reservoir. Results have shown that the floating PV systems perform better than typical rooftop solar PV systems in Singapore, due to the cooler temperatures of the reservoir environment.
Read more:
Source: CNA/ic