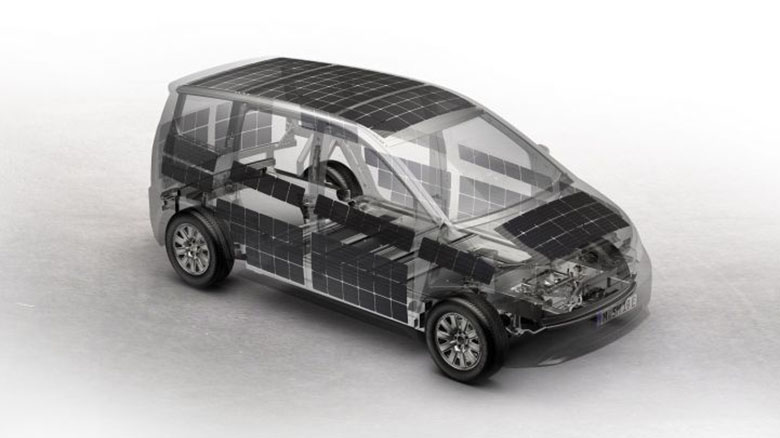 Update: After receiving over $60 million in a recent 50-day crowdfunding campaign, a German business plans to market a self-charging electric automobile clad in solar panels starting in 2022.
Sono Motors, located in Munich, anticipates that its €25,500 ($27,600) electric car, the Sion, will benefit from a range extension of up to 20 miles per day in Germany, depending on the season and weather, owing to a solar charging system incorporated into the car's body.
According to the corporation, over 13,000 consumers have already preordered the car. The first cars are expected to roll off the assembly line at a former Saab factory in Trollhättan, Sweden, in September 2021, with commercial production beginning in early 2022.
According to Ann-Kathrin Schroeder, marketing director, Sono's €53.3 million community fundraising drive should allow the firm to develop its first prototypes and equip its manufacturing and testing facilities.
She stated that the business plans to fund an additional €205 million before beginning manufacturing. Over €70 million of this will be in borrowed capital from banks, subsidy providers, and private lenders.
A 35-kilowatt-hour battery with 192 prismatic lithium-ion cells with a nickel, manganese, and cobalt ratio of 6:2:2 will power the Sion.
According to Sono, the automobile will have a range of 255 kilometers (159 miles) on a single charge, and the battery should recharge up to 80 percent in 30 minutes at a quick charging station.
The Sion will have bidirectional charging technology and a new moss-based dashboard air purification system, allowing it to be utilized as a mobile energy storage unit. The existence of 248 solar cells scattered on the outside of the automobile, however, is the most creative aspect.
Why hasn't anyone else thought of this?
Sono intends to cover the Sion with solar panels rather of paint, encapsulating the cells in polymer rather than glass to reduce the vehicle's shell weight by 20% compared to typical metal body elements.
ViSono solar body panels from the firm are meant to provide up to 220 watts per square meter, compared to 180 watts for normal PV. "This allows the Sion to create an extra range of up to 5,800 kilometers [3,600 miles] each year, entirely emission-free and free of charge," added Schroeder.
In practice, range extension will be determined by local factors. In ordinary Munich weather, Sono believes that the Sion may move an additional 2 miles per day in December, or 15 miles per day in July. Under gloomy conditions, their ranges might reduce to roughly 2 and 6 miles, respectively, or 6 and 21 miles in bright sunlight.
"This makes the automobile excellent for commuters, who travel an average of 17 kilometers to work in Germany," added Schroeder. "Our objective is to cover many short journeys with solar energy exclusively. We are certain that solar integration will help e-mobility achieve a breakthrough in the mainstream market."
Tom Heggarty, a principal analyst in Wood Mackenzie's energy transition practice, was more skeptical. "I don't think that type of solution will ever be anything more than very narrow," he remarked.
"Is the fact that you're getting that panel for free outweigh the higher expense of [integrating] the PV panels? "I'm not sure."
Sono is said to be the first automaker to plan a mass-production solar-panel-coated vehicle. Yet, solar panels are already being employed in motor vehicles in other countries.
In the Netherlands, for example, the coach firm FlixBus revealed this month that it had put solar panels on a bus transporting passengers from Dortmund, Germany, to London, England. Rather than contributing to the vehicle's engine power, the panels feed on-board electronics.
Still, the business claimed that the panels reduced diesel usage by 7%, or around 1.7 gallons per 100 kilometers (62 miles).
"Based on the preliminary findings, we will assess whether we should expand this trial to other buses or possibly all buses in the network," said Jesper Vis, managing director of FlixBus Benelux, in a news statement.