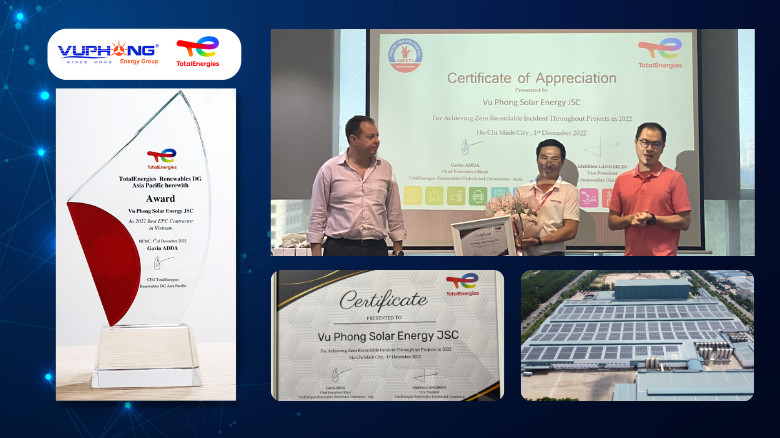 Vu Phong Energy Group was honoured by TotalEnergies as The 2022 Best EPC Contractor in Vietnam on December 01, 2022, at TotalEnergies' office in Vietnam and was awarded a certificate for outstanding achievements without any incidents in all projects.
TotalEnergies, established in 1924, is one of the three largest French corporations and one of the world's top five energy corporations. TotalEnergies has about 100,000 people in over 130 countries and is involved in all areas of the oil and gas industry, including natural gas exploration and extraction, refining, chemicals, marketing, and new energy. TotalEnergies is now focusing on transitioning away from oil production and toward low-carbon sources via two pillars: LNG and renewable energy, to achieve net zero emissions by 2050.
TotalEnergies, in particular, has reached the 500 MW rooftop solar power milestone for industrial and commercial clients throughout Asia, the Middle East, Europe, and the United States. In Vietnam, Vu Phong Energy Group serves as an EPC service provider for many of TotalEnergies' commercial and industrial solar power projects.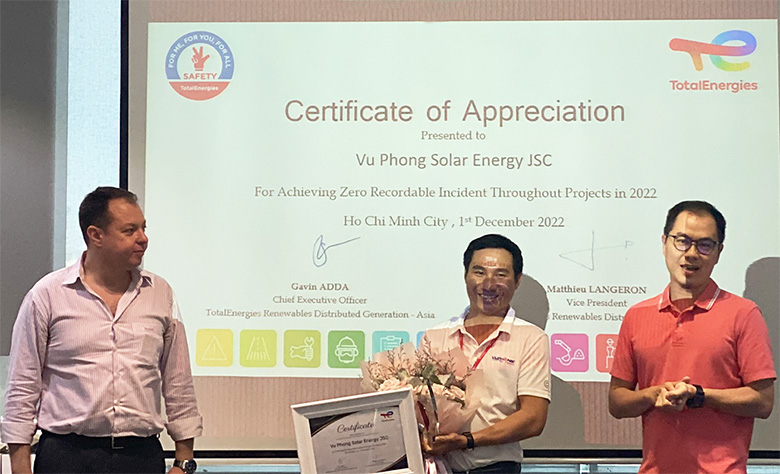 Mr Trinh, Vo Xuan, Technical Director of Vu Phong Energy Group, representative of Vu Phong Energy Group, received a Certificate from TotalEnergies on December 01, 2022
A solar power system with a capacity of 3,39 MWp at Vinamilk's Mega Factory, is one of the most notable projects that TotalEnergies finished and delivered in 2022, and Vu Phong Energy Group offered EPC General Contractor service. This system utilizes 7,542 high-efficiency solar panels and 27 110 kW inverters with auxiliary frames, as well as conductors with a design endurance of more than 30 years. The project is carried out strictly with international standards to ensure the greatest quality and aesthetics.
Special features include the large-scale Vietnam Dairy Factory, which uses a modern automatic technology line system and has an extremely big capacity (800 million liters/year (approximately 2.2 million liters/day), which will soon be extended to more than 1 billion liters of milk/year. As a result, the facility uses electricity from a total of five substations to provide a secure and steady supply of energy for manufacturing. Meanwhile, the solar power system is connected to three substations; if the generated electricity is not used, it is extremely wasteful. As a result, Vu Phong Energy Group has deployed new technology to transport solar energy to the remainder of the substation, enabling Vinamilk's factory to make the most of the system's clean energy. This Vu Phong Energy Group initiative has been successfully implemented in several major systems, such as the Vinamilk-mega project.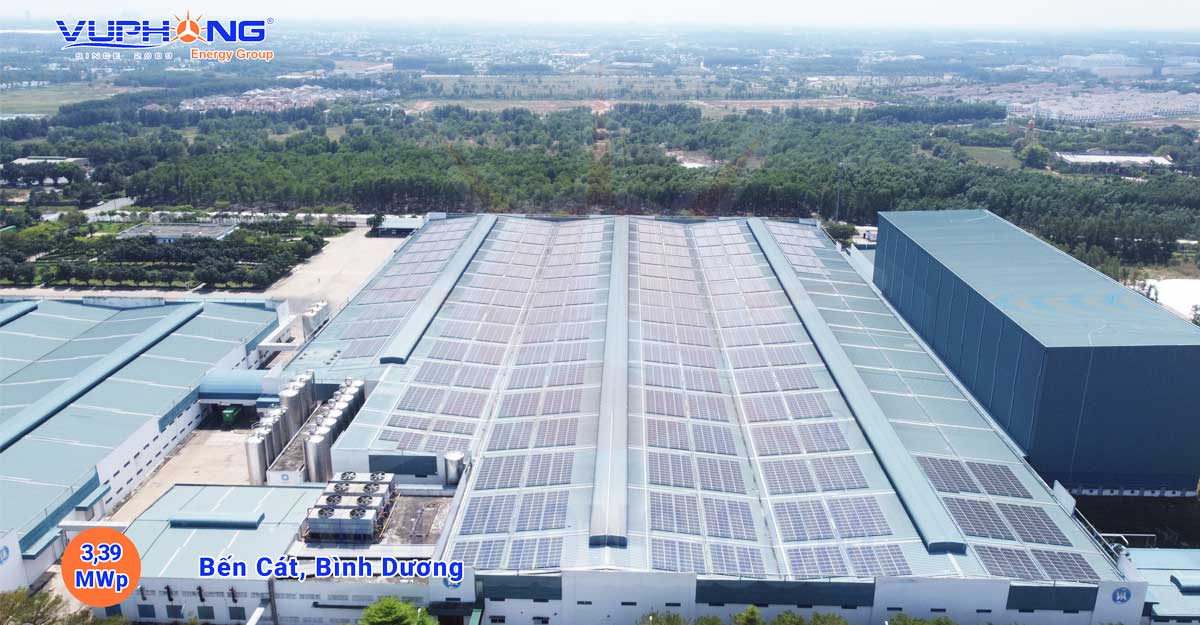 Solar power system at Vietnam Dairy Factory was provided General Contractor (EPC) services by Vu Phong Energy Group
Vu Phong Energy Group will also accompany TotalEnergies in another impressive project of developing solar power on the roof of a significant enterprise in the global fashion supply chain in 2022. This system at Giang Dien Industrial Park has a capacity of 963 kWp (Trang Bom, Dong Nai). The project is nearing completion and will be turned over to TotalEnergies and the clients shortly, with the operating system contributing to the process of reducing emissions at the factory in particular and in Vietnam in general.
These are all impressive projects that follow a long series of very successful projects that Vu Phong Energy Group has collaborated on with TotalEnergies. Such as, a project with a capacity of 2,9 MWp on the roof of Golden Victory Vietnam (Nghia Hung, Nam Dinh) – an FDI enterprise participating in the global supply chain, a machinist for the world's biggest shoe brand NIKE – that was handed over in 2021. Solar power projects on the top of Men-chuen Vietnam factory (1 MWp), solar power at Vinamilk's Vietnam Beverage Factory (1 MWp) were handed over in 2020…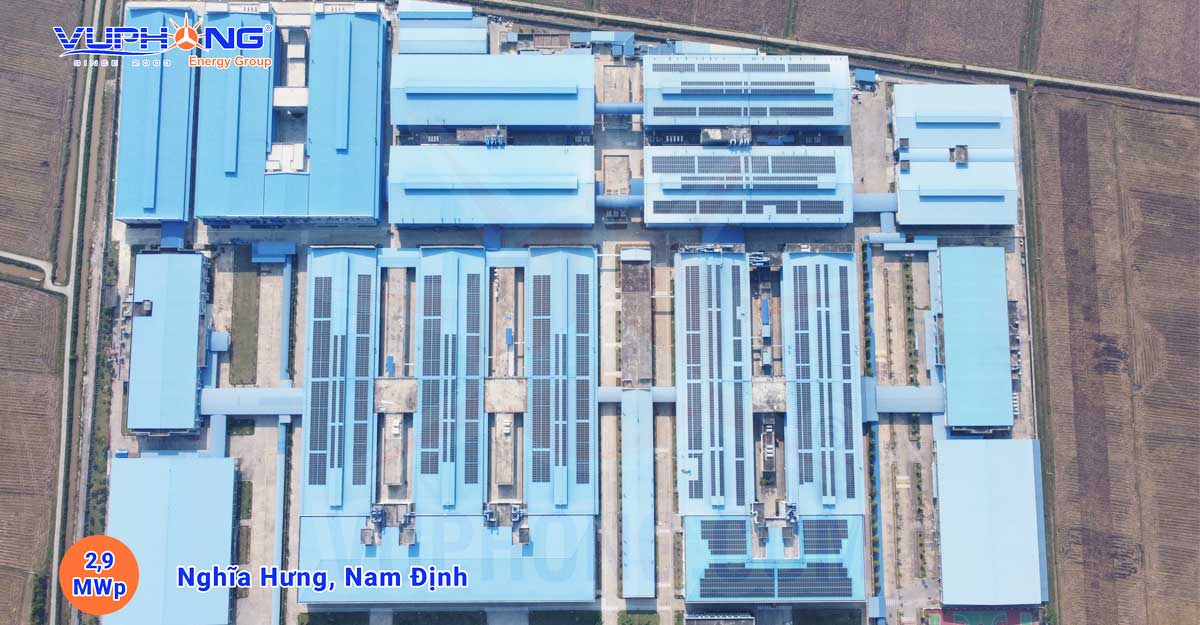 2,9 MWp solar power system at Golden Victory Vietnam shoe factory
Vu Phong Energy Group has been a professional solar power developer and one of the leading enterprises in the area of renewable energy in Vietnam since 2009. Vu Phong is constantly committed to providing the greatest quality owing to professional system design; genuine, carefully chosen materials and construction and installation meet the standards as designed, strictly ensuring ISO standards by SGS Global. The awards and certificates of prestigious customers and partners such as TotalEnergies are recognition of Vu Phong Energy Group's capacity and professionalism, as well as motivation for Vu Phong to continue its efforts to create high-quality solar power systems and best accompany customers on their journey of greening production and sustainable development.
With solid capacity and extensive experience, Vu Phong Energy Group has received many international awards in the energy industry, such as The Solar Future Awards 2021 (EPC Company of the Year category), The Asian Power Awards 2021 (two categories of Solar Power Project of the Year and Environmental Upgrade of the Year )…
In addition to providing solar power EPC general contractor services for enterprises investing in the system, Vu Phong Energy Group pioneered the development of solar power with the PPA (Power Purchase Agreement) model – a solution to help businesses use solar power without investing capital.
Businesses interested in the PPA (Power Purchase Agreement) solar power system and clean energy solutions to greening production, towards sustainable development, please contact Our Call Center via 1800 7171 or +84 9 1800 7171 or send an email to hello@vuphong.com for more information.
Vu Phong Energy Group