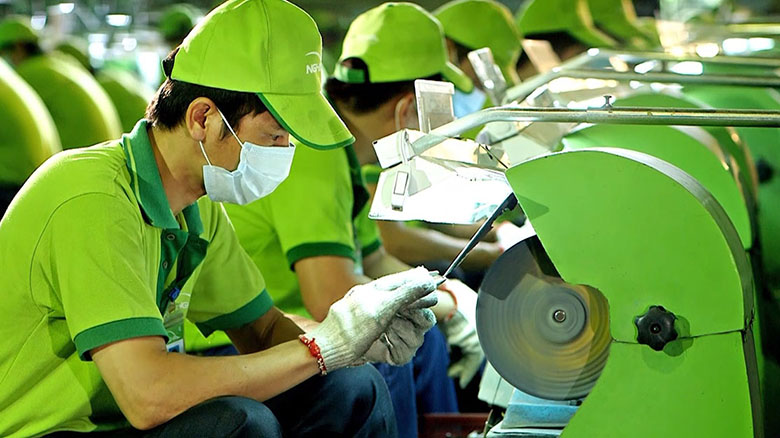 26 enterprises have received assistance in developing smart factory models, with some businesses recording significant improvements in maximizing the system via activities, such as Kem Nghia (Nghia Nippers), Liksin Packaging Enterprise (Liksin Corporation),…
Project to train experts and support the development of smart factories
The Ministry of Industry and Trade has implemented the Smart factory development support project in collaboration with Samsung Korea Group, with the goal of training 100 Vietnamese experts and supporting the development of smart factories at 50 potential enterprises in two years (2022-2023), thereby increasing efficiency and strengthening overall strength.
In 2022, the project has implemented for 26 businesses, comprising 14 northern enterprises (phase 1) and 12 southern enterprises (phase 2). The project will continue to be executed in two zones, South and North, for 24 businesses in 2023.
Businesses participating in the program will be trained and guided to plan strategies and a roadmap toward becoming a "Smart Factory." The management system is made up of redesigned to be more efficient, guaranteeing the smooth and continuous flow of operational information. Management solutions based on digitization and automation are directly transferred by Samsung experts, supporting the whole management system, and the manufacturing scene has changed significantly from receiving requests to developing production plans to storing and moving products. Data on productivity, quality, delivery, cost, and so on are managed and analyzed in real time allowing managers to make faster, easier, and more accurate decisions.
One of the enterprises with the best practice outcomes in the project is Nghia Nippers Corporation when implemented and achieved outstanding efficiency: Controlling errors to improve reproducibility rates; Improving the sharpening nippers process's productivity; Managing the stamping machine's OEE (Overall Equipment Effectiveness) to boost the operating rate; Check the condition of CNC (Computer Numerical Control) machines and tool life…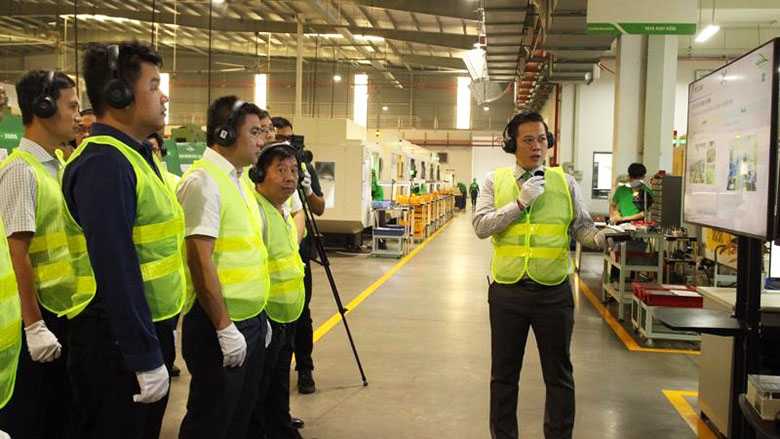 Assessing the efficiency of Nghia Nippers Corporation's Smart factory development support project
At the program summary report, Mr. Tuan, Nguyen Minh, Chairman of Kem Nghia (Nghia Nippers), expressed his profound thanks to the experts and team of technical experts and agencies that helped Kem Nghia achieve significant progress. At the same time, he expressed his hope that "in the coming time, especially in the period of 2023-2024, Kem Nghia will continue to receive the support of departments, cities, and Samsung for Kem Nghia to develop into a smart – modern – sustainable factory, becoming one of Ho Chi Minh City's and Vietnam's typical enterprises."
Many significant businesses, including Thai Duong Rubber, Dien Quang Lamp, PH Plastic, Rang Dong Long An Plastic, Liksin Packaging,… are being consulted to support the development of smart factories at the same time as Kem Nghia. Following the completion of the project, the consulting businesses will continue to develop smart factory systems to improve competitiveness and the ability to participate in global supply chains, therefore contributing to the development of Vietnam's supporting industries.
Enterprises actively improve competitiveness
According to a recent VCCI Provincial Competitiveness Index (PCI) survey, up to 92% of enterprises (94% of domestic private enterprises and 86% of foreign-invested enterprises) have been negatively impacted by the Covid-19 epidemic, with challenges such as difficulty accessing customers, labor shortage, cash flow imbalance, and supply chain disruption… Furthermore, businesses face many difficulties in the process of manufacturing and business activities, which has a substantial impact on competitiveness. According to VCCI, being prepared to face challenges, proactively seizing opportunities for innovation and creativity, adapting and having the plan to catch up with new market trends, building the reputation and brand of Vietnamese enterprises in regional and international markets… is critical for businesses to improve competitiveness and sustainable development.
The development of smart and modern factories and system improvements such as construction and upgrading on site will help businesses increase their competitiveness. Simultaneously, many enterprises build sustainable factories by investing in themselves or collaborating to utilize clean energy sources and implement energy-saving solutions. For example, Kem Nghia collaborates with Vu Phong Energy Group collaborates and the ecoligo German Investment Fund to develop a solar power system with a capacity of 2,23 MWp on the roof of the factory in Tan Phu Trung Industrial Park (Cu Chi, Ho Chi Minh), Kem Nghia will be using clean energy to produce more than 3.2 million kWh of solar power per year, aiding in reducing CO2 emissions by more than 2,000 tons per year. In the context of green consumption, sustainable consumption is becoming a global trend. Practising emission reduction in the manufacturing process and creating environmentally friendly products will help Kem Nghia improve the brand value as well as competitiveness in the international market.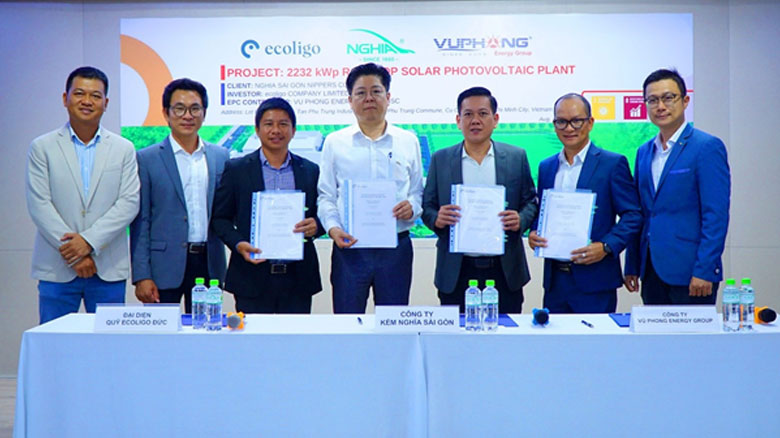 Vu Phong Energy Group, ecoligo – German Investment Fund, and Nghia Nippers Corporation at the cooperation signing ceremony to develop the 2,23 MWp solar power system
Many businesses in the current market trend are proactively developing smart, modern, and sustainable factories. As a result, companies increasingly prefer the PPA (Power Purchase Agreement) solar power model. This is a flexible collaboration approach that Vu Phong Energy Group pioneered with the participation of international investment funds from the end of 2019 to the beginning of 2020. This model enables manufacturing companies to take advantage of the idle roof and employ clean energy without paying any upfront costs. In addition to using solar power for greening manufacturing, companies may save energy and prevent future energy cost risks owing to long-term collaboration contracts. It also demonstrates businesses' efforts in responsible manufacturing and joining hands to accomplish the United Nations' Sustainable Development Goals (SDGs).
Businesses interested in clean energy solutions to greening production, towards sustainable development, please contact Our Call Center via 1800 7171 or +84 9 1800 7171 or send an email to hello@vuphong.com for more information.
* Cover image: Kem Nghia (Nghia Nippers)
Vu Phong Energy Group