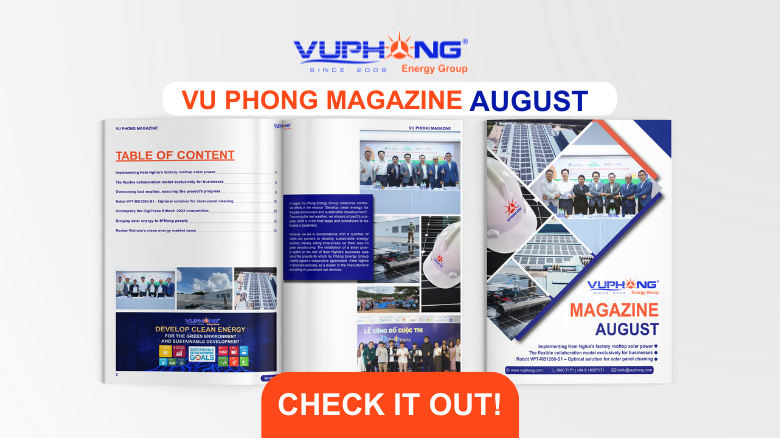 In August, Vu Phong Energy Group collective continues efforts in the mission "Develop clean energy for the green environment and sustainable development". Overcoming the bad weather, we ensure project's progress, which is in the final stage and scheduled to be finished in September.
Please read Vu Phong Magazine of August 2022 at the link below
Vu Phong Energy Group's Collaborative Solar Power Project with Kem Nghia: A Step Towards Green Manufacturing
Moreover, we are in conversations with a number of clients and partners to develop sustainable energy solutions, thereby aiding enterprises on their way to green manufacturing. The installation of a solar power system on the roof of Kem Nghia's business was one of the projects for which Vu Phong Energy Group recently signed a cooperative agreement. Kem Nghia is renowned nationally as a leader in the manufacture and selling of specialized nail devices.
On August 19, 2022, Vu Phong Energy Group, ecoligo – German Investment Fund, and Kem Nghia (Nghia Nippers) – Nghia Sai Gon Nippers Corporation, signed a contract for 2,232 kWp of solar power to be installed on the roof of Kem Nghia's factory. This system will be installed at Tan Phu Trung Industrial Park, Cu Chi, Ho Chi Minh City and will produce more than 3.2 million kWh of solar power per year, aiding in reducing CO2 emissions by more than 2,000 tons per year. This is the newest project in which Vu Phong Energy Group collaborates with the ecoligo investment fund under the PPA (Power Purchase Agreement) model. The two sides have collaborated to develop dozens of clean energy projects under the flexible collaboration model.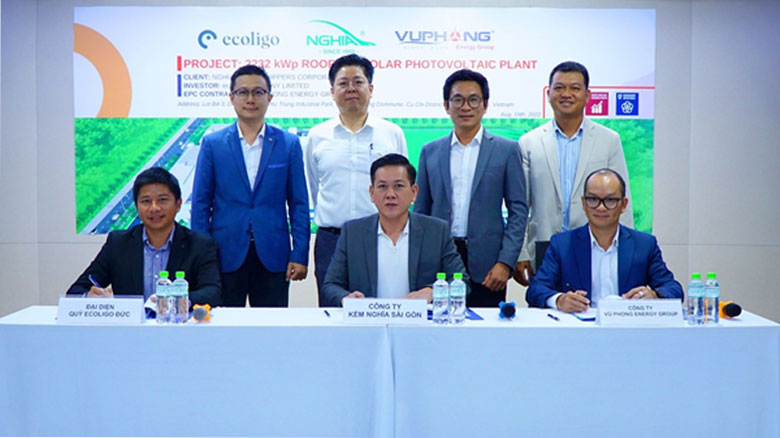 The signing ceremony of the collaboration of a 2,232 kWp solar power project on the roof of Kem Nghia factory
While design engineers and construction engineers are implementing new solar power projects, O&M engineers and Robot VPT-RB1200-S1 ensure that the systems continue to operate financially and efficiently. Investors and O&M service providers are becoming increasingly interested in the VPT-RB1200-S1 robot, which was researched and created by experts at Vu Phong Tech.
Vu Phong Energy Group: Engaging in Community Support and Social Impact Initiatives
Besides business activities, Vu Phong Energy Group also joins hands to support the community. Vu Phong Energy Group accompanies the DigiTrans Edtech 2022 competition to seek and promote highly practical digital transformation ideas in the sphere of education while simultaneously creating a national innovation playground for students and start-ups. The DigiTrans Edtech 2022 contest was held by the Saigon Hi-Tech Park Incubation Center (SHTP-IC) in partnership with KDI Education, under the supervision of the Board of Management of Saigon Hi-Tech Park, HCMC Department of Science and Technology, Thu Duc City People's Committee.
Vu Phong also shared with Zen Sharing in the "Light up Dam Rong's place – Give love to the Blind Shelter" program. Zen Sharing is a meaningful project for the BNI ZEN Platinum Chapter community (under BNI). 50 sets of SolarV solar generators with super bright LEDs and phone charging, compact, convenient, and environmentally friendly, were presented to M'Nong people in Da Tong commune, Dam Rong district, Lam Dong province. Through shared journeys, SolarV products have reached many rural locations throughout Vietnam, where they illuminate the lives of impoverished children and families and provide them happiness. As The SolarV team and Vu Phong Energy Group try our best to generate sustainable energy.
Let's read  Vu Phong Magazine  – August 2022 at the link below
Vu Phong Energy Group