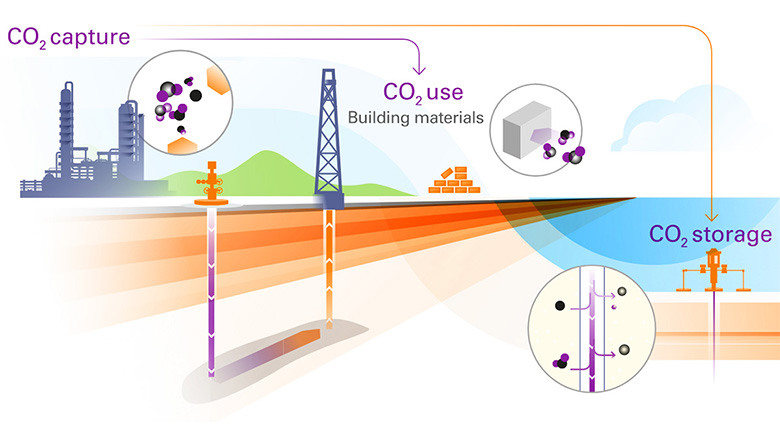 According to Wood Mackenzie, the planned global CCUS has reached 905 million tonnes per annum (Mtpa), with more than 50 new projects announced in the second quarter of 2022.
Strong motivation for the next step
According to Wood Mackenzie's 'CCUS Market Update for Q2 2022' report, the planned global CCUS capacity has amounted to 905 million tonnes per annum (Mtpa). During the quarter, more than 50 new projects were announced.
North America and Europe continue to be CCUS hotspots. North America presently accounts for over two-thirds of global CCUS capacity, with activity mainly focused on Alberta, the Gulf Coast, and the United States Midwest. The United States is the global leader in CCUS, with a capacity of about 250 Mtpa. There were several strides in the licensing of geological carbon storage in the second quarter, with an increase in licensing activity in Norway, Russia, and Australia… Furthermore, the United Kingdom has opened its first round of carbon storage licensing, inviting tenders for 13 coastal areas from Northern Scotland to Lincolnshire. The awarding of carbon storage licensing tenders will substantially contribute to the UK's carbon storage target of storing 20-30 million tonnes of CO2 by 2030.
According to Wood Mackenzie, North America's share of the global CCUS map will fall to about 50% by 2030, as central European projects scale up. China and Southeast Asia, on the other hand, are predicted to have the highest demand for CCUS in the 2040s, but this will need additional policies and regulations.
The CCUS's development in the past time is considered great strides, particularly beginning in 2021, with the announcement of more than 100 new facilities. Many analysts believe that stronger climate targets and investment incentives create a strong impetus for CCUS. The 45Q act, which includes favorable tax credits, is used for many CCUS projects, much as it is in the United States. This act promotes CCS (carbon capture and storage) and CCU (carbon capture and utilization) by providing credits of up to $50/tonne CO2 for dedicated geological storage and $35/tonne CO2 for EOR (enhanced oil recovery). The recently approved Inflation Reduction Act (IRA) is anticipated to aid in the fast expansion of US CCUS capacity. The 45Q tax credits for specialized geological storage were raised to $85 per tonne of CO2 and extended to projects launching before 2033, providing a tax credit of about 180 USD/tonne of CO2 with DAC (direct gas capture) facilities. The act also reduces the carbon emissions threshold for projects to encourage smaller-scale projects, attract more industries, and boost technological investment.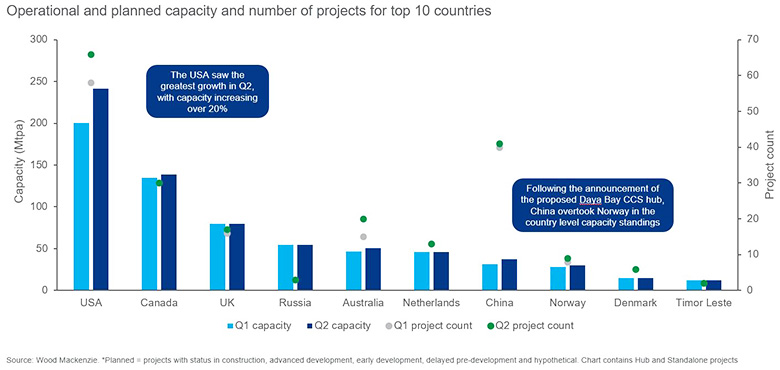 Capacity, number of CCUS projects of the top 10 countries (Image: Wood Mackenzie)
Important solutions in the roadmap towards Net Zero
International experts agree that CCUS is an important medium and long-term solution for reducing greenhouse gas emissions and carbon neutrality. CO2 emissions from energy plants, fuel combustion, and heavy industry are captured and stored deep underground or reused to create valuable products. As a result, large-scale deployment of CCUS technology will enable effective "decarbonization" of these sectors.
According to the International Energy Agency (IEA), CCUS may reduce CO2 emissions from global fossil fuels by up to 15% and is the third most effective driver for the Net Zero goal, behind energy efficiency (40%) and renewable energy development (35%). CCS was proposed as a solution to mitigate climate change in critical scenarios of the Global Warming Special Report of 1.5°C of the United Nations Intergovernmental Panel on Climate Change (IPCC). The IPCC AR5 Report also confirms the importance of CCS.
A growing number of nations are planning the development of CCUS as part of their roadmap to achieve the COP26 commitment of zero net emissions. According to Wood Mackenzie's report, CCUS capacity was near the plan for keeping global average temperatures from increasing more than 1.5 degrees Celsius through 2030. However, to meet the Net Zero target, CCUS capacity would need to be increased sevenfold by 2050.
Vu Phong Energy Group