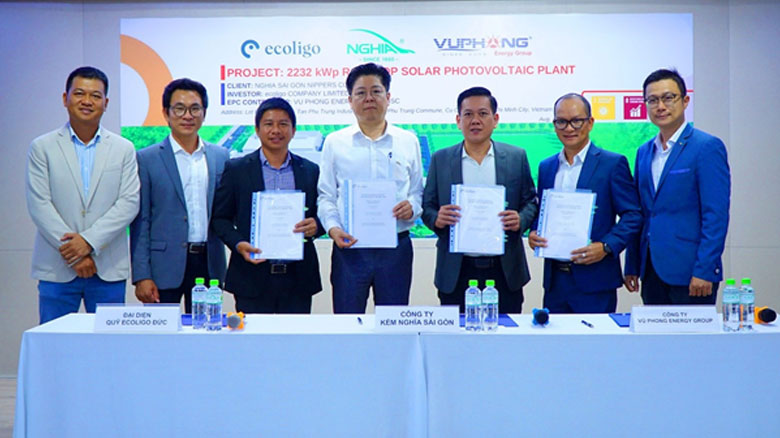 Utilizing renewable energy and embracing sustainable manufacturing practices is a prevalent global trend, especially among major firms and brands. Also available is Kem Nghia (Nghia Nippers), a national brand that is now among the world's leading manufacturers and sellers of specialized nail tools.
Many businesses develop smart, modern and sustainable factories
On August 19, 2022, Vu Phong Energy Group, ecoligo – German Investment Fund, and Kem Nghia (Nghia Nippers) – Nghia Sai Gon Nippers Corporation, signed a contract for 2,23 MWp of solar power to be installed on the roof of Kem Nghia's factory at Tan Phu Trung Industrial Park, Cu Chi, Ho Chi Minh City. This is Kem Nghia's third factory, with a total area of 5 hectares and an investment capital of over 300 billion VND, construction of which began in 2018 and was completed in 2020. The facility uses Japanese-compliant closed-line technology and clean energy to generate around 35 million personal care products annually.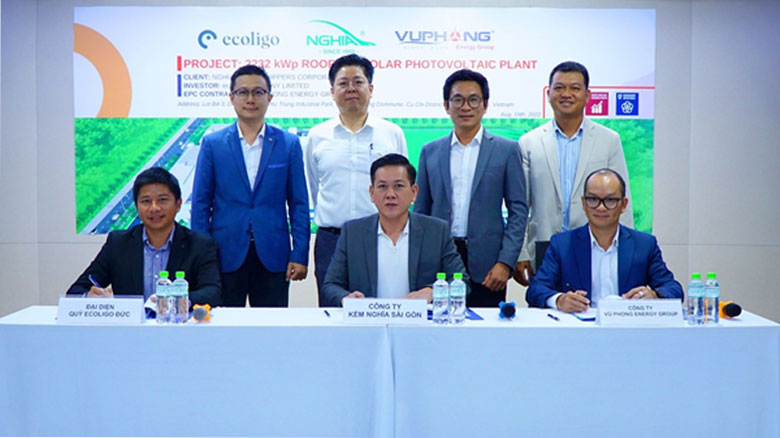 The representatives  from Vu Phong Energy Group, ecoligo – German Investment Fund, and Kem Nghia (Nghia Nippers) at the cooperation signing ceremony
The investment in constructing a new factory, tripling production capacity, and collaborating to develop factory rooftop solar power demonstrates Kem Nghia's consistent efforts to expand the international market, in addition to the domestic market (of which Kem Nghia controls approximately 80%) and large traditional markets such as the United States, Canada, Germany, France, Italy, Russia, and Japan… It also demonstrates Kem Nghia's resolve to make ecologically friendly products to reduce greenhouse gas emissions and achieve the sustainable development that Vietnam and the global aim. This might be regarded as a pioneering step taken with the proactive and responsibility of a leading Vietnamese enterprise on the journey toward global sustainable development, Mr. Tuan, Nguyen Minh, Chairman of Kem Nghia Corporation, said,"As a leader in this business, Kem Nghia prioritizes not only the production of beauty products, but also the environment, social responsibility, and tax duties."
Mr. Tri, Nguyen Quang, CEO of Vu Phong Energy Group, is pleased to say: "Vu Phong Energy Group has been fortunate to accompany many large enterprises on the journey of transformation to green production, sustainable development in accordance with the general global trend. The more large enterprises in pioneering industries opt to use renewable energy, and sustainable values, the greater the resonance power. Companion with Kem Nghia, a strong Vietnamese brand trying to reach out to the world, Vu Phong Energy Group, as a general contractor (EPC), is committed to creating the best quality solar power system with the highest aesthetics, optimizing the value from clean energy as well as economic profits for Kem Nghia and ecoligo investors."
Mr. Tri further said that the 2,23 MWp solar power system placed on the top of Kem Nghia's factory is the newest project in which Vu Phong Energy Group collaborates with the ecoligo investment fund under the PPA (Power Purchase Agreement) model. Under the PPA model, the two sides have collaborated to develop dozens of clean energy projects, including the Kim Duc 2,3 MWp, Dong Nam Viet 2 MWp, Dong A Plastic 2,07 MWp, NAFOCO 1,13 MWp, Green TG 1 MWp, Radiant 1 MWp…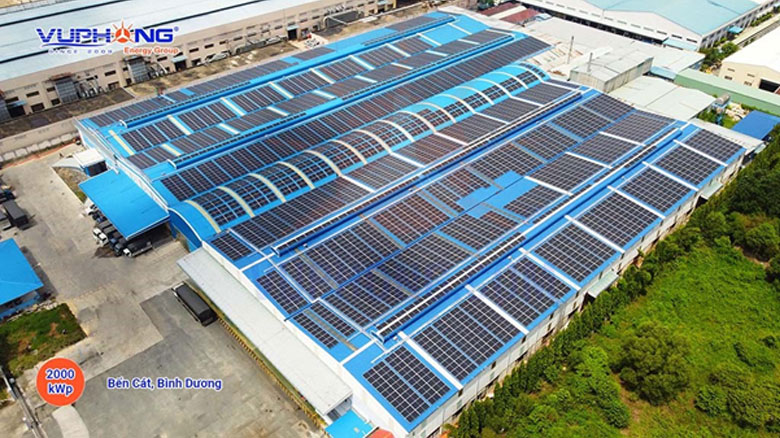 A PPA model solar power system was invested in by ecoligo and Vu Phong Energy Group as the General Contractor (EPC)
PPA (Power Purchase Agreement) solar power is a flexible collaboration model that Vu Phong Energy Group pioneered in late 2019 and early 2020. This model, with the participation of foreign investment funds, helps businesses to use clean energy at a low cost without investing capital, just taking advantage of the idle roof of the factory. Furthermore, these solar power systems produce and use their electricity, they do not place a strain on the power transmission – distribution grid system. Aside from employing solar power for green manufacturing, businesses may avoid future energy cost risks owing to long-term collaboration contracts. It also reflects the parties' efforts to implement the Sustainable Development Goals (SDGs) of the United Nations, such as Goal 7 – Affordable and clean energy, Goal 8 – Decent work and economic growth, Goal 13 – Climate action, and Goal 17 – Partnerships for the Goals.
The clean energy system installed on the rooftop of Kem Nghia's factory at Tan Phu Trung Industrial Park, Cu Chi, HCMC, with a capacity of 2,23 MWp, will produce more than 3.2 million kWh of solar power per year, aiding in reducing CO2 emissions by more than 2,000 tons per year.
Vu Phong Energy Group