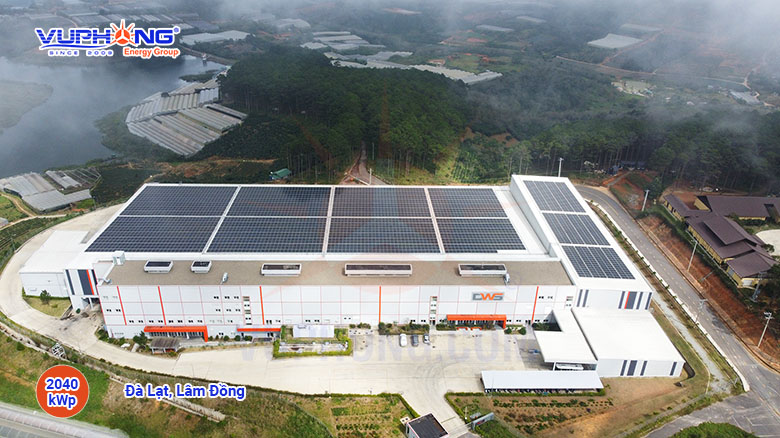 A solar power system with a capacity of 2,040 kWp has just been installed on the rooftop of Dalat Worsted Spinning – DWS, one of the major enterprises in the Phat Chi industrial complex in Da Lat city, as well as the first worsted yarn spinning mill in Vietnam.
The BLT Model: Revolutionizing Renewable Energy on Rooftops
This is a solar power system developed using the BLT (Build – Lease – Transfer) model, with the cooperation of the international investment fund ecoligo (Germany). Dalat Worsted Spinning (DWS – a member of Germany's Südwolle Group) will purchase solar power generated by the system to electricity the factory's production activities; Vu Phong Energy Group provides general contractor (EPC) services, to deliver a high-quality, reliable energy system.
Advantages of the 2,040 kWp Solar Power System at Dalat Worsted Spinning
The system has a total capacity of 2,040 kWp and is made up of 3,456 Canadian solar panels (590W) and 16 SMA Sunny Tripower CORE 2 inverters with a capacity of 110kW – SMA's latest inverter series with outstanding advantages. The solar power system's performance is always automatically optimized thanks to the integrated software solution SMA ShadeFix. The automated monitoring service SMA Smart Connected will help detect system faults (if any). The ennexOS technology included in Data Manager M, in particular, effectively assists both Vu Phong Energy Group and DWS when optimizing PV system communication, monitoring, and control. The ability to actively monitor the effectiveness of the PV system in real-time on a weekly, monthly,… enables DWS to develop an appropriate production plan that makes the most of solar power.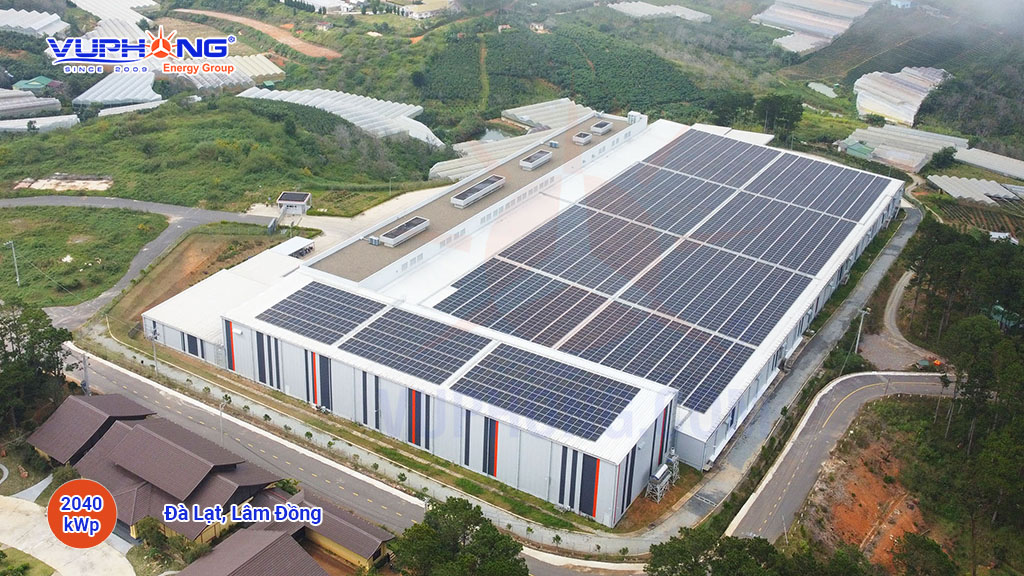 The system has a total capacity of 2,040 kWp, using 3,456 590W Canadian solar panels
DWS will lower its carbon footprint in production activities by using renewable energy for "green" manufacturing and sustainable development. This is critical since DWS is a link in the textile industry's worldwide supply chain. Approximately 90% of DWS's finished yarn is exported and sold to major textile companies worldwide, with the remainder serving the Vietnamese garment sector, particularly high-end brands garment manufacturing enterprises entering the export market. Efforts to decrease the carbon footprint in manufacturing activities while affirming corporate responsibility in offering the finest products and services; and minimizing environmental impact.
The 2,040 kWp solar power system on the DWS plant's rooftop is the latest completed project in the ecoligo fund's chain of clean energy systems in Vietnam. Previously, Vu Phong Energy Group worked with ecoligo to develop dozens of renewable energy projects using the BLT model, including: Kim Duc 2.300kWp; Dong Nam Viet 2.000 kWp; NAFOCO 1.130 kWp; GreenTG 1.000 kWp; Radiant 1.000 kWp… Currently, Vu Phong Energy Group is cooperating with ecoligo to develop a BLT model rooftop solar power system on the Dong A Plastics Group's factory No. 02, in Chau Son Industrial Park (Phu Ly, Ha Nam) with a capacity of more than 2,000 kWp (See more here).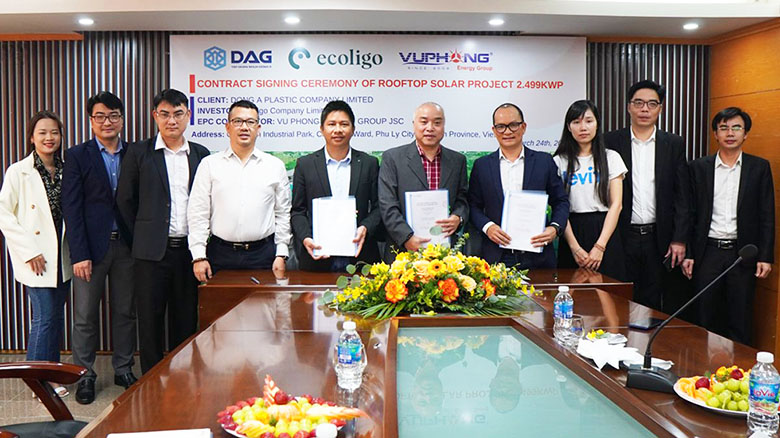 Signed cooperation agreement to develop solar power on the rooftop of Dong A Plastic Factory in Ha Nam
BLT Model Success Stories: Vu Phong Energy Group and Ecoligo Partnership
The BLT (Build – Lease – Transfer) model of solar power, pioneered in Vietnam by Vu Phong Energy Group between the end of 2019 and the beginning of 2020, has received positive feedback from many domestic and international investment funds, as well as manufacturing enterprises in many industries. Under this model, Vu Phong and partners have collectively developed hundreds of high-quality solar power systems, several of which have received renowned energy awards.
With the self-produced & self-consumed power, the solar power systems using the BLT model will actively contribute to the energy transition and reduce greenhouse gas emissions, not putting pressure on the transmission grid system – electricity distribution, toward reducing net emissions to "zero" by 2050 – the Vietnam's commitment made at COP26. That also contributes to the realization of the United Nations Sustainable Development Goals, especially Goal 7 – Affordable and clean energy, Goal 8 – Decent work and economic growth, Goal 13 – Climate action, and Goal 17 – Partnerships for the Goals.
Vu Phong Energy Group