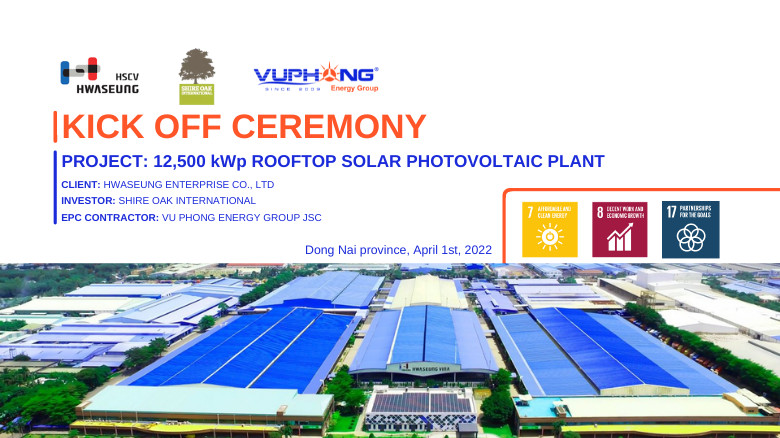 Vu Phong Energy Group collaborate with Hwaseung Enterprise Group (Korea) and Shire Oak International Group (United Kingdom) on a significant project in Vietnam to create a series of rooftop solar energy systems with the total capacity of more than 12.5MWp
These will be the first rooftop solar power systems built in Hwaseung Enterprise's plants in Vietnam. The system chain has a total installed capacity of more than 12.5 MWp, generating renewable energy for factory production activities. Hwaseung Enterprises can eliminate up to 20% of total greenhouse gas emissions at these plants by using clean energy in production processes, according to calculations.
Hwaseung Enterprise, based in Korea and with operations in Vietnam, Indonesia, and China, is the world's biggest manufacturer of footwear, clothes, apparel, and textiles, as well as the primary supplier to several well-known global brands. Hwaseung Enterprise has pioneered joining the United Nations Framework Convention on Climate Change (UNFCCC), signed the commitment "Fashion Industry Charter on Climate Action," and set a target to cut carbon emissions by 50 percent by 2030. Cooperation in the development of solar power systems at factories in Vietnam is an important step in Hwaseung Enterprise's efforts to achieve the above goal, which will kick off the plan to install a larger rooftop solar system at all existing Hwaseung Enterprise facilities globally shortly.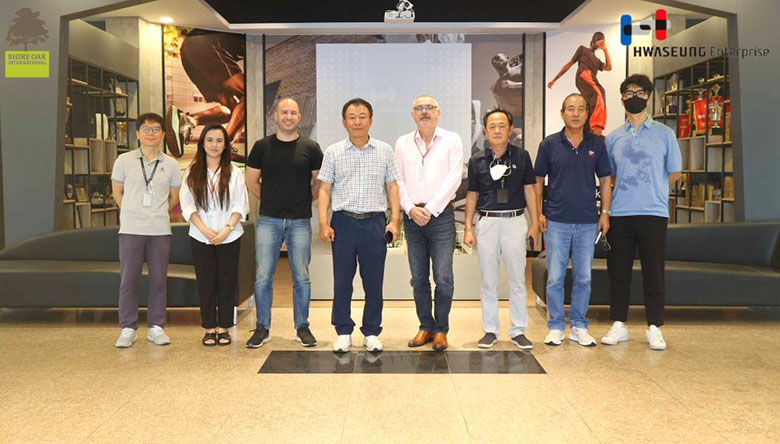 Representatives of Hwaseung Enterprise and Shire Oak International at the signing ceremony of electricity purchase and sale from rooftop solar systems
Shire Oak International Group will invest in and build the chain of solar power systems in Hwaseung Enterprise plants, while Vu Phong Energy Group will supply general contractor (EPC) services. Shire Oak International was founded in 2002 with the fundamental objective of becoming a global leader in the creation and diffusion of renewable energy solutions to expedite the transition to renewable energy in developing nations. Shire Oak International has built about 3,600 MWp of solar power plants in the Middle East, Southeast Asia, South Africa, and Latin America. They received a USD 120 million investment in 2021 to create rooftop solar power plants with a capacity of 200 MWp. Shire Oak International's projected growth portfolio in Southeast Asia, particularly in Indonesia and Vietnam, will increase to 500 MWp over the next two years.
Vu Phong Energy Group has already worked with Shire Oak International on numerous large projects in Tien Giang, Ben Tre, Dong Nai, Ba Ria – Vung Tau… The next major project in the collaboration to generate sustainable energy in Vietnam will be a series of solar power systems on the roofs of Hwaseung Enterprises' companies.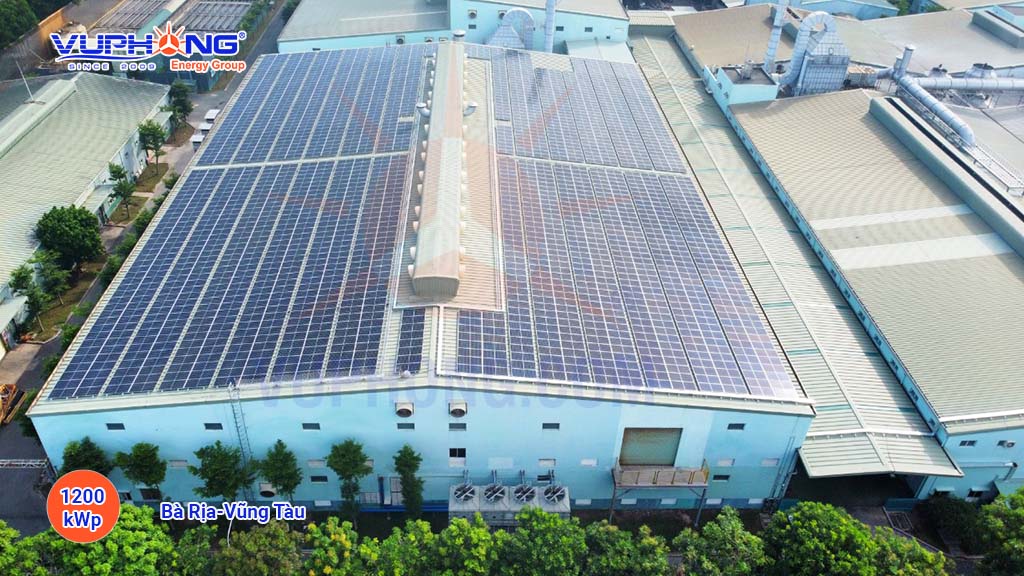 Shire Oak International invests in and Vu Phong Energy Group installed a rooftop solar energy system based on the PPA model.
"As a pioneer in developing clean energy in Vietnam and always aiming for sustainable values by the Sustainable Development Goals (SDGs) of the United Nations, Vu Phong Energy Group is very pleased when large corporations such as Hwaseung Enterprise and Shire Oak International invest in developing clean energy in Vietnam," said Mr. Phong, Pham Nam, Chairman of the Board of Directors of Vu Phong Energy Group. "Furthermore, rooftop solar power systems are self-produced – self-consumption types of electricity that do not put pressure on the grid while still advancing the energy transition and lowering greenhouse gas emissions. As a result, Vu Phong is delighted to be a part of this initiative and is committed to producing high-quality works, giving the best profits to consumers and partners, and contributing to the overall aim. carbon-neutral by 2050, as committed by the Prime Minister at COP26."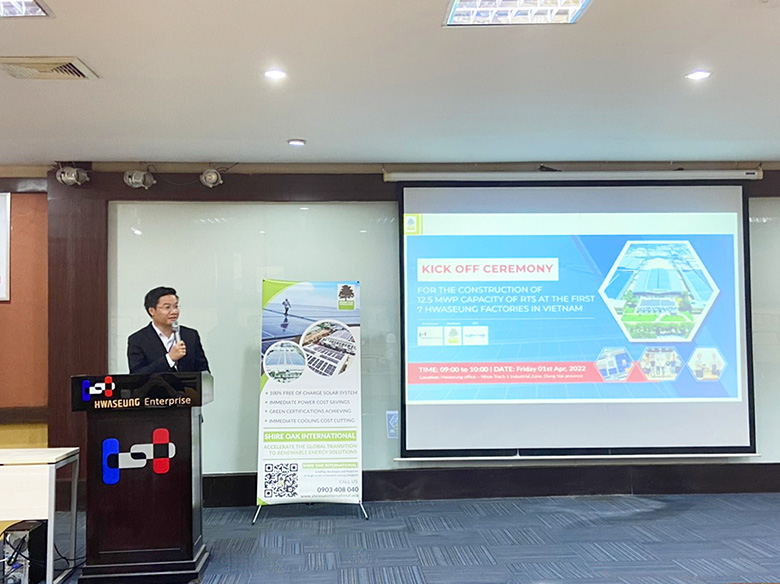 Mr. Pham Nam Phong – Chairman of the Board of Directors of Vu Phong Energy Group – at the Kick off ceremony of the project, April 1st, 2022
As a result, the next project built using the PPA (Power Purchase Agreement) solar power model will be a chain of solar power systems on the rooftops of Hwaseung Enterprise's factories. This is a strategy that many investment funds and businesses are interested in, particularly those who are going "green" to reduce their carbon footprint throughout the manufacturing process. Vu Phong Energy Group has been a pioneer in the development of the PPA (Power Purchase Agreement) model of solar power in Vietnam since the end of 2019 and the beginning of 2020 and has followed investment funds and manufacturing firms in their efforts to develop solar power, create hundreds of rooftop solar power plants based on this strategy.
Accompanying two large Korean and British corporations to develop a clean energy system chain in Vietnam demonstrates Vu Phong's commitment to achieving the United Nations' Sustainable Development Goals, the most visible of which is Goal 7 (affordable and clean energy), Goal 8 (Decent work and economic growth), Goal 13 (Climate action), and Goal 17(Partnerships for the Goals).
Vu Phong Energy Group