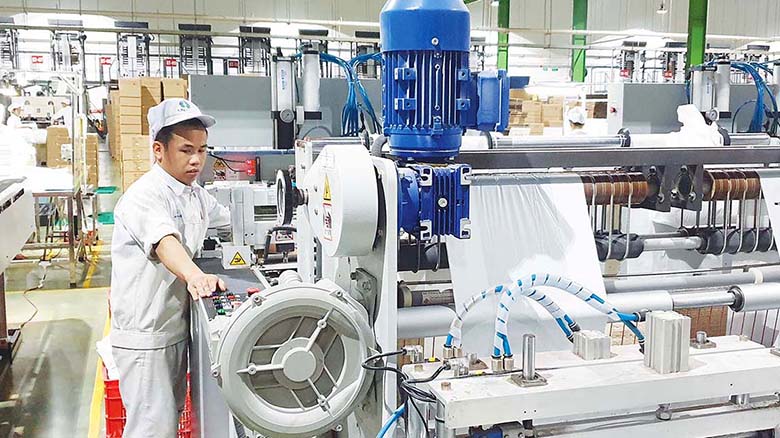 Plastic is a rapidly growing industry, growing at a rate of 16-18% per year on average, behind only telecoms and textiles. The plastics industry is likewise facing several opportunities for development and market expansion…
Great opportunities for the plastics industry
According to the Ministry of Industry and Trade's Vietnam Import and Export Report 2021, the export turnover of plastic products reached 4.9 billion USD in 2021, up 34.9% from 2020. FDI enterprise exports totaled 3.32 billion USD, rising 37.8% from the previous year and contributing to 67.3% of the country's overall export turnover of plastic products. Plastic material exports increased significantly, hitting 2.26 billion USD, a 68% increase over 2020. The export of plastic materials by FDI enterprises reached 1.52 billion USD, a rise of 72.4% over the previous year and accounting for 67.2% of total plastic material export turnover in the nation.
Vietnam's plastic products are now available in approximately 160 markets worldwide. Some examples of plastic product export markets are the United States (the biggest and fastest expanding export market, reaching 1.85 billion USD), Japan (696.9 million USD), the ASEAN area (575.8 million USD), and the EU market (557.7 million USD) …

Exports to the US market increased considerably in 2021 to meet the needs of this country's citizens in home construction, decorating and repair. At the same time, green technology plastic bag exports to the EU market saw high turnover and strong growth. Although the EU is a leading market in prohibiting or regulating the use of plastic bags and single-use plastic products, Vietnamese plastic enterprises are using green technology to make biodegradable plastic bags, satisfying the market's environmental protection demands.
Experts believe that the plastic industry's prospects in 2022 and beyond are favorable due to the benefits of new-generation Free Trade Agreements (FTAs) (such as CPTPP, EVFTA, RCEP). For example, the EVFTA agreement allows Vietnamese plastic products to gain a significant competitive advantage when accessing the EU market with a 0% tax rate, something very few competitors receive. In 2021, plastic exports to the EU market climbed by 21.73%.
Furthermore, Vietnam's plastic industry benefits from multinational corporations' need to shift investment and business, as well as the strong recovery of sectors after the Covid-19 pandemic. Because plastics are a specialized industry, plastic products may be input into other sectors (textiles, footwear, electronics, etc.) and the final consumer product (packaging, household appliances, construction …). As a result, as these sectors recover and develop, the demand for plastic products rises. Plastic product and material exports are expected to reach $10 billion soon.
Green manufacturing enhances the competitiveness of plastics businesses
In addition to opportunities, the plastics industry in Vietnam faces other market obstacles. Enterprises must comply with the rules and regulations of FTAs and international markets, such as rules of origin, ISO TC6 certification, and commitment to sustainable development, to benefit from the advantages of FTAs and maintain a solid position in the global supply chain. Moreover, the current trend indicates that consumers are particularly interested in sustainable, eco-friendly products.
Big brands of footwear, fashion…in the world require plastic producers to satisfy more stringent standards for sustainable production. According to several specialists, the issue of sustainable development and environmental protection is the greatest obstacle for Vietnamese plastic businesses. Meanwhile, the United States and the European Union are large and fastidious marketplaces with many competitors. To participate in and dominate these markets, plastic enterprises must increase their competitiveness, invest in machinery, equipment, and technological innovation to green the manufacturing process; invest in branding and product promotion… Even for enterprises that primarily serve the domestic market, greening manufacturing in the direction of a circular economy model is required for sustainable development.
In recent years, numerous plastic businesses have prioritized investments to gradually green the production process, reduce the carbon footprint of business activities, and create environmentally friendly products by utilizing green materials such as biodegradable plastics, upgrading technology and processes, utilizing clean energy and energy-saving solutions, and enhancing energy efficiency in production.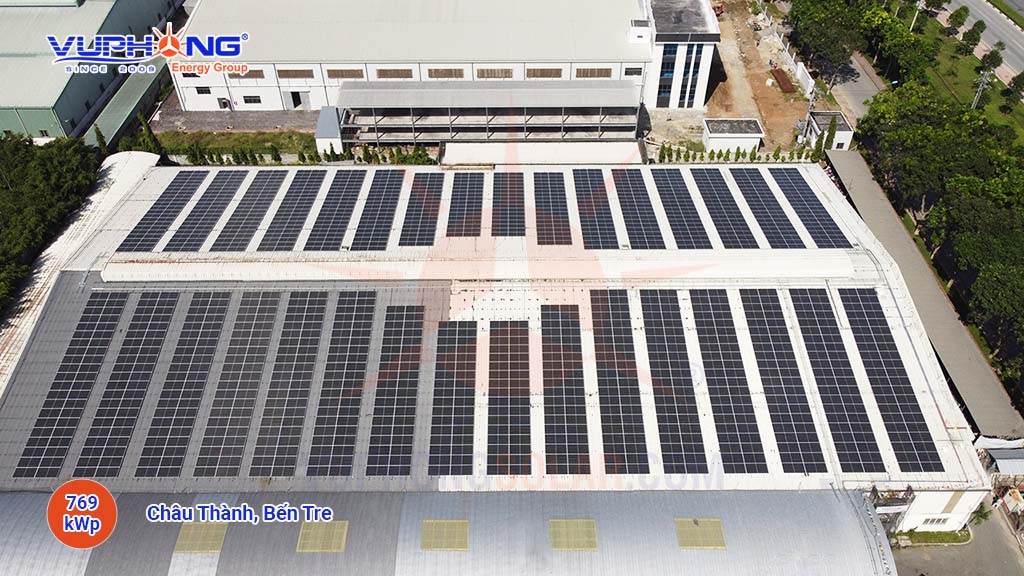 In recent years, numerous plastics companies have prioritized investments to gradually green their manufacturing processes
Many plastic industry enterprises have chosen Vu Phong Energy Group to develop, employing clean energy for green production, due to our substantial capacity, extensive experience, and prestigious brand. Vu Phong is currently installing a solar power system on Dong A Plastic Company's rooftop factory No. 02 at Chau Son Industrial Park, Phu Ly, Ha Nam. Previously, Vu Phong installed and handed over the system to several plastic enterprises, including Mekong Plastic – Ben Tre 769 kWp, Mekong Plastic – Tien Giang 889 kWp, Thai Duong Plastic… All of these systems are operating smoothly and efficiently.
In addition to providing solar power EPC general contractor services for businesses investing in the system, Vu Phong Energy Group pioneered the development of solar power with the PPA (Power Purchase Agreement) model. This is a flexible cooperation model pioneered by Vu Phong from the end of 2019 and the beginning of 2020, with international investment funds participating, allowing enterprises to utilize clean energy without paying investment costs.
Businesses with unused factory rooftops can obtain clean electricity from a solar energy system using a system lease contract or a direct power purchase contract. At the conclusion of the contract, the solar power system will be transferred to the company at no cost. The solar power system on the roof of Dong A Plastics factory is also a project developed under this model.
The PPA (Power Purchase Agreement) solar power model
Vu Phong Energy Group has been a pioneer in the area of solar power in Vietnam since 2009, with substantial capacity and extensive experience. Vu Phong has garnered several international energy sector awards, including The Solar Future Awards 2021 (EPC General Contractor of the Year category) and The Asian Power Awards 2021 (two categories of Solar Power Project of the Year; Environmental Improvement Project of the Year).
Other projects that Vu Phong Energy Group built, here!
Businesses interested in the PPA (Power Purchase Agreement) model, and clean energy solutions to "greening" production, towards sustainable development, please contact Our Call Center via 18007171 or +84 9 1800 7171 or send an email to hello@vuphong.com for more information.
More information:
*Illustration at the beginning of the article_Source: https://baodautu.vn/doanh-nghiep-nganh-nhua-don-nhieu-don-hang-lon-d165279.html
Vu Phong Energy Group