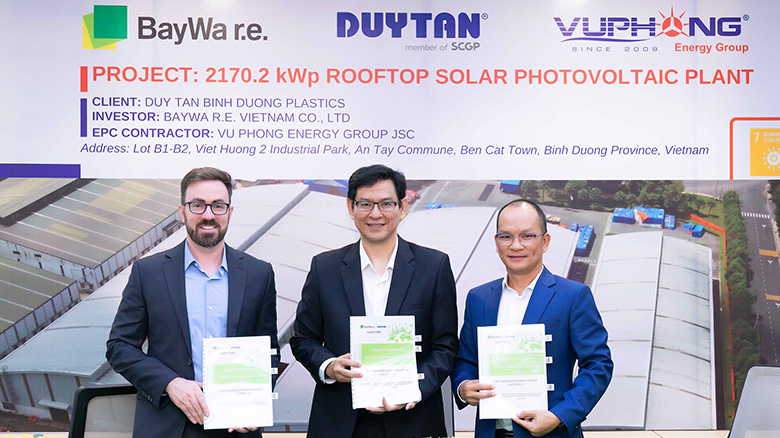 On the rooftop of Duy Tan Binh Duong Plastics (belonging to Duy Tan Plastics Group) will install a solar power system with a capacity of 2,17 MWp. The system has been developed according to the PPA (Power Purchase Agreement) model, with BayWa r.e. Vietnam as the investor, Vu Phong Energy Group as the project developer and provides the service of the General Contractor (EPC). The signing ceremony for system development collaboration was held this afternoon, December 16, 2022.
The project was signed in the context of increasing businesses, particularly manufacturing enterprises, choosing solar power as one of the solutions to a green production model and sustainable development. As a leading plastic manufacturer in Vietnam with an international reach, Duy Tan Plastics regards green and sustainable development as a responsibility and mission. Duy Tan Plastics has always strived to build zero-waste factories, including solid waste, exhaust gases, and wastewater. Duy Tan Plastics' development strategy always includes the objective of sustainable development, which includes maintaining growth in production and business activities while also focusing on developing human resources and environmentally friendly products. Furthermore, SCG Packaging (the largest shareholder of Duy Tan Plastics) – a leading multinational consumer packaging solutions provider – is known as a unit that follows the enterprise's sustainable development philosophy and employs ESG strategy in investment and business activities, which focuses on issues related to environmental and social benefits.
Duy Tan Plastics is gradually switching factories to renewable energy sources, particularly solar energy, in order to achieve green manufacturing and sustainable development. With a capacity of 2,17 MWp, the solar power system at Duy Tan Binh Duong Plastics Plant will generate around 3,000,000 kWh of solar electricity per year, assisting Duy Tan Plastics in reducing emissions by about 2,000 tons of CO2 per year. Aside from creating clean energy sources that help reduce emissions, this solar power project assists Duy Tan Plastics in saving energy, decreasing manufacturing costs, optimizing profits, and lowering product prices to increase market competitiveness.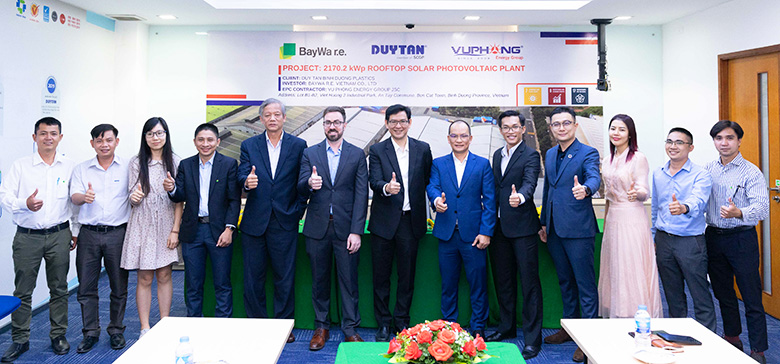 Representatives of BayWa r.e. Vietnam, Duy Tan Plastics Binh Duong and Vu Phong Energy Group at the project signing ceremony
At the signing ceremony of cooperation to develop solar power on the roof of Duy Tan Binh Duong Plastics Factory, Mr. Tri, Nguyen Quang – CEO of Vu Phong Energy Group – expressed his pleasure when Vu Phong Energy Group accompanies businesses on this journey, especially large enterprises with industry-leading positions such as Duy Tan Plastics, in the green production journey, sustainable development. This is also the latest project that Vu Phong Energy Group accompanies with BayWa r.e. Vietnam as well as BayWa Group r.e. – a global developer, supplier, and distributor of renewable energy, to jointly develop clean energy systems in Vietnam, thereby assisting Vietnam in achieving 2050 commitment to eliminate emissions.
"Vu Phong Energy Group is extremely appreciative of this partnership due to the economic, social, and environmental benefits that we will jointly generate… Based on the solid professional capacity and extensive experience, Vu Phong Energy Group is committed to developing a high-quality solar power system while ensuring safety progress. Duy Tan Binh Duong Plastics Factory will provide the highest level of efficiency and experience when using clean energy during the system's construction and operation.", Mr. Tri, Nguyen Quang – CEO of Vu Phong Energy Group shared in the cooperation signing ceremony.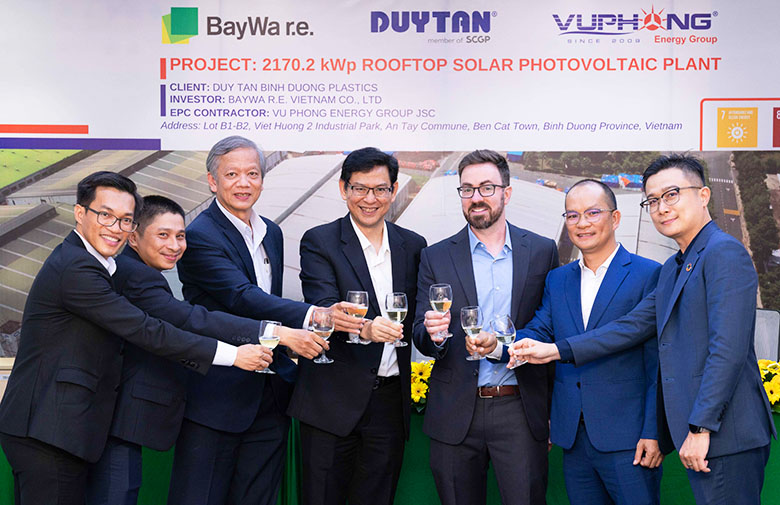 This special moment marks a successful start for the solar power project on the rooftop of the Duy Tan Binh Duong Plastics Factory
In the form of self-production and self-consumption of electricity, the solar power system will help reduce greenhouse gas emissions, "greening" the economy, promote sustainable development, and not strain the power transmission – distribution grid system. The cooperation in developing this project once again demonstrates Vu Phong Energy Group's determination to pursue the United Nations Sustainable Development Goals, such as Goal 7 – Affordable and clean energy, Goal 8 – Decent work and economic growth, Goal 13 – Climate action, and Goal 17 – Partnerships for the Goals.
The PPA (Power Purchase Agreement) is a flexible cooperation model that enables businesses to use clean energy with no upfront costs.

Under this cooperation model, Vu Phong Energy Group and our partners are investment funds investing in high-quality solar power systems on the enterprise's roof, selling energy or leasing the system for a time at a reasonable price. Businesses only need to take advantage of the idle factory roof, using clean energy to serve production and business activities at a price that is always lower than the current electricity price, and ensure the benefits of saving electricity costs at any EVN pricing. With a long-term contract, businesses may be proactive about energy prices and minimize risks from future increases in electricity prices. At the end of the agreement, the solar power system will be transferred for free (0 VND) to businesses, with a commitment to system performance when transferring more than 80-90%, depending on the conditions.

Businesses interested in the PPA (Power Purchase Agreement) solar power system and clean energy solutions to greening production, towards sustainable development, please contact Our Call Center via 1800 7171 or +84 9 1800 7171 or send an email to hello@vuphong.com for more information.
Vu Phong Energy Group