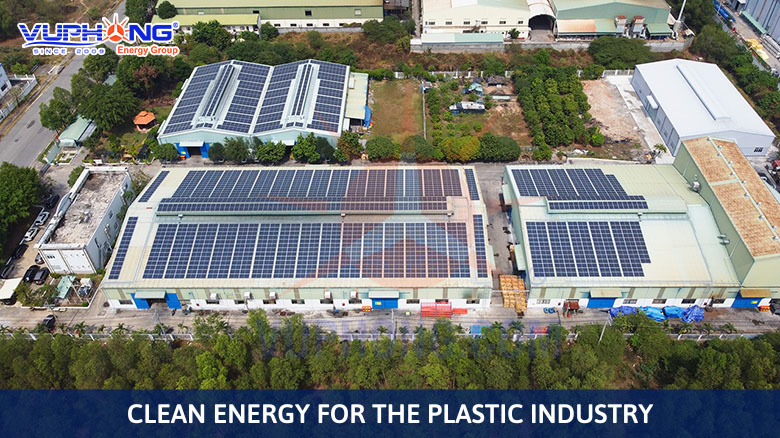 Many plastics enterprises have recently begun to strengthen energy-saving solutions and employ clean energy to reduce carbon footprint and be more environmentally friendly. This is the most prevalent option of enterprises in the trend toward green production and sustainable development.
In this trend, Vu Phong Energy Group has deployed a variety of solutions to best assist plastic enterprises in particularly and businesses in Vietnam in general, on the journey to green production. Vu Phong offers professional EPC general contractor services to companies investing in solar power systems, and is committed to delivering high-quality systems. Furthermore, Vu Phong pioneered solar power development with the Power Purchase Agreement (PPA) model, which is reserved for enterprises that want to use clean energy without investment costs.
Solutions for businesses to self-invest in solar power systems
With over 13 years of experience (since 2009), Vu Phong Energy Group is known as the leading solar EPC general contractor in Vietnam. Vu Phong has been the EPC contractor for hundreds of projects ranging from solar power projects on factory roofs to large-capacity solar power plants in Ninh Thuan and Binh Thuan, among others…
Customers place their trust in Vu Phong Energy Group due to a combination of three factors:
Soil expertise: Vu Phong is focused on the development of a renewable energy ecosystem and provides a team of highly skilled engineers with extensive experience.
Brand reputation: Vu Phong always follows through on its commitments, ensuring the quality, safety, and aesthetics of each project completed.
Attentive attitude: Vu Phong is dedicated to providing thoughtful services and advising customers on the best solution.
As an EPC contractor, Vu Phong always strives to ensure the project's safety, quality, and progress. Vu Phong carefully implements each stage of Engineering (E) – Procurement (P) – Construction (C) to ensure the best quality. Vu Phong, in particular, is constantly researching new technologies to improve system operating efficiency and optimize customer experience while utilizing clean energy. Several quality solar power projects have been handed over to enterprises and are already working steadily and efficiently.
With strong capacity and impressive achievement, Vu Phong Energy Group has been the winner at "The Solar Future Awards 2021" ceremony as 'EPC Company of the Year" category.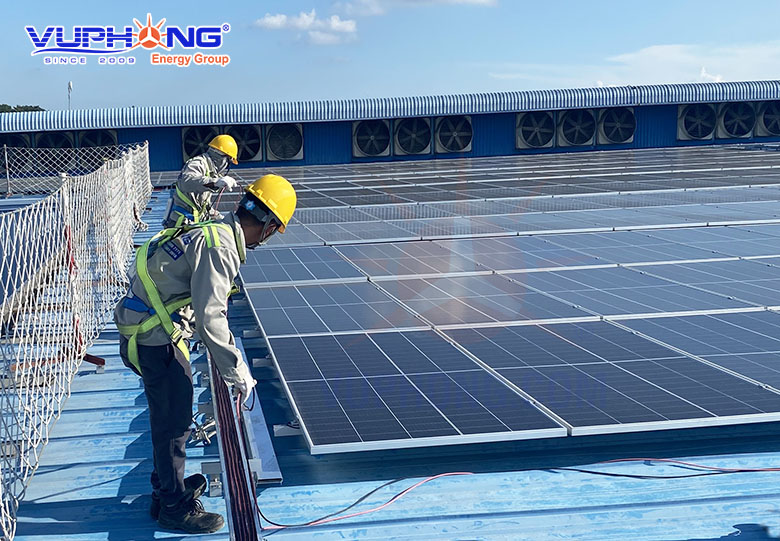 Vu Phong Energy Group engineers are striving to create high-quality solar power projects
The PPA solution allows enterprises to utilize clean energy without investment costs
The Power Purchase Agreement (PPA) solar power model, pioneered by Vu Phong at the end of 2019 and the beginning of 2020, is a solution allowing enterprises to use clean energy for production activities.
Under this cooperation model, Vu Phong Energy Group and our partners are investment funds that will invest in high-quality solar power systems on the enterprise's roof, selling energy or leasing the system for a long time at a reasonable price. Businesses only need to take advantage of the idle factory roof, using clean energy to serve production and business activities. At the end of the contract, the solar power system will be given to the enterprise for free (0 VND), with a system performance commitment when the transfer is over 80-90%, depending on the conditions.
Vu Phong Energy Group is accompanying many businesses, including many plastic enterprises, to develop solar power systems under the PPA flexible cooperation model, such as Mekong Plastic – Ben Tre, Mekong Plastic – Tien Giang …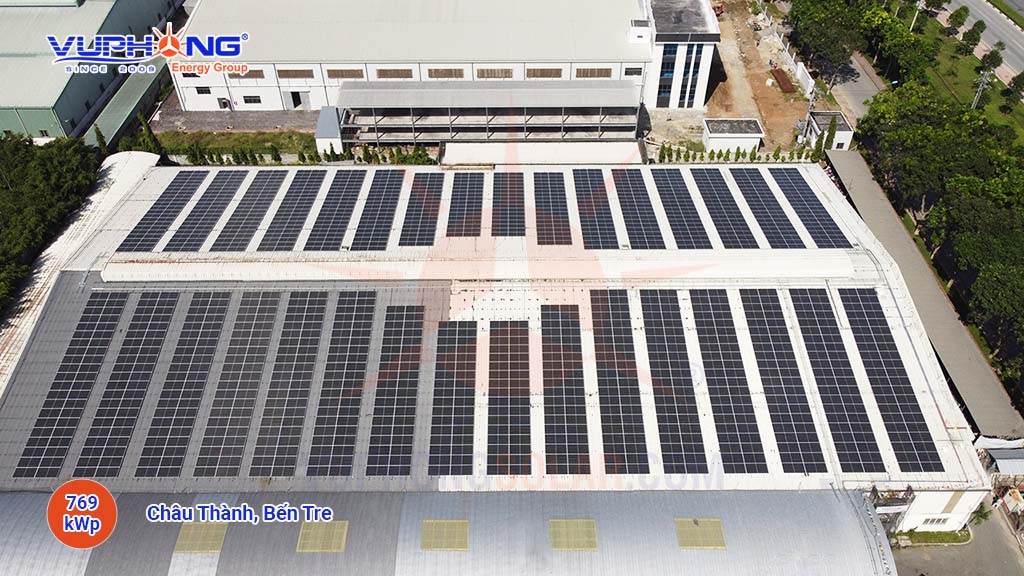 The rooftop solar power system of Mekong Plastic – Ben Tre Factory
Vu Phong Energy Group is currently installing a solar power system with a capacity of roughly 2,070 kWp on Dong A Plastic Company's rooftop factory No. 02 at Chau Son Industrial Park, Phu Ly, Ha Nam. As a result, after developing the solar power system in factory No. 02, Dong A Plastics Group continues to cooperate in implementing clean energy systems in the remaining two factories in Ngoc Hoi Industrial Park (Ha Noi) and Tan Tao Industrial Park (HCMC). At that time, the total capacity of rooftop solar power in the factory will be around 5,000 kWp, helping Dong A Plastics achieve its aim of "greening" manufacturing, reducing production costs, and moving toward sustainable development also enhancing profits and shareholder value.
With the mission of "Develop clean energy for the green environment and sustainable development", Vu Phong Energy Group will continue its efforts to bring clean energy solutions and best accompany businesses in the journey of greening production towards sustainable development.
Businesses interested in the Power Purchase Agreement (PPA) model, and clean energy solutions to greening production, towards sustainable development, please contact Our Call Center via 1800 7171 or +84 9 1800 7171 or send an email to hello@vuphong.com for more information.
More information:
Vu Phong Energy Group