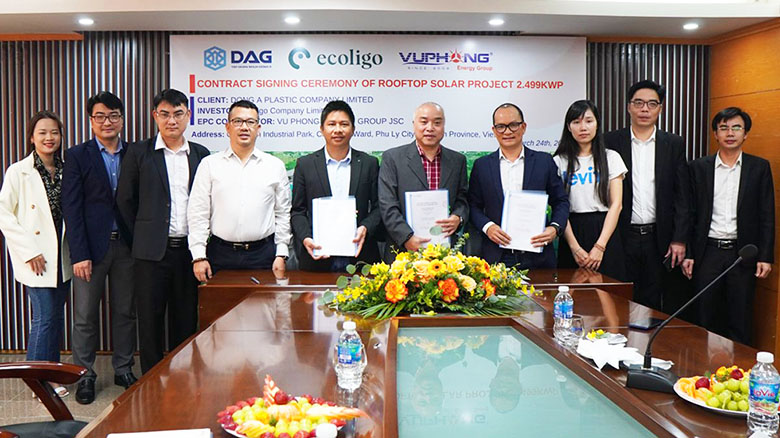 Vu Phong Energy Group will serve as the general contractor (EPC) to develop solar power systems on the rooftops of Dong A Plastics Group plants. Phase 1: Vu Phong will construct and install a solar power system with a capacity of roughly 2,5 MWp at Dong A Plastics' facility No. 02 in Chau Son Industrial Park, Phu Ly, Ha Nam.
The cooperation demonstrates Vu Phong's commitment to achieving the United Nations' Sustainable Development Goals, the most visible of which are Goal 7 (affordable and clean energy), Goal 8 (Decent work and economic growth), Goal 13 (Climate action), and Goal 17(Partnerships for the Goals).
With the cooperation of the ecoligo International Investment Fund – the investor and owns the system, the solar power system is being developed using the PPA (Power Purchase Agreement) model. Dong A Plastics Group merely needs to take advantage of the idle roof and will be able to use solar electricity at a reasonable cost to serve its manufacturer.
This is a new step for Dong A Plastics in the roadmap toward "green production". Mr. Hung, Nguyen Ba, General Director of the Group and Chairman of Dong A Plastics Co., Ltd, said at the contract signing ceremony: "Along with constantly improving and applying the most modern technologies to improve quality products, Dong A also pays attention to environmental protection commitments in the manufacturing process." Dong A Plastics was one of the first companies to focus on producing new material products with new technology to provide environmentally friendly and safe products for users.
As a result, after developing the solar power system in factory No. 02, Dong A Plastics Group continues to cooperate in implementing clean energy systems in the remaining two factories in Ngoc Hoi Industrial Park (Ha Noi) and Tan Tao Industrial Park (HCMC). At that time, the total capacity of rooftop solar power in the factory will be around 5 MWp, helping Dong A Plastics achieve its aim of "greening" manufacturing, reducing production costs, and moving toward sustainable development also enhancing profits and shareholder value.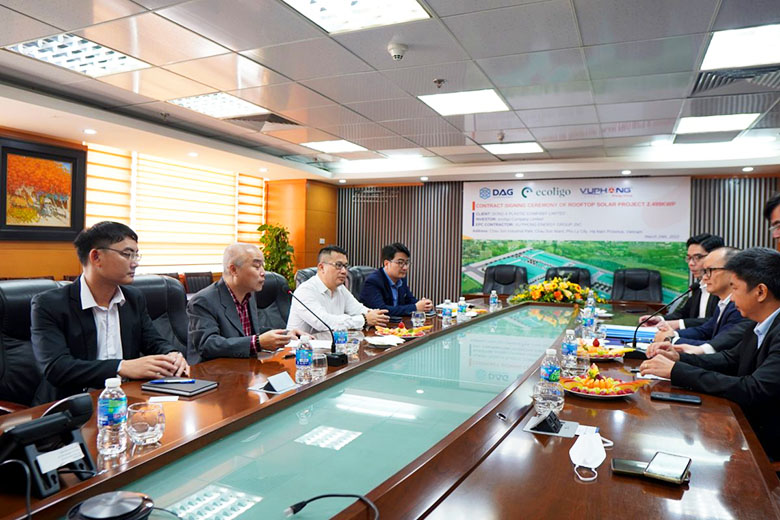 The signing ceremony of cooperation to develop solar power on the roof of Dong A Plastic Factory in Ha Nam, March 24, 2022
Vu Phong Energy Group's General Director, Mr. Tri, Nguyen Quang, said, "Vu Phong is very pleased to continue to be trusted by the ecoligo – International Investment Fund, and chosen to accompany in the project of developing a rooftop solar power system Dong A Plastic Group plant." With a substantial capacity and extensive experience, Vu Phong is committed to continuing to create solar power systems of high quality and aesthetics, ensuring progress, safety, and quality in the system's construction and operation, and bringing the best profits to both investors and system users.
From the end of 2019 to the beginning of 2020, Vu Phong Energy Group has accompanied many domestic and international investment funds in developing rooftop solar power systems, helping many businesses use clean energy for business activities, production, reducing greenhouse gas emissions, and towards sustainable development. One of their close partners of Vu Phong is ecoligo. Under the PPA model, the two sides have collaborated on dozens of clean energy projects, including the Kim Duc 2,3MWp project, Southeast Vietnam 2 MWp, NAFOCO 1,13 MWp, GreenTG 1 MWp, Radiant 1 MWp…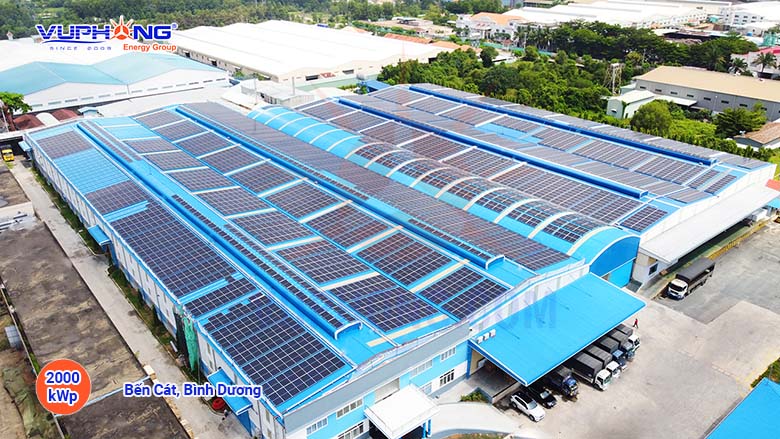 The solar power system with PPA model invested by ecoligo, Vu Phong Energy Group assumes the role of general contractor (EPC)
These self-produced – self-consumption systems do not put a strain on the grid while also helping to accelerate the energy transition and decrease greenhouse gas emissions – in line with Vietnam's commitment at COP26 to achieve Net Zero emissions by 2050. This is also what Vu Phong, customers, and partners are collaborating on in order to "Develop clean energy for the green environment and sustainable development."
Vu Phong Energy Group is a leading renewable energy company in Vietnam, specializing in solar power EPC general contractor services, O&M (Operating & Maintenance) services, Asset Management (asset management) services for solar and wind power plants, as well as research and production of renewable energy equipment such as solar panel cleaning robots.
Vu Phong Energy Group was honored EPC Company of the Year at The Solar Future Awards 2021, and the sole representative of Vietnam to win The Asian Power Awards 2021 in two categories: Solar Power Project of the Year and Environmental Upgrade of the Year.
Individuals and businesses interested in the PPA model, and clean energy solutions to "greening" production, towards sustainable development, please contact Our Call Center via 18007171 or +84 9 1800 7171 or send an email to hello@vuphong.com for more information.
Vu Phong Energy Group