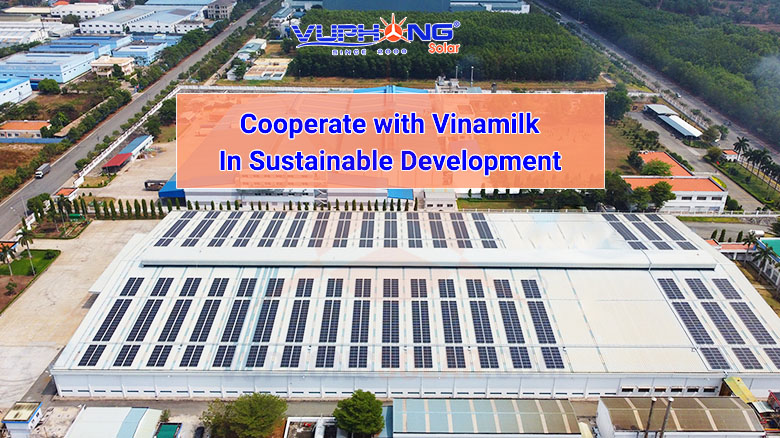 The entire 12 international standard dairy cow farms with technology 4.0 applications will be covered by a solar power system. The plants with the most modern dairy production line in the world will also use clean energy in the manufacturing process to produce fresh and delicious food. It is a significant step forward in the Vietnam Dairy Products Joint Stock Company's sustainable development (Vinamilk). And Vu Phong Energy Group is one of Vinamilk's partners in sustainable development.
Vinamilk is well-known for its 45-year-long national branding. It not only ranks in the top 10 Vietnam's largest private enterprises for many years, but it is also one of the top 50 largest dairy companies in the world (currently ranks 36th, according to Plimsoll's dairy industry revenue statistics in 2021). Aside from focusing on product quality, consider the product's distribution channels. Vinamilk has also identified and realized a sustainable development orientation for a long time.
Vinamilk's approach to sustainable development focuses on five key areas, including the environment and energy. As a result, Vietnam's largest dairy corporation is constantly looking for ways to reduce negative environmental impacts and maximize resource and energy efficiency. Using solar energy as an environmentally friendly energy solution is also becoming a global trend in farming 4.0.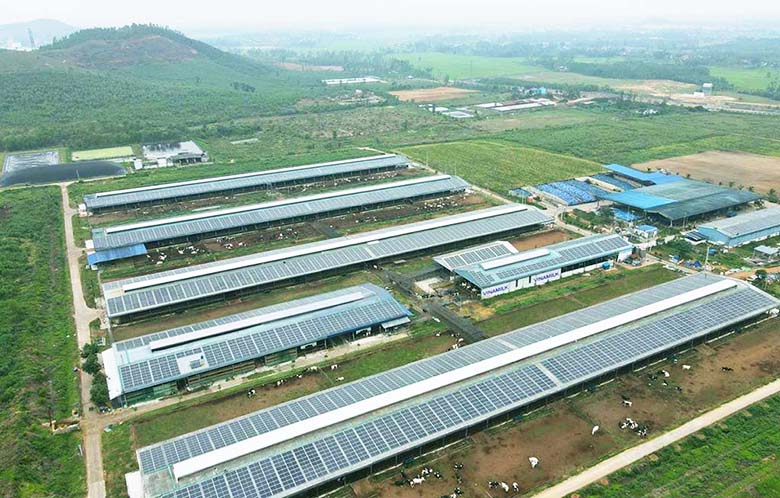 Solar power on a Vinamilk dairy farm.
Since the survey and testing process, five of Vinamilk's dairy farms have installed rooftop solar power systems, including Vinamilk's Da Lat Organic dairy farm in Lam Dong, which is the first organic dairy farm in Vietnam to be certified to a European standard, and the other farms in provinces such as Lam Dong, Binh Dinh, and Quang Ngai. According to Vinamilk's roadmap, the entire 12 international-standard dairy farms throughout Vietnam's areas will be invested in clean energy. According to estimates, the project will generate 70 million kilowatt-hours (kWh) per year, helping to reduce more than 62 million kilograms of CO2 per year.
In addition to dairy farms and dairy factories, Vinamilk's Vietnam Beverage Factory will be outfitted with a high-quality solar power system. In 2020, Vu Phong Solar, a subsidiary company of Vu Phong Energy Group, installed a rooftop solar power system with a capacity of 1 Megawatt peak (MWp) at the Vietnam Beverage Factory of Vinamilk, located in My Phuoc 2 industrial park, Ben Cat, Binh Duong province. The project made use of 2.210 Longi solar panels 450Wp, 12 SMA on-grid inverters (Germany) 75 kW, and a high-quality electrical wiring system with a lifespan of more than 30 years.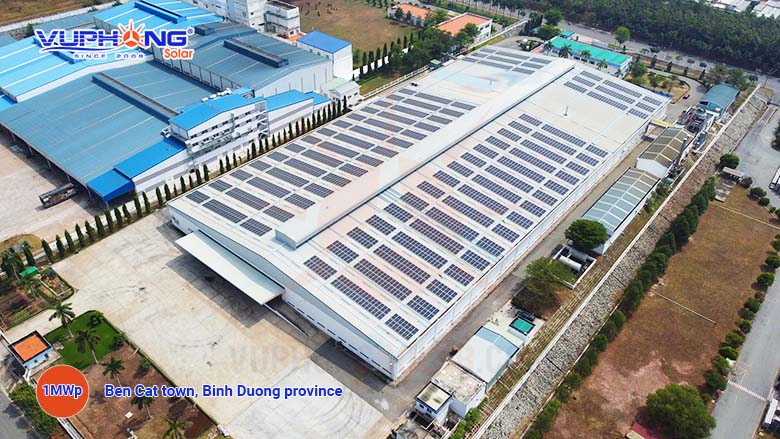 Vu Phong Energy Group designed and installed a rooftop solar power system on the Vinamilk beverage factory's roof.
This high-quality rooftop solar power system, carefully and aesthetically installed, will provide a clean electricity supply to the factory's manufacturing operations. The use of clean energy on large-scale dairy farms and factory systems helps to reduce their carbon footprint in livestock production, and these are specific and effective actions that advance sustainable development and create harmonization of business goals and social responsibility.
Combine solar energy development and environmental initiatives. Water reuse in manufacturing operations, reduction of plastic use, use of fossil alternative fuels such as biomass gas and CNG gas…and circular economy left an indelible mark on Vinamilk as a pioneer in sustainable development, resulting in positive impacts on Viet Nam's Social-Economic Development. The Vietnam Chamber of Commerce and Industry (VCCI) announced in December 2020 that Vinamilk is one of Vietnam's top 10 sustainable businesses in the manufacturing sector and has been named one of Vietnam's top 100 sustainable businesses for the past five years (CSI 2020).
Vu Phong Energy Group, one of Vinamilk's partners, believes that with the persevering and methodical implementation of Vinamilk's pioneering sustainable development strategies, the national brand Vinamilk will achieve many more significant achievements in the "green growth" efforts in 2021.
Vu Phong Energy Group is always willing to collaborate with businesses to take advantage of renewable energy sources, advance eco-friendly solutions to create green products that serve consumers, and improve global competitiveness. Vu Phong Energy Group is the pioneer unit in developing the PPA model (Build – Lease – Transfer) in Vietnam, in addition to providing EPC services in the solar field. This solution enables businesses to use clean electricity at a lower cost while requiring no capital investment; all that is required is the use of vacant rooftops. It is especially appropriate for businesses that want to promote green manufacturing when they need to maximize the efficiency of resource use for technology investment, expanding the operation scale, or investing in research and development (R&D)… For more information, please visit the website or call us at 1800 7171 or +849 1800 7171.
Vu Phong Energy Group