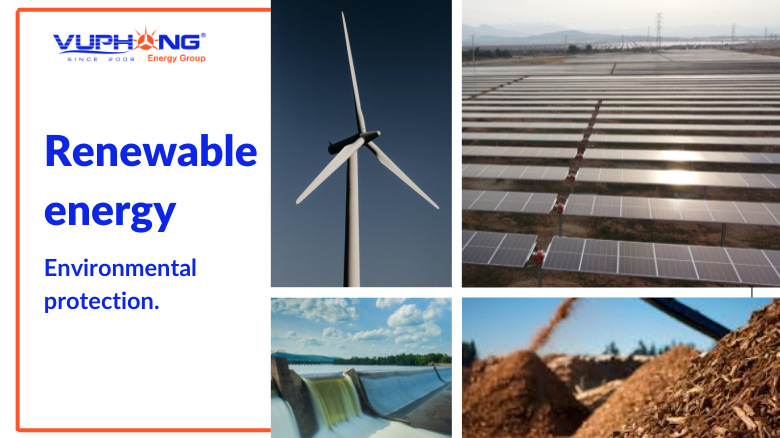 Renewable energy sources include solar power, wind power, hydroelectricity, wave power, tidal power, biomass power, and geothermal energy. Using renewable energy can help reduce greenhouse gas emissions, conserve energy, protect the environment, and combat climate change.
Environmental benefits from clean energy
Many countries are focusing on energy transition in the face of rising energy demand and the progressive depletion of fossil fuel reserves. Not only renewable energy help to secure each country's energy need, but it is also an essential option to deal with global climate change.
Renewable energy sources are referred to as clean energy sources since they significantly reduce greenhouse gas emissions. A 1MWp solar power system installed on the roof of a business factory, for example, will generate 120-150 thousand kWh of electricity per month, more than 1.5 million kWh of electricity per year, reducing emissions by approximately 1,000 tons of CO2/year and is equivalent to planting more than 17,000 trees per year. As a result, during its 25-30-year life cycle, this system will help reduce around 25-30 tons of CO2 emissions. Investing in renewable energy sources, such as solar power, provides financial benefits to homes and companies by allowing them to create clean electricity for their daily requirements.
Otherwise, rooftop solar power systems are similar to "green roofs," which provide insulation to keep the structure cool in the summer and warm in the winter. It minimizes the amount of energy used by air conditioning and heating systems, enhancing energy efficiency.
After their life cycle, these solar panels can be recycled up to 93-95 percent of the time. They are resources that can be used as input materials to make new panels or for other non-harmful reasons to the environment. According to Green Match research, it is anticipated that by 2050, 2 billion new solar panels (equal to 630 GW of renewable energy) would be manufactured entirely from recycled material. Furthermore, recycling factories provide extra job opportunities.
The advantage of developing renewable energy in Vietnam
Renewable energy has tremendous potential in Vietnam. The average annual total radiation volume is around 230-250 kcal/cm2 with a high total number of sunny hours (up to over 2,500 hours/year). When it comes to solar energy, Vietnam is quite convenient. Meanwhile, in terms of wind power potential, more than 39 percent of our country's entire territory has an average yearly wind speed at an altitude of 65m greater than 6m/s, equivalent to 512 GW total capacity. More than 8% of the region, particularly with wind speeds at the height of 65m reaching over 7-8m/s, can generate more than 110 GW. Biomass and geothermal electricity are also renewable energy sources that can be exploited well in Vietnam.
"Our government has put in place many important policies to promote energy conservation and renewable energy development, which the Law has concretized on Economical and Efficient Use of Energy, the Strategy for Renewable Energy Development, and the Law on Economic and Efficient Use of Energy." Create and national target programs, national initiatives to increase energy efficiency and economics. "On February 11, 2020, the Politburo issued Resolution No. 55/NQ-TW on strategic orientations for national energy development to 2030, and the vision to 2045, which affirms the priority exploit and develop renewable energy, and strongly promote economical and efficient use of energy," said Hoang Quoc Vuong, Deputy Minister of Industry and Trade. Vietnam also aims to reduce greenhouse gas emissions by 8% by 2030, with the potential to reduce emissions by up to 25% if adequate international support is provided; set an annual goal of saving at least 2% of total electricity consumption in the period 2020-2025 (according to Prime Minister's Directive No. 20/CT-TTG dated May 7, 2020). Participating in the production and use of renewable energy is a solution that households and companies can put in place to protect the environment. Click here for further information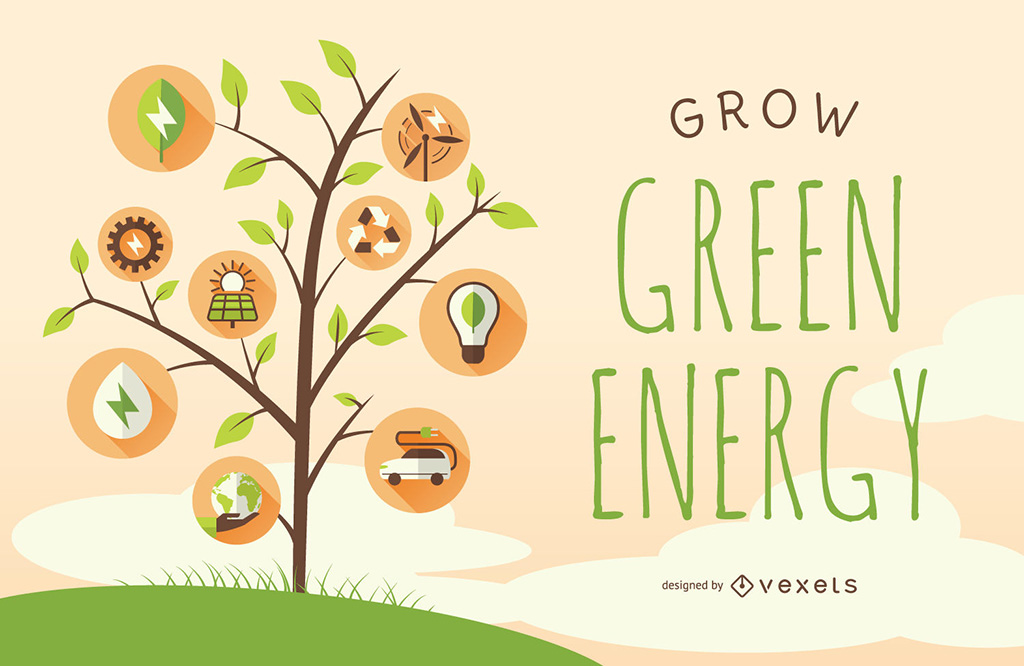 Renewable energy – a solution to help protect the environment, towards sustainable development (source: Internet)
Another benefit is that the cost of renewable energy is decreasing. When compared to ten years ago, the cost of installing solar electricity has fallen by approximately 80-90%, resulting in a shorter payback period (only 5-6 years). Following that, the profit will rise to 15-17%. The life of materials has improved with the advancement of solar power technology; presently, the life expectancy of high-quality photovoltaic panels ranges from 30 to 50 years.
The trend of investment in clean energy for green production
Households and companies are becoming more interested in clean energy solutions due to the practical social-economic-environmental benefits. According to actual customer records of Vu Phong Energy Group, they chose rooftop solar power as a solution in sustainable development; with other solutions like reuse water, use environmentally friendly fuels, reduce plastic use, etc. Reduced carbon footprint incorporate activities and production, and harmoniously combining commercial goals with social responsibility are strong motivators for firms to invest in clean energy.
Vu Phong Energy Group has deployed the PPA model beginning in 2020 to assist businesses in utilizing renewable energy sources and moving toward environmentally-friendly solutions. Many firms have taken notice of this model. More than 50MWp of rooftop solar power installed by Vu Phong in Vietnam in 2020 will be PPA projects. Many businesses prefer this concept since it allows them to use clean electricity at a low cost without committing capital, just by using an idle industrial roof. It is particularly suited to firms who want to support the process of greening production while also maximizing wealth to invest in technology, grow production scale, or focus on research and development. (If your company is interested in the PPA model, please view the specifics here or contact us at 1800 7171 – 09 1800 7171.)
Vu Phong Energy Group has been focused on solar power since its inception in 2009. So far, we have earned a name for ourselves through a series of significant projects of exceptional quality and beauty. With the mission of "Developing clean energy for a green environment in Vietnam," Vu Phong will continue to research and develop the renewable energy ecosystem with new business segments such as Electricity O&M services wind; Producing robot cleaning solar panels Made in Vietnam; Mini SCADA system for mini farm and rooftop solar power projects; Pumped-storage hydroelectricity; Wave energy development beginning in 2021. Construction Joint Stock Firm 47, a Vu Phong associate company, collaborates in the construction of Vietnam's first pumped-storage hydroelectric project, Bac Ai Storage Hydroelectricity, in Ninh Thuan. The first phase of this factory has just been accepted and will be completed on March 11, 2021. Bac Ai Storage Hydroelectricity will help reduce the difference in the load chart when mobilizing pump capacity during off-peak hours and generating electricity during peak hours, which will help stabilize the system, regulate frequency, and support the technique, allowing the national power system to operate stably, safely, and reliably. This is especially significant in the context of Vietnam's rapidly expanding renewable energy sources. Vu Phong Energy Group expected to contribute to the fight against climate change by building and developing a renewable energy ecosystem and continuing to accompany many people and businesses in their efforts to protect our environment.