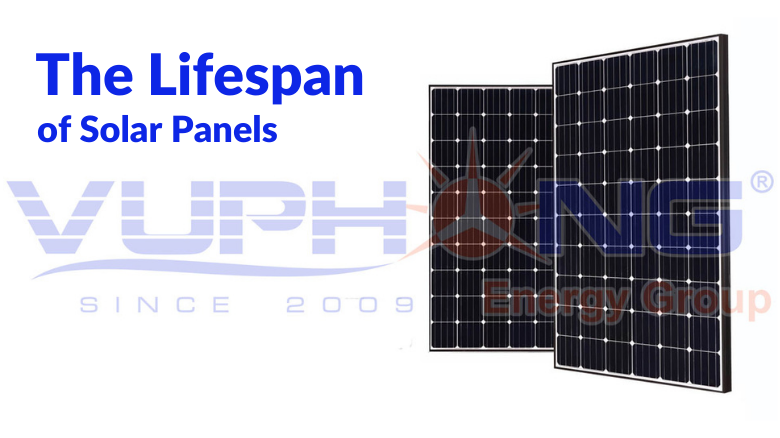 During the consulting process, investors usually ask how long the life of a solar panel is. It is reasonable because the solar panel, regarded as the "heart," is crucial to the overall system. Solar panels are also the equipment with the highest total cost of ownership when installed. 
How long does a solar panel last? 
The lifespan of a solar panel might range from 30 to 50 years or more, depending on the type. Solar panels are typically covered by two types of warranties: equipment warranties and performance warranties. While equipment guarantees are often limited to 10-12 years, performance warranties can last up to 25-30 years, depending on the brand. Most manufacturers guarantee a maximum degradation performance of 10% for the first 10-12 years and 20% beyond 25 years. However, certain high-quality battery manufacturers, such as LG Solar, guarantee that the panels' efficiency will be up to 90% after 25 years. After that, even if the manufacturer does not ensure the performance, the panel's life is still quite lengthy, as explained in Solar Cell Structure. Click here to see more about Solar Panel Structure. 
According to some research, a solar panel has 30-50 years before it quits working. However, the lifespan of each panel varies based on the brand, kind of battery, installation, operation, and environmental circumstances. Thin-Film panels, for example, often have a shorter lifespan than silicon batteries. Monocrystalline (Mono-Si) has a longer lifespan and is more efficient than polycrystalline (Poly-Si). Concentrated photovoltaic panels (PV batteries) of high quality have a lifespan of more than 50 years. Improper installation, unsuitable location, and so on can all have an impact on the longevity and actual performance of the panels. 

How can you extend the lifespan of a solar panel? 
To select a decent, long-lasting solar panel, start with a reputed solar panel manufacturer. The investor should keep the following items in mind during installation and operation to extend the life of the panels: 
Standard installation from the start: When installing solar panels, it should be installed in the right direction, with optimal inclination, avoiding obstacles, ensuring the best distance between the panel arrays, and installing the right and suitable accessories such as aluminum frame, foundation frame, tempered glass, and so on. Technicians should have extensive experience to ensure proper standards that extend the lifespan and performance of solar panels while remaining safe for the user. 
The maintenance schedule for the system during use: The maintenance process can be carried out daily/weekly/monthly, quarterly, annually, or every five years. Click here for further information.  
In particular, families in dusty areas such as near thermal power plants, concrete and cement plants, or around many tall trees should regularly check to ensure that solar batteries are not damaged. It may reduce the life and performance of the panel. Investors should monitor the amount of electricity produced every day/week to ensure the system works correctly. If the power output drops suddenly, it may be due to a problem with the panel; it is necessary to notify the construction unit for a timely remedy. 
When installing, the investor should discuss carefully with the technician for detailed advice on measures to help prolong the life of the solar cell and the whole system. 
Please email hello@vuphong.com, or contact us via hotline 18007171 or +84 9 1800 7171, for a detailed price list and equipment parameters.  
Source: Vu Phong Energy Group JSC 
For further information about Vu Phong Energy Group JSC, click here! 
Vu Phong Solar is a unit with over 12 years of experience as a general contractor for rooftop solar power construction for civil, industrial, factory, and solar farms, with a team of more than 350 employees by the end of 2019. We have built more than 500MWp project and operates more than 325MWp of solar power plants, achieving ISO 9001:2015, ISO 14001:2015, and ISO 45001:2018 – internationally certified by SGS Global.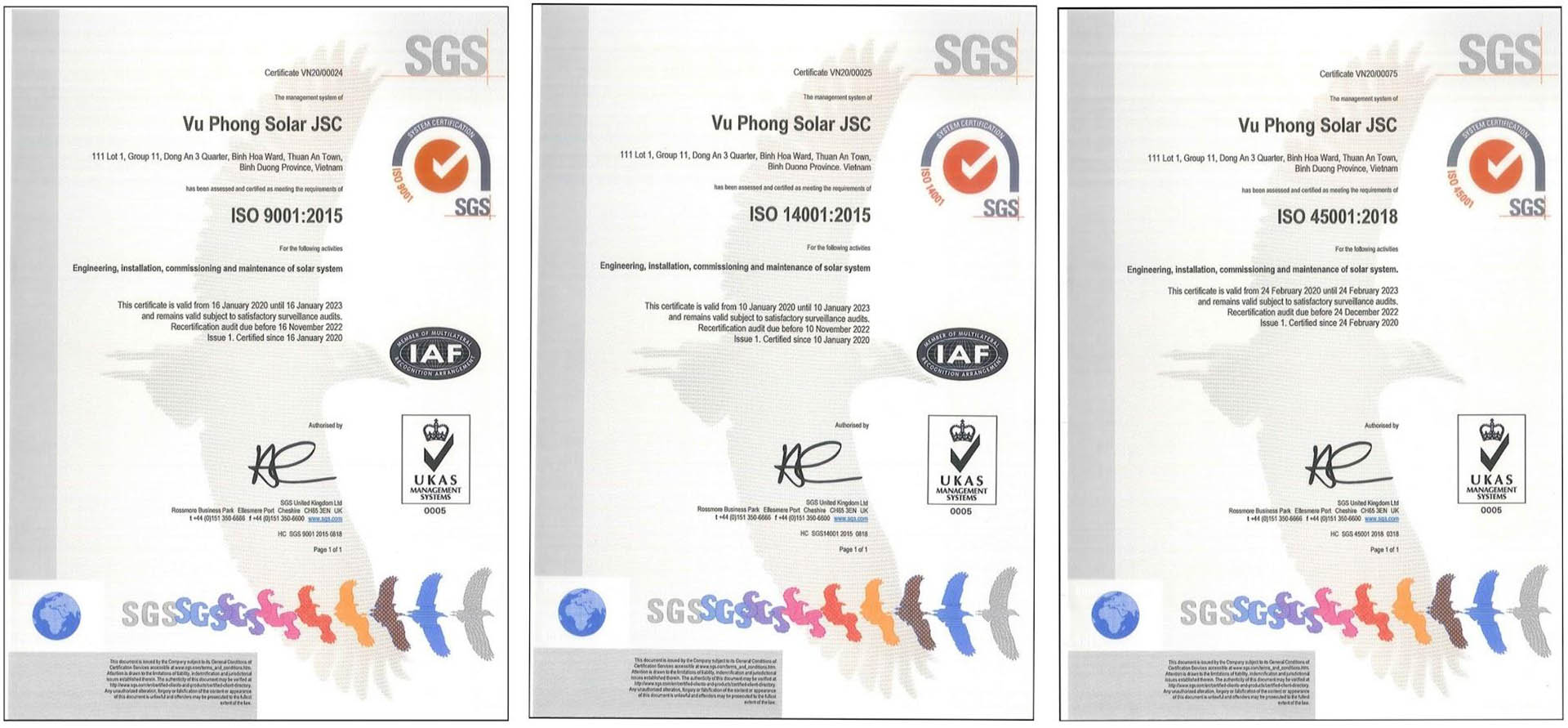 ISO Certificates of Vu Phong Energy Group