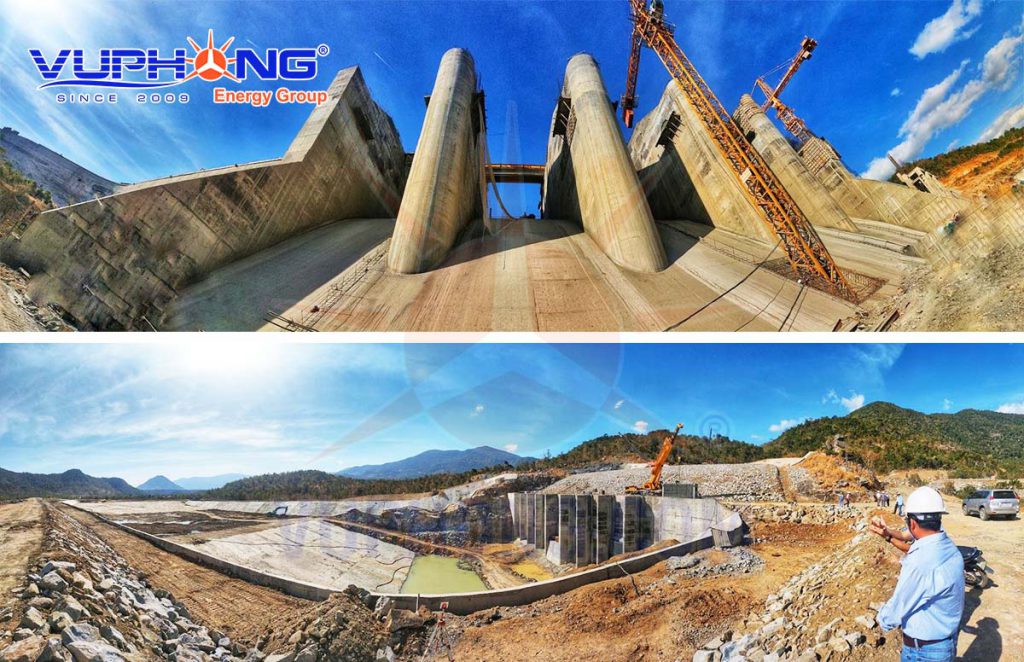 Energy storage is now a vital aspect of keeping systems running smoothly and optimizing producing capacity. With numerous advantages, stored hydroelectricity is now the finest alternative for electricity storage and a key component in developing renewable energy in Vietnam. 
Flexible, large capacity 
The energy is stored as hydropower energy using stored hydroelectricity. The model of stored hydroelectricity contains two reservoirs at different elevations, one hydroelectric power plant with a reversible turbine near the lower reservoir and a penstock connecting the higher reservoir to the lower reservoir. Water from the higher reservoir runs through the pressure pipe at its peak, rotating the turbine and generating energy for the system before being released into the lower lake. 
Combining stored hydroelectricity with developing variable renewable energy projects such as solar power and wind power will help increase overall operational efficiency and reduce grid operation and regulation pressure. Stored hydroelectricity helps balance the load demand of the power system to reduce the difference in the load chart in peak hours. We have very high electricity demand in the evening, but generation capacity from solar power plants is low. Or at noon, low demand but high solar radiation and large capacity from solar power. As a result, stored hydroelectricity will help optimize solar and wind energy. In contrast, electricity from these renewable energy plants provides energy stored hydroelectricity construction to storage water during off-peak times. 
According to Dr. Nguyen Huy Hoach from Vietnam Energy Magazine, stored hydroelectricity is also beneficial "Additional benefits include the ability to harden and store (both increase and decrease) reactive power, as well as the capacity to start and store. In power generation mode, the turbine-generator, like conventional hydropower generators, can respond swiftly to frequency offsets, contributing to the overall balance and stability of the power grid. The generator-motor can be adjusted in both turbine and pump modes to help with reactive power load and voltage stability."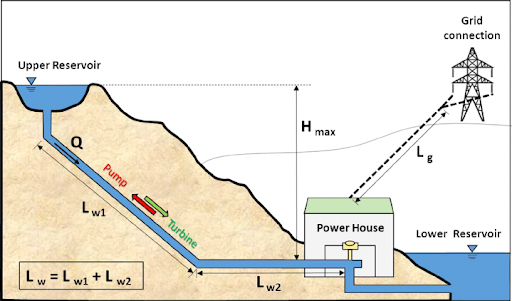 The diagram of stored hydroelectricity
Because of its high capacity and storage capacity and an exploitation span of up to 70-80 years, stored hydroelectricity is the option of choice for many countries, accounting for more than 90 percent of all electricity stored globally. Stored hydropower is also considered the future of Vietnam's hydropower industry. 
Developing stored hydroelectricity in Vietnam  
Stored hydroelectricity has been researched and applied in many countries worldwide, with many projects with a capacity of more than 1,000 MW, concentrated in the US, Japan, China… The storage hydropower plant is located in Virginia., the US, has a storage capacity of more than 3 GW, called "the largest battery in the world." In Vietnam, stored hydroelectricity has only been researched and deployed in recent years. The first pumped-storage hydroelectric project in Vietnam is Bac Ai hydroelectricity plant, Ninh Thuan province, with about 21,100 billion VND. The project was started construction in early 2020, with Electricity of Vietnam (EVN) as the investor, Construction Joint Stock Company 47 (C47) as the main contractor. The project consists of 4 units with a capacity of 1,200 MW – the largest in Southeast Asia, using the water source of Song Cai Lake of Tan My irrigation system to pump to the elevated lake to store water for power generation through 2 parallel tunnels. It has a diameter of 5.5-7.5m with a total length of each tunnel more than 2.7km. The project is implemented in 2 phases: Phase 1 is the construction of the outlet cluster, expected to be completed in the first quarter of this year; Phase 2 will construct the main works in early 2022 to ensure the progress of power generation by December 2026. The entire project is expected to be completed by the end of 2028. 
Bac Ai Storage Hydroelectricity plays the role of a very significant and meaningful energy storage system when put into operation in the period 2025-2030, in the context of rapidly growing renewable energy sources. Soon, many solar and wind power plants with large installed capacity continued to be invested and put into operation. This project plays an important role in solving the problem of excess and deficiency in the power system load chart, helping to stabilize the system, adjust frequency, and be a tool to help the operation of the national power system stable, safe and reliable. 
According to Resolution No. 55-NQ/TW on the orientations of Vietnam's national energy development strategy to 2030, with a vision to 2045, the target of renewable energy sources in total energy supply is to reach 15-20% in 2030 and 25-30% in 2045. Indeed, with the advancement of solar and wind power in recent years, it is projected that the segment of rooftop solar power for houses, office buildings, manufacturing plants, and wind farms would continue to grow. Bac Ai storage hydroelectricity is one of the projects that will help to encourage the development of renewable energy in the future. 
More information about CP47: 

Construction Joint Stock Company 47 (C47) has been one of Vietnam's Top 500 largest firms for many years, with 45 years of experience in irrigation, massive hydropower, tunnels, industrial construction, and structures. Beside the 1,200 MW Bac Ai Hydropower Project, C47 also built a 480 MW Hoa Binh Hydropower and several other significant projects worth trillion of VND, such as the Dong Mit Water Reservoir. Tan My… C47 will gradually participate in wind power projects, seek possibilities to participate in Metro tunnel construction and expanding service markets to the Southeast and Southwest regions.
Source: Vu Phong Energy Group JSC