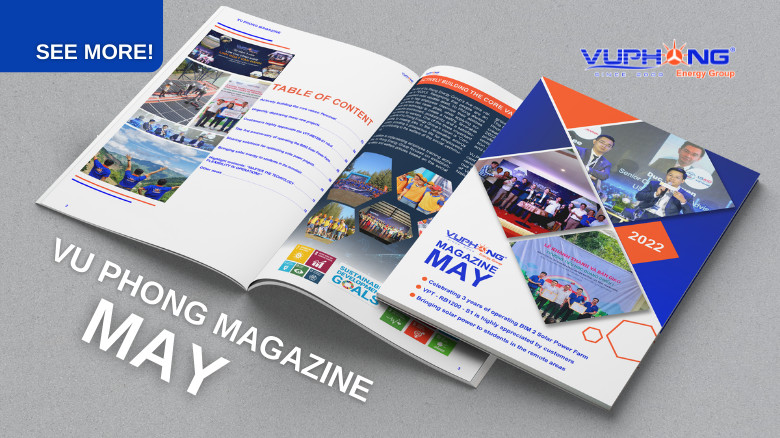 To ensure that the goal is met on schedule as committed to the investor, in May, Vu Phong Energy Group, particularly in the engineering-construction sector, is hard to prepare, implement, and construct a series of solar power projects.
Let's check our magazine in this link. 
The chain of the solar power system on the rooftops of factories owned by Hwaseung Enterprise Group (Korea) in Vietnam is prominent among the projects being urgently implemented by Vu Phong Energy Group in May. This is a large project with a total capacity of more than 12.5 MWp that Vu Phong recently signed with Shire Oak International Group (United Kingdom) – the project investment and development unit – in April.
In May, the 3rd anniversary of taking over and operating the BIM2 Solar Power Plant and honoring the Plant's O&M achievements was held. The memorable ceremony was held in Ninh Thuan province, the Board of Directors of Vu Phong Energy Group, Vu Phong Tech, our partners – Bouygues Energies & Services (part of the Bouygues Group, France), and a group of  O&M BIM 2 team engineers attended this event.
In May, Vu Phong Energy Group also attended the opening and handover ceremony of solar power systems for schools in Muong Lat district, one of Thanh Hoa province's most difficult mountainous districts. These are two meaningful community projects that Vu Phong Energy Group, Cargill Cares Foundation, JCI East Saigon, and Capella Hanoi Hotel cooperated on to improve learning conditions for children by providing electric light from the sun. Vu Phong Energy Group wishes to share, spread love, and positive energy to the community through these projects and join hands for the United Nations Federation's Sustainable Development Goals (SDGs), which Vu Phong has been persistently pursuing throughout its development journey.
Vu Phong Energy Group carries out many more outstanding activities in May with the cooperation of customers and partners. Let's check out these activities at Vu Phong Magazine In May 2022 . Thank you very much for trusting, and accompanying Vu Phong Energy Group on our mission: "Develop clean energy for the green environment and sustainable development" journey.
Wish you a new month full of energy and success!
Vu Phong Energy Group