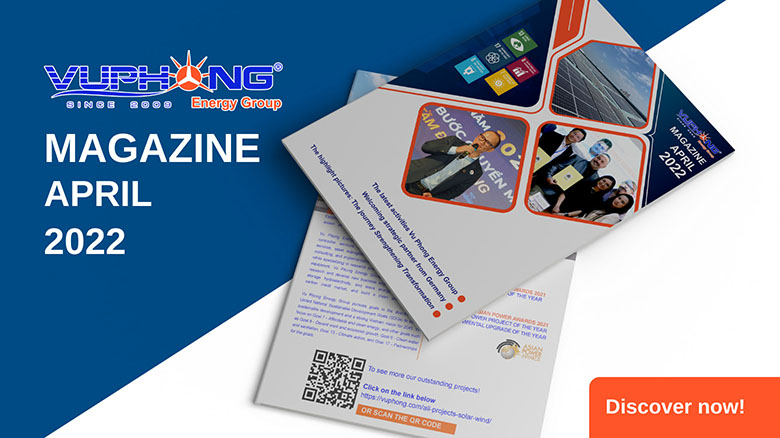 With a joint effort, excitement, and the trust and companionship of customers and partners, Vu Phong Energy Group has accomplished the goals outlined in April and is working hard on the following goals.
Clean Energy Project Construction and Solar Power Systems Installation
In April, Vu Phong Energy Group continued to actively carry out clean energy project construction, installation, and operation, completing and handing over many high-quality and aesthetically pleasing solar power systems on commercial and industrial (C&I) rooftops.
Large Contracts Signed for EPC Services
Vu Phong also consistently signed several large contracts. One of them is a contract for EPC services for a project with a total capacity of more than 12.5 MWp. Shire Oak International Group will invest in and develop the solar power system chain installed on the rooftops of factories owned by Hwaseung Enterprise Group (Korea) in Vietnam. This project will kick-start a plan to install solar power systems at all current Hwaseung Enterprise facilities worldwide to meet the company's aim of reducing carbon emissions by 50% by 2030.
Strategic Partnership with STEAG Energy Services GmbH
Welcoming our partner – STEAG Energy Services GmbH (Germany) is also our activity in April. STEAG, the world's leading energy company, is a strategic partner of Vu Phong in the field of wind power. Vu Phong – STEAG has signed much cooperation to provide high-quality services to wind power investors in Vietnam, such as Value Driven Asset Management, consulting services for the development and implementation of wind power projects, etc.
Introduction of Vu Phong Magazine
Vu Phong Energy Group would like to introduce you to Vu Phong Magazine in April 2022 to maintain you up to speed on the details of Vu Phong's highlight activities during the month. We invite you to follow, support and accompany Vu Phong Energy Group on its journey of "Develop clean energy for the green environment and sustainable development."
Holiday Schedule for April 30th and May 1st
Vu Phong Energy Group would like to send you the following holiday schedule for the upcoming holidays of April 30 and May 1st:
– The company is on holiday from April 30th, 2022 to the end of May 2nd, 2022
– The company will work again on May 3rd, 2022
Wishing our customers and partners a joyful and wonderful holiday!
Read more in here: https://bit.ly/MAGAZINE_MAY03
Vu Phong Energy Group
Read more: