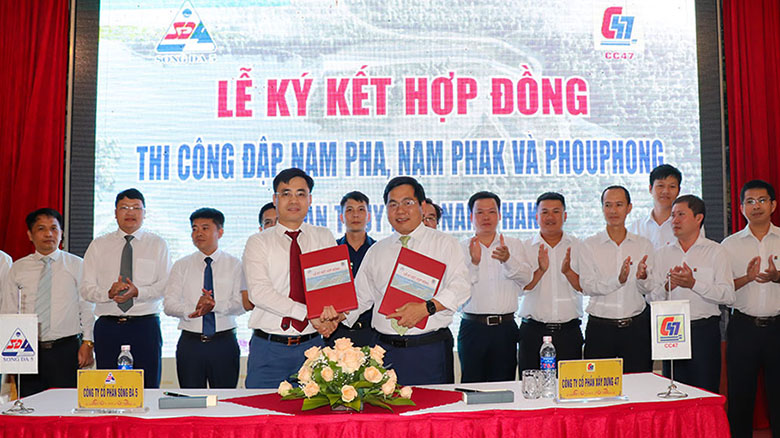 On 24/7/2022, Construction Joint Stock Company 47 (HOSE: C47), an associated company of Vu Phong Energy Group, signed a contract for the construction of the Nam Pha, Nam Phak, and Phouphong Dams as part of the Nam Phak Hydropower Project in Lao People's Democratic Republic and Song Da 5 Joint Stock Company. This is the first contract in the C47 and Song Da 5 strategic cooperation program, which was signed previously to exploit and promote the two units' strengths in operation and business, particularly the building of large projects overseas.
At the ceremony, the two sides signed two contracts: one for the building of the Nam Pha Dam in Nam Phak, Phouphong, and another for the design, coordination, and experimentation of the Nam Phak hydropower project, with a total value of roughly 800 billion VND and a completion period of 1,458 days.
C47 and Song Da 5 have coordinated talks with the project investor for over a year to sign this contract. The major volume of the construction contract is roughly 6 million m3 of earth and rock excavation, which is one of the C47's strengths. C47 will undoubtedly complete the contract assuring advancement, quality, and efficiency with the current capacity.
The Nam Phak hydropower project, with a total installed capacity of 128 MW, is located in the southwest corner of the Bolaven Plateau, about 10 kilometers southwest of Paksong in the Lao People's Democratic Republic's southern region, and takes advantage of the 700-meter elevation between the plateau and the plain to the south. Flows from many streams on the plateau that flow together in the northwest and southwest directions will be combined and sent to the Nam Pha reservoir through two streams. The preferred scheme includes two reservoirs and two power-producing facilities, the bigger of which is placed on the shores of Houay Namphak near the plateau cliffs.
This key bidding package determines the project's quality, and selecting a reputable construction contractor is needed. C47, a long-established and leading firm in the construction and construction of irrigation and hydropower projects, civil and industrial, across the nation, completely satisfied the criteria of the bidding package and was chosen for implementation.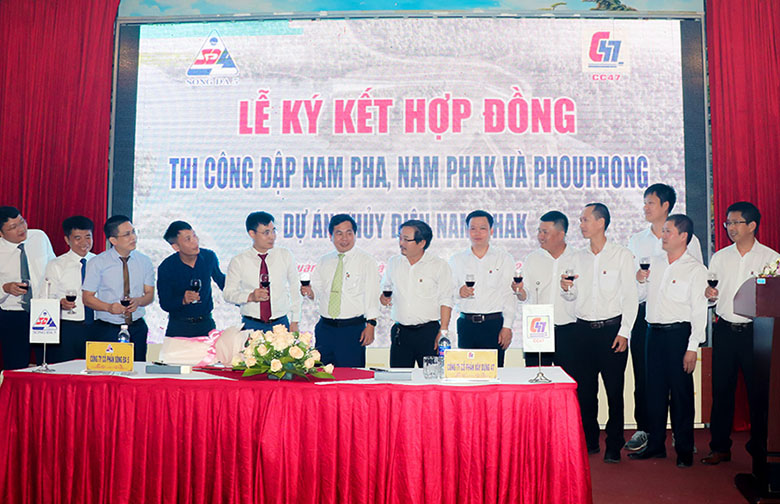 Representatives of the units congratulated the successful signing ceremony
Thus, the entire value of the C47 contract signed with the investor and strategic partner from the beginning of the year to July 2022 is more than VND 1,200 billion, which comprises the following projects:
Lowering the site preparation height – Hoa Phat Dung Quat Complex 2
Bridge category – Coastal Road of Binh Dinh Province Project, section Cat Tien – Diem Van
Infrastructure category – Becamex Binh Dinh Industrial Park
Leveling category – Long Thanh International Airport – phase 1
A corner of Hoa Phat Dung Quat Steel Integrated Complex Project – phase 2
C47 is now negotiating with the investor and partners to expand the scope of work and add contracts and annexes to contracts for projects under development in order to maximize revenue and profit. Furthermore, C47 promotes bidding and contract negotiations for new projects worth around 5,000 billion VND in 2022-2023, assuring continuing work in the following years. Previously, in 2021, C47 signed and began construction on projects with a total contract value of nearly VND 2,000 billion, with a completion date of 2025, such as the Expanded Hoa Binh Hydropower Plant (Hoa Binh), Phu Phong Weir Dam (Binh Dinh), a separate wastewater collection system and sewer lines to transfer rainwater to the Han River (Da Nang), and Ta Hoet reservoir (Lam Dong).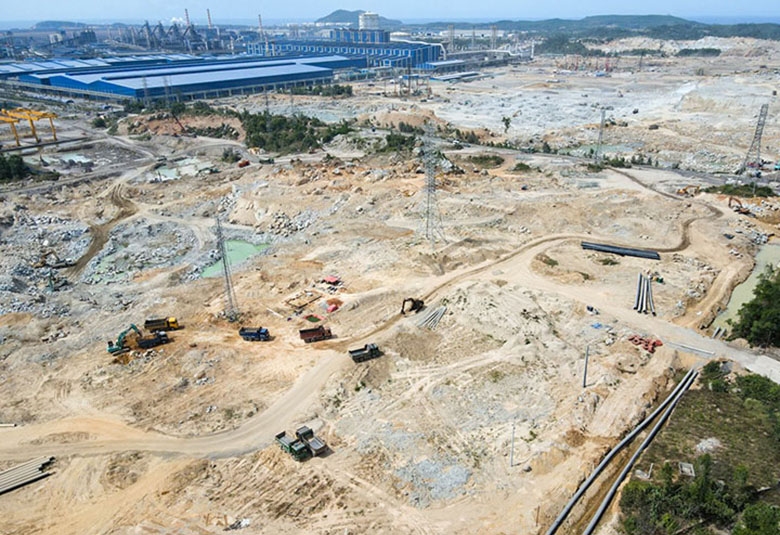 A corner of Hoa Phat Dung Quat Steel Integrated Complex Project – phase 2
After almost two difficult years due to the Covid-19 pandemic, the hotel, restaurant, and travel services industry of C47 is making a significant comeback in 2022. In addition to owning 100% of the 2-hotel system, which includes the 4-star Hai Au Hotel with 170 rooms and the 3-star Hai Au Bien Cuong Hotel with 80 rooms, as well as the Hai Au restaurant system, Cafe & Bar at the hotel, C47 also owns 100% of Seagull travel service company limited, which organizes domestic and foreign tours to serve customers in many provinces and cities. This system targets revenue of more than 100 billion VND in 2022, with an EBITDA of more than 30 billion VND. This area also contributes greatly to C47's annual business performance.
Construction Joint Stock Company 47 (C47) is a leading enterprise in the construction industry of irrigation, hydropower, civil and industrial works throughout the country with many key projects worth trillion dong, which were highly valued by investors and agencies.
Furthermore, the company also expands its lines of business into other industries such as restaurants, hotels, travel, tourism; overhaul of construction motorcycles, production of mechanical engineering products, production of fresh concrete and precast concrete components; training and labor export; electricity production; testing the mechanical strength of structural concrete, exploiting and transporting construction materials…
In addition to traditional business segments, C47 is increasing its participation in new segments to gradually increase its revenue proportion, such as highway projects; anti-flood, anti-salinity projects, embankments to prevent rivers and seas; Metro project; airport and port infrastructure; renewable power plant projects; civil building projects, factories, industrial park infrastructure…
In the field of renewable energy, in 2021, C47 – Vu Phong Energy Group – STEAG (Germany) signed the Memorandum of Understanding (MoU) to provide consulting services for the development and implementation of wind power projects in Vietnam.
Vu Phong Energy Group