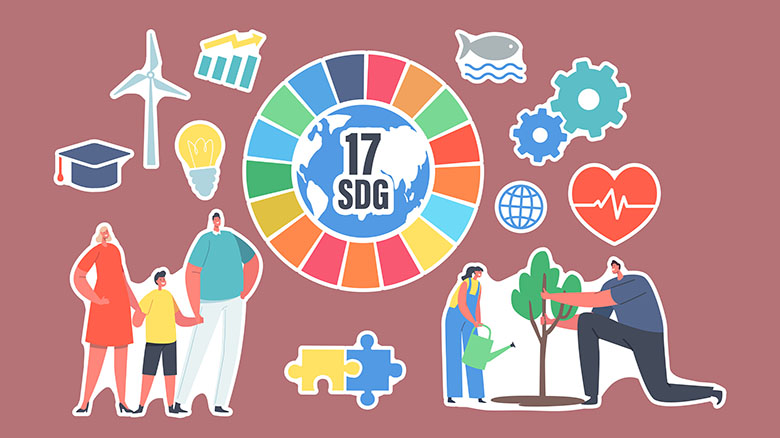 The United Nations General Assembly adopted the 2030 Agenda, which includes 17 sustainable development goals, in September 2015 to eradicate poverty, safeguard the planet, and prosperity for everyone.
We invite you to learn more with Vu Phong Energy Group about the context, the detailed content of the 17 Sustainable Development Goals, and Vietnam's accomplishments in implementing the Sustainable Development Goals.
From the Millennium Development Goals to the Sustainable Development Goals
The United Nations Conference on the Environment and People (Stockholm Conference) was held in Stockholm, Sweden, in 1972, this was the first United Nations conference to focus on international environmental issues, taking place from June 5 to 16, 1972. The World Commission on Environment and Development (WCED), often known as the Brundtland Commission, was created in December 1983 to bring countries together to achieve sustainable development.
Agenda 21 was agreed in 1992 as a shared framework for designing action plans to achieve sustainable development in the twenty-first century at the World Summit on Environment and Development (The Earth Summit in Rio de Janeiro) with the participation of 179 countries.
The Millennium Summit in September 2000 endorsed the Millennium Declaration, which included eight Millennium Development Goals.
The social and environmental goals reflected in the Millennium Development Goals and Agenda 21 were discussed, augmented, and perfected at the World Summit on Sustainable Development in Johannesburg (South Africa) in 2002.
The United Nations High-level Conference on Sustainable Development (Rio+20) was held in June 2012, with discussions concentrating on enhancing the institutional framework for sustainable development and the green economy; new sustainable development goals and indicators…
Since September 2013, countries have launched the process of developing the United Nations Post-2015 Development Agenda and a set of 17 sustainable development objectives. The 2030 Agenda, which includes 17 sustainable development objectives, was officially approved on September 25, 2015, during a United Nations Summit attended by 193 member countries. The 2030 Agenda includes universal, broad, and comprehensive policy coverage to finish the unfinished business of the Millennium Development Goals and Agenda 21 to leave no one behind.
What is the content of 17 sustainable development goals?
The 17 Sustainable Development Goals (SDGs) adopted by the United Nations in 2015 are defined by 169 specific goals and 232 targets, to eradicate poverty, protect the planet, and ensure that all people enjoy peace and prosperity by 2030.
On May 10, 2017, the Prime Minister of Vietnam released the National Action Plan to Implement the 2030 Agenda for Sustainable Development, with 17 sustainable development goals and 115 specific targets. On June 4, 2019, Decision No. 681/QD-TTG on the Roadmap for the Implementation of Vietnam's Sustainable Development Goals to 2030 was announced. The most current resolution is the Resolution on Sustainable Development (Resolution No. 136/NQ-CP), which was released on September 25, 2020.
The specific content of 17 sustainable development goals based on Resolution No. 136/NQ-CP of Vietnam:
| | | |
| --- | --- | --- |
| | Global | Viet Nam |
| Goals 1 | No poverty | End poverty in all its forms everywhere |
| Goals 2 | Zero hunger | End hunger, achieve food security and improve nutrition and promote sustainable agriculture |
| Goals 3 | Good health and well-being | Ensure healthy lives and promote well-being for all at all ages |
| Goals 4 | Quality education | Ensure high-quality, fair, comprehensive education, and promote lifelong learning opportunities for all |
| Goals 5 | Gender equality | Achieve gender equality; empower and chances all women and girls |
| Goals 6 | Clean water and sanitation | Ensuring adequate, sustainable water resource management and sanitation for all |
| Goals 7 | Affordable and clean energy | Ensure access to affordable, reliable and sustainable energy for all |
| Goals 8 | Decent work and economic growth | Ensure sustainable, comprehensive, and continuous economic growth; full employment, productivity, and decent work for all |
| Goals 9 | Industry, innovation and infrastructure | Build resilient infrastructure, promote inclusive and sustainable industrialization, foster innovation |
| Goals 10 | Reduced inequalities | Reduce inequality in society |
| Goals 11 | Sustainable cities and communities | Sustainable and resilient urban and rural development; ensure a safe living and working environment; Reasonable distribution of population and labor by region |
| Goals 12 | Responsible consumption and production | Ensure sustainable production and consumption |
| Goals 13 | Climate action | Timely and effective response to climate change and natural disasters |
| Goals 14 | Life below water | Conserve and sustainably use the oceans, seas and marine resources for sustainable development |
| Goals 15 | Life on land | Protect and develop sustainable forests, conserve biodiversity, develop ecosystem services, combat desertification, prevent degradation, and restore land resources |
| Goals 16 | Peace, justice and strong institutions | Promote peaceful, democratic, fair, equitable, and civilized society for sustainable development; provide access to justice for all; build effective, responsible, and participatory institutions at all levels |
| Goals 17 | Partnerships for the goals | Strengthen the means of implementation and promote the global partnership for sustainable development |
According to the National Sustainable Development Goals (SDGs) Report 2020, Vietnam will achieve 5 of the 17 SDGs by 2030, including Goals 1; 2; 4; 13; 17. In terms of SDG index scores, Vietnam ranks 51st out of 165 nations in 2021.
Towards sustainable development and a strong Vietnam vision 2045, Vu Phong Energy Group has been pursuing values in the direction of the United Nations Sustainable Development Goals with Goals 1-3-4-5-6-7-8-13-14-15, with a special focus on Goals 7-8-6 and 13.
Vu Phong has built over 1,000 solar power projects around the country, including solar power programs for disadvantaged areas and families.
Focus on using science and technology to provide a favorable production environment, productivity, and a satisfying income for people.
Currently, and will engage in community clean water supply, water security, and sanitation improvement programs.
Towards the implementation and joint development of solutions to minimize greenhouse gas emissions, combat climate change, and protect the ecosystem.