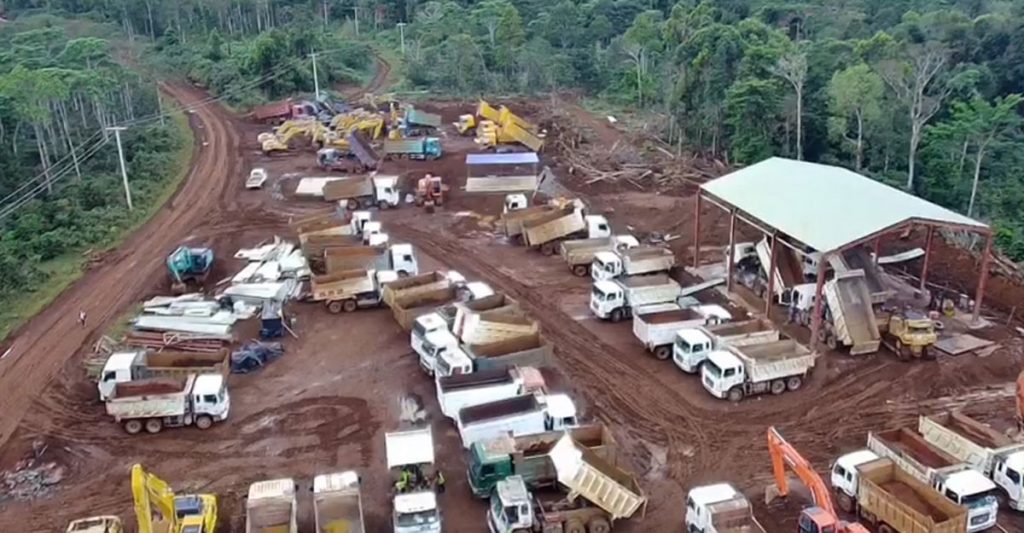 Construction Joint Stock Company 47 (HOSE: C47), an associated company of Vu Phong Energy Group, has mobilized nearly 100 types of equipment, vehicles, and machines,.. as well as nearly 200 personnel, to carry out the construction of the Nam Pha, Nam Phak, and Phouphong Dams as part of the Nam Phak Hydropower Project (Lao). C47 has excavated nearly 500,000 cubic meters of various types of soil and rock from the beginning of the construction organization until today, and has implemented synchronized items such as left and right dam foundation excavation.
The Nam Phak hydropower project is situated in the southwest corner of Bolaven Plateau, approximately 10 kilometers southwest of Paksong town in southern Lao PDR, and uses the 700-meter elevation difference between the plateau and the plain to the south. The project will collect flows from several northwest- and southwest-flowing streams on the plateau and redirect them through two streams to Nam Pha reservoir. The preferred plan consists of two reservoirs and two power generation facilities, the larger of which is situated on the shore of Houay Namphak at the base of the plateau cliff.
With the participation of two leading Vietnamese construction companies, C47 and Song Da 5 Joint Stock Company, this project has a total installed capacity of 128MW (Song Da 5). C47 is also the constructor of the Nam Pha, Nam Phak, and Phoupong Dams, with a total contract value of nearly VND 800 billion.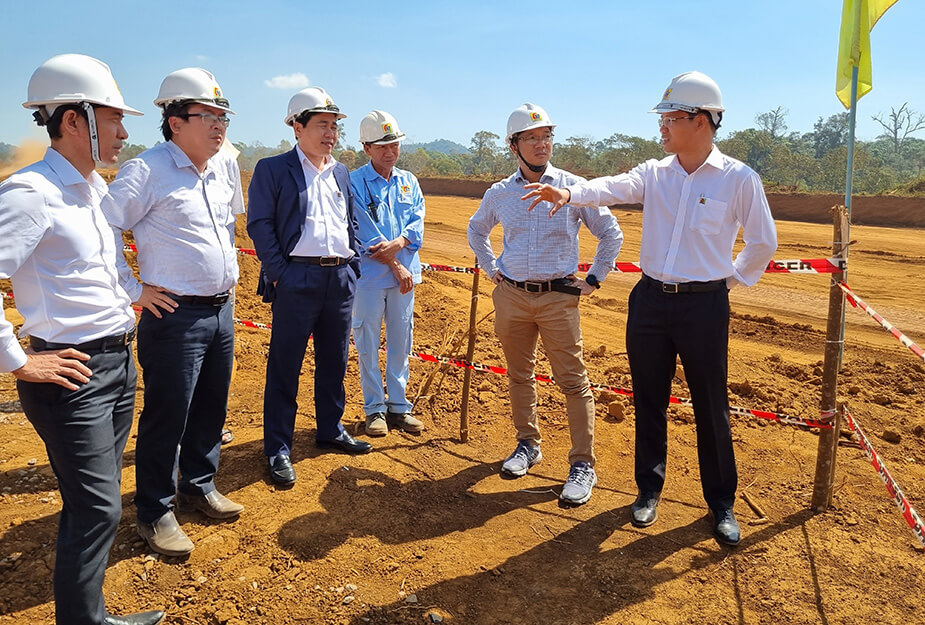 C47 prioritized securing experienced personnel and necessary equipment upon the execution of the contract to facilitate construction progress on the site. To date, C47 has assembled a team of approximately 185 employees and procured approximately 100 pieces of equipment, vehicles, and machinery, including cars, excavators, bulldozers, drills,… According to C47's representation, the construction plan for the project in 2023 will require the excavation of more than 3,129,000 cubic meters of diverse soil and stone materials will be required to be excavated in the year 2023. To complete the excavation plan while concurrently preserving the progression of the overall construction project, C47 and Song Da 5 have collaborated to organize the "Launching ceremony for the 120-day campaign to achieve the targets for the first 6 months of 2023". Further workforce and equipment augmentations are anticipated to maintain progress, focusing on completing the foundations of the Phoupong and Nam Pha dams, including the left shoulder, right shoulder, and riverbed, as scheduled.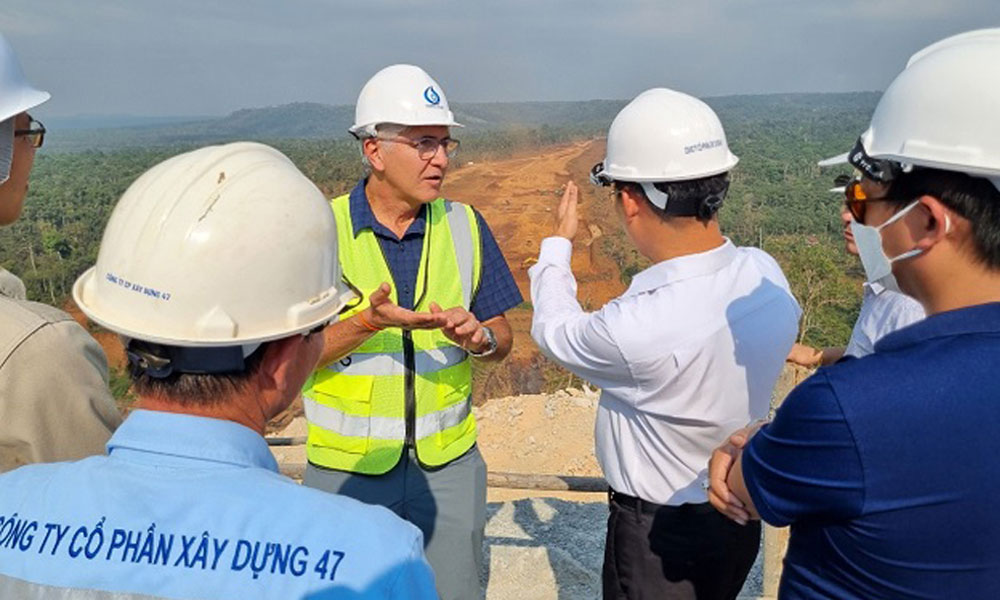 In addition to implementing the Nam Phak Hydropower Project, C47 is currently focusing on accelerating the construction progress of key projects of the Company, such as: Expanded Hoa Binh Hydropower Project (worth nearly 1,000 billion VND); Phu Phong Weir Dam Project (worth nearly 600 billion VND); Hoa Phat Dung Quat 2 Project (pre-tax value 440.9 billion VND) other projects to ensure a 2023 revenue plan value of VND 1,400 billion. The Ta Hoet water reservoir construction project, in which C47 participates, was inaugurated on February 20, 2023. C47 is part of the contractor consortium responsible for the construction and installation of the main works and cleaning of the reservoir area in this project, with a total contract value of 319.416 billion VND.
The Ta Hoet water reservoir construction project is a key project in Lam Dong province for the period 2021-2025, which will regulate water supply for multiple purposes, such as irrigation for 2,580 hectares of agricultural land and provide water for approximately 35-40% of the demand of the people in Duc Trong district, particularly for households in Hiep An commune. Besides fulfilling people's water needs, the Ta Hoet water reservoir will improve the vegetation around the lake, promote environmental improvement, increase tourism and aquaculture, and support socioeconomic development in Hiep An commune and Duc Trong district in general.
The Dong Mit water reservoir project, constructed by C47 (the consortium's lead contractor), was inaugurated a few days ago, on February 4, 2023. A Politburo member, Prime Minister Pham Minh Chinh, and many representatives from key ministries and branches attended the project's inaugural ceremony.
Construction Joint Stock Company 47 (C47) – an associated company of Vu Phong Energy Group – is a leading enterprise in the construction industry of irrigation, hydropower, civil and industrial works in Vietnam. For many years, C47 has been among the Top 500 largest private enterprises in Vietnam (VNR500). After nearly 50 years of establishment and development, C47 has gradually mastered the construction technology of irrigation, hydropower, civil and industrial works throughout the country, was also the first to implement new technologies such as roller compacted concrete (RCC), tunneling technology using TBM Tunneling Robot (more than 15km has been implemented), and so on, with many key projects worth trillion dong, which were highly valued by investors and agencies.
Furthermore, the company also expands its lines of business into other industries such as restaurants, hotels, travel, tourism; overhaul of construction motorcycles, production of mechanical engineering products, production of fresh concrete and precast concrete components; training and labor export; electricity production; testing the mechanical strength of structural concrete, exploiting and transporting construction materials.
Vu Phong Energy Group