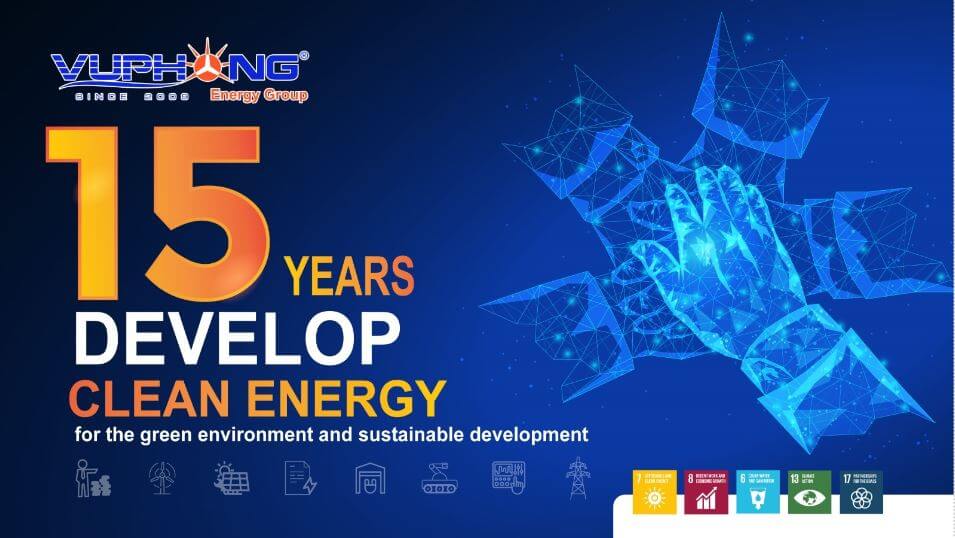 When the Vietnamese market was still unfamiliar with the term "renewable energy," a group of engineers researched, developed, and produced solar kits, charge controllers, and power converters,… for places without grid electricity, opening the very first small off-grid solar market. That was the story in 2008-2009, more than a decade ago…
Vu Phong Energy Group: Pioneering Renewable Energy in Vietnam for 15 Years
When Vu Phong Energy Group was founded on February 27, 2009, the concept of renewable energy was still unfamiliar to the Vietnamese market. The core team of engineers at Vu Phong tirelessly researched and developed products, acting as "ambassadors" of clean energy and helping to promote renewable energy to as many individuals as possible, particularly those in remote, rural areas and border regions without connection to the national grid. As a result, we help people in becoming acquainted with renewable energy and the light source from solar energy.
From Small Off-Grid Solar Market to Leading Renewable Energy Solutions: Vu Phong's 15-Year Journey
In 2013, as the market gradually expanded to include on-grid solar, Vu Phong started constructing on-grid solar systems for the national electricity grid. Vu Phong developed representative offices in Hanoi, Danang, and Ho Chi Minh City and exported products to international markets from headquarters in Binh Duong. In addition to the first grid-connected business projects, Vu Phong won bids for several Vietnam Electricity (EVN) projects in 2017, implementing large projects for military-owned companies at factories, islands, and archipelagos such as Truong Sa, Con Dao…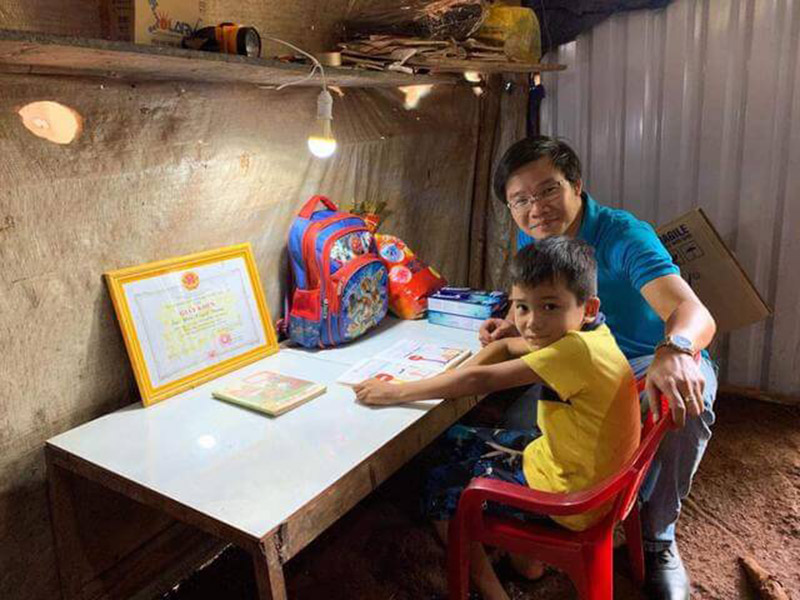 Mr. Phong, Pham Nam, Founder and Chairman of the Board of Directors of Vu Phong Energy Group, has been delivering solar energy to disadvantaged areas since the beginning of the company
Vu Phong expanded rapidly in both the solar rooftop and solar farm segments between 2018 and 2020, keeping pace with market development. In addition to being a leading EPC contractor, Vu Phong is well-known for O&M services due to cooperation and technology transfer with big international businesses like Bouygues and AC Renewable… Vu Phong Energy Group had become the top choice of international investment funds as well as large manufacturers in Vietnam, particularly since 2020, when it pioneered the Power Purchase Agreement (PPA) model – a flexible cooperation model with investment funds to develop solar rooftop systems on factories, selling electricity to businesses.
Several customers and partners, such as ecoligo, TotalEnergies, Shire Oak International, BayWa r.e., STEAG Energy Services GmbH (now Iqony Solutions), Vinamilk, Kem Nghia, Plastics Duy Tan, Plastics Dong A…, have created strong and enduring partnerships with Vu Phong Energy Group. Furthermore, these many sustainable cooperation relationships are all working towards a greener future.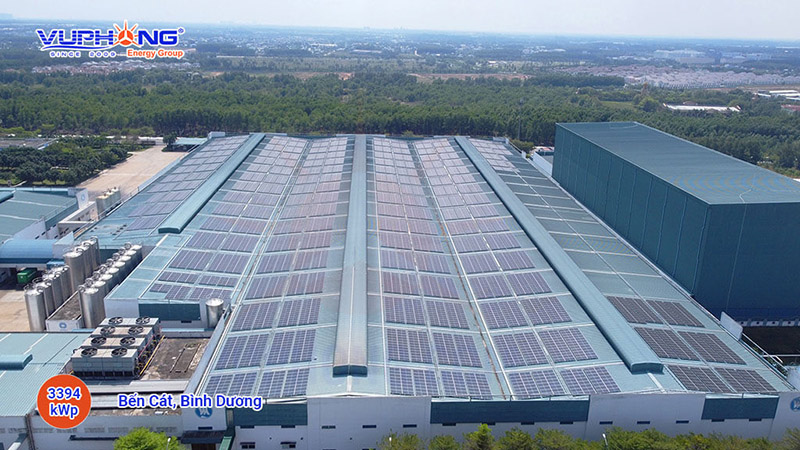 A system at Vinamilk's factory to be transferred and implemented in 2022 by Vu Phong Energy Group 
Innovation and Localization: Vu Phong's Vision for the Future of Renewable Energy
Vu Phong relentlessly researches, develops, improves, and optimizes products such as solar panel cleaning robots and system monitoring and data collection products to meet the market's rapid pace while still struggling with the production and localization of the renewable energy industry. The Vu Phong Tech Renewable Energy Equipment Manufacturing and Research Center Project in Saigon Hi-Tech Park (SHTP) is an important highlight in the Vu Phong story, where they will continue to produce robots, cobots, and other high-tech AIoT products, leveraging the support of the manufacturing plant-industrial park-power plant ecosystem where Vu Phong has worked for many years.
Furthermore, Vu Phong Energy Group has invested in association with two companies: Construction Joint Stock Company 47 (C47), which has over 47 years of experience in water conservancy construction, hydropower, tourism, and hotels; and PECC3, with over 43 years of experience in energy design consulting, particularly in new and renewable energy.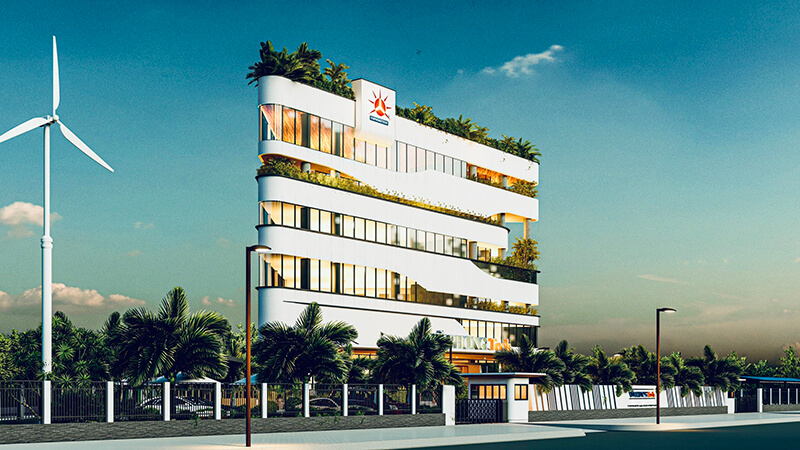 The perspective of Vu Phong Tech Renewable Energy Equipment Manufacturing and Research Center Project 
On February 27, 2023, Vu Phong Energy Group celebrated the year of developing clean energy.
Looking back, it has been a remarkable journey from a small startup in the early days of the market to a steady leader in the booming industry, with a wealth of high-quality clean energy projects completed and transferred.
Especially when many companies entered the market during the "boom" period but hastily withdrew and turned to other industries.
Therefore, 15 years can be called a determined journey with clean energy.
But that will be a short journey compared to the long journey ahead, within the vision of "100 years of clean energy" that the Vu Phong leadership and team still aim for in the future.
As the Vu Phong story continues to unfold, the team of "solar warriors" will face many challenges and obstacles, but they will overcome them together with the core values of Vu Phong Human: Proactive with Challenge, Innovation – Creativity, Integrity, Collaboration, Caring and Respect.
This journey is being written not only by the Vu Phong team but also by our customers, partners, and now shareholders, as the company has set sights on going public and being listed.
A beautiful story of a green journey!
Vu Phong Energy Group JSC