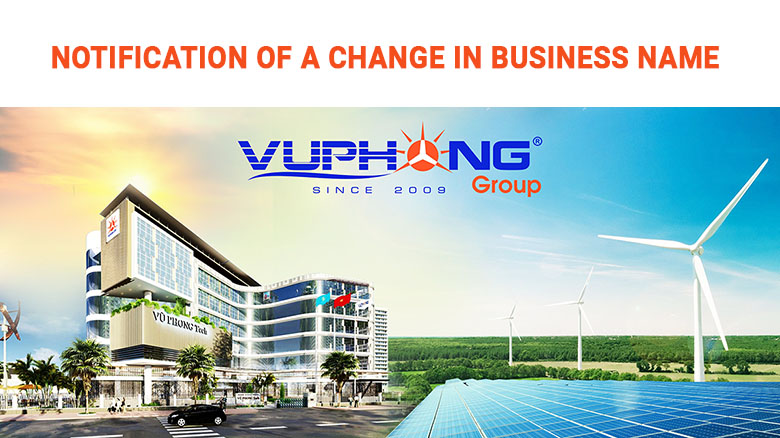 From March 9, 2021, Vu Phong Solar Power Joint Stock Company officially changed its name to Vu Phong Energy Group Joint Stock Company (Vu Phong Energy Group Joint Stock Company), abbreviated as Vu Phong Energy Group JSC. This name change aligns with Vu Phong's future business goals as it participates in the development of various areas of the renewable energy ecosystem. 
Vu Phong's Journey: From Solar Power to Renewable Energy Leader
Vu Phong has been in the solar power business since its founding in 2009, serving as a professional EPC contractor and providing O&M, research and production, and renewable energy equipment. Because of its solid expertise, good reputation, and attentive attitude, Vu Phong has become a leading unit in the field of solar power, distinguished by a series of large projects of high quality and aesthetics.
Vu Phong's Diversification: Expanding into Clean Energy Sectors
Currently, in addition to the traditional solar power segment, Vu Phong is involved in other clean energy sectors such as wind power, wave power, tidal power… while also providing ESS solutions, UPS, medium, high, and super high voltage transmission equipment… These are some examples:
Vu Phong Tech: Innovations in Solar Power and Beyond
Vu Phong Tech is Vu Phong's technology company that specializes in R&D and production of operational products such as solar panel cleaning robots, mini SCADA systems, IoT…, as well as participation in the operation, maintenance (O&M), and management of solar and wind power plants.
VP Invest – A 100% Vu Phong company that invests in technology startups as well as listed companies in the renewable energy segment such as raising, stored hydroelectricity, and other infrastructure segments, such as Construction Joint Stock Company 47…
VP.ENERGY is a member company that specializes in the development of solar power projects using the PPA (Power Purchase Agreement) model to sell electricity to factories, commercial centers, and other businesses at a lower price than the current EVN electricity price and hand over the system to customers for free (See more about PPA model here).
As a result, after turning 12 years old, Vu Phong convened a Board of Directors meeting to officially approve the decision to change the name to reflect the company's future business orientation. And Vu Phong would like to inform our valued customers, businesses, and partners that, as of March 9, 2021, Vu Phong will be known as Vu Phong Energy Group Joint Stock Company (Vu Phong Energy Group JSC), according to the Business Registration Certificate issued by Binh Duong Province's Department of Planning and Investment. This change does not affect the legality of the Company's contracts, transactions, rights, and obligations that were established before the date of this announcement. For all customer, business, and partner information, please contact the Company's specialized departments for guidance and support.
Vu Phong's Future Plans: Becoming a Public Company and Listing on the Stock Exchange
On this occasion, Vu Phong expressed sincere gratitude to customers, businesses, and partners for always believing in, accompanying, and supporting Vu Phong, which provides Vu Phong with a great deal of motivation to devote to the clean industry. Vu Phong intends to become a public company and be listed on the stock exchange in the near future, hoping to maintain the trust and companionship of customers, businesses, and partners.
Vu Phong Energy Group
Read more: