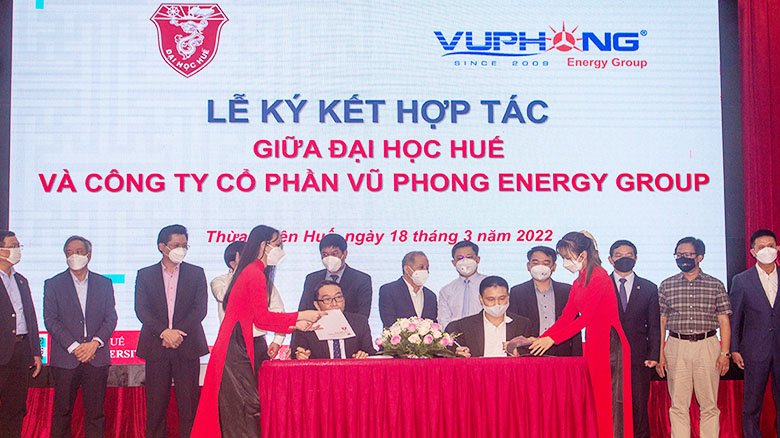 A signing ceremony for establishing a collaboration connection between the Engineering and Technology – Hue University and Vu Phong Energy Group Joint Stock Company was held on the afternoon of March 18, 2022, at Hue University. Mr. Tho, Phan Ngoc, Deputy Secretary of the Provincial Party Committee, and Mr. Binh, Nguyen Thanh, Member of the Standing Committee of the provincial Party Committee, Vice Chairman of the People's Committee of Thua Thien – Hue, were present at the signing ceremony.
To improve and promote the strengths of enterprises and schools, Vu Phong Energy Group will collaborate with Hue University's Engineering and Technology to establish a partnership in career guidance, training, and recruiting.
Specifically, the two sides will collaborate and share information on training and technology research, create opportunities for students to participate in process and technology expert sharing sessions, and coordinate to incorporate new technologies developed by Vu Phong into the curriculum in order to enhance practicality and richness the Faculty's training program. Through seminars, research projects, and professional activities, the two sides will jointly establish conditions for Faculty lecturers and Vu Phong staff to participate in technology exchange and research. Cooperation also seeks to share expertise in the training process and activities to enable students to gain a better understanding and practice, enhancing their learning capacity and preparing them for future jobs.
In keeping with the development of Vu Phong Energy Group, the Faculty will also train highly qualified human resources to establish a high-quality labor force for the future, contributing to the country's socio-economic development. It will, in particular with a team of highly qualified engineers,  generate new technological solutions and superior quality "Make in Vietnam" products to enhance localization in the energy industry – as Vu Phong has been persistently doing.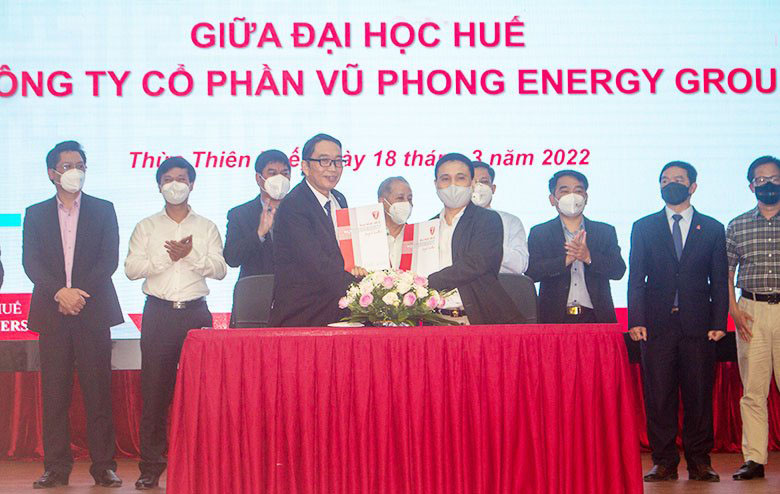 Hue University's Engineering and Technology and Vu Phong Energy Group Joint Stock Company signed a collaboration agreement on career guidance, training, and recruiting
Vu Phong Energy Group's collaboration with Hue University is the next meaningful activity in the company's efforts toward sustainable values, particularly Sustainable Development Goal 8 (Ensure sustainable, comprehensive, and continuous economic growth; full employment, productivity, and decent work for all) and Sustainable Development Goal 4 (Ensure high-quality, fair, comprehensive education, and promote lifelong learning opportunities for all).
Before that, Vu Phong was involved in a number of programs aimed at assisting and empowering students, including: awarding annual scholarships to students at Ho Chi Minh City University of Technology; sponsoring technology, start-up, and innovation contests (Series of Creative Idea Contest (CiC), series of IoT Startup contests…); participating in exhibitions, sharing information about the clean energy industry with students; and assisting with projects to build schools in highland and remote areas. Vu Phong is also a collective member of the Club "For Beloved Hoang Sa – Truong Sa" (under the Vu A Dinh Scholarship Fund), which has conducted numerous significant programs and initiatives for students, many of whom are the children of naval personnel and fisherman from low-income households.
All of these operations are "long-term," demonstrating Vu Phong Energy Group's commitment to the Sustainable Development Goals in education (Goal 4), employment and economic growth (Goal 8). These are two in the series of Sustainable Development Goals that Vu Phong aims to in the mission journey "Develop clean energy for the green environment and sustainable development".
Toward sustainable development and a strong Vietnam vision 2045, Vu Phong Energy Group has been pursuing values in the direction of the United Nations Sustainable Development Goals (SDGs) with Goals 1-3-4-5-6-7-8-13-14-15-17, particularly on Goals 7-8-6-13 and 17:
Vu Phong has built over 1,000 solar power projects around the country, including solar power programs for disadvantaged areas and families.
Focus on using science and technology to provide a favorable production environment, productivity, and a satisfying income for people.
Currently, and will engage in community clean water supply, water security, and sanitation improvement programs.
Towards the implementation and joint development of solutions to minimize greenhouse gas emissions, minimize climate change, and protect the ecosystem.
More information: Vu Phong Energy Group towards sustainable development goals
Vu Phong Energy Group