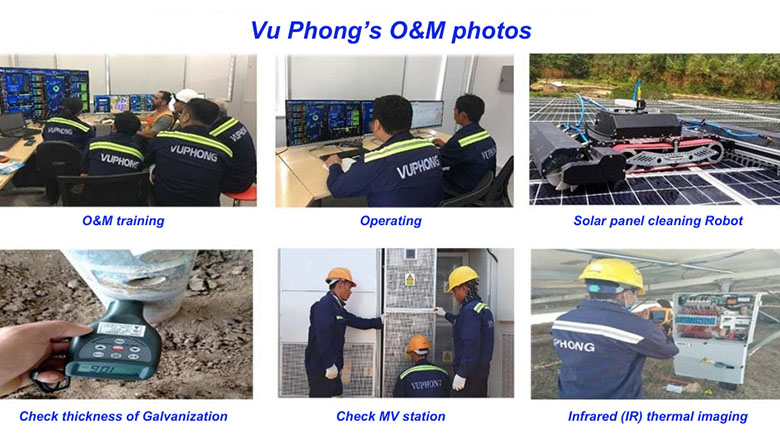 Dear valued customers,
Established in early 2009, Vu Phong Energy Group has extensive experience in the solar industry in Vietnam and the area. We are one of the leading enterprises with solid capabilities in EPC general contractor and solar power plant operation and maintenance (O&M).
We are in charge as EPC general contractor for many solar plant projects totalling more than 500 MWp. Specifically, via cooperation and technology transfer with leading enterprises such as Bouygues, AC renewable… we provide professional O&M services for solar power plants. Vu Phong Tech – Vu Phong Energy Group, implemented the O&M service enabling the BIM 2 Solar Power Plant to operate with more than 99.9 per cent availability in 2020.
With the motto of always putting quality of work and customer satisfaction first, we hope to continue to gain the trust of customers and partners, as well as to be accompanied to maximize Value Customer's investment in clean energy.
Contact us:
Mr Trinh. Vo Xuan
Mobile: +84-986 649434
E-mail: trinh.vo@vuphong.com
SOLAR FARM O&M SERVICES
1. BASIC O&M SERVICE
Solar Farm Management entire plant operations management, ensuring the highest availability and PR.
Substation management and O&M (110 kV, 220 kV substation).
Corrective Maintenance failure diagnostic and repair 1st level during Component Warranty Period based on technical advice.
Preventive Maintenance perform maintenance of equipment according to the plan each year (PV module, Inverter, Transformer, Control room, MV room…)
Spare part management handling, maintenance and storage of spare parts.
Waste management in line with regulation.
Monitoring & reporting plant monitoring, daily report, maintenance reports, performance reports, incident reports,…
2. EXTRA SERVICES
– Other technical services:
Smart I-V Curve Diagnosis carry out online I-V curve analysis on entire strings. The scanning would help to find out and identify the strings with low performance or faults.
Corrosion and subsidence check and fix: after a few years of operation, the structure system is often subjected to corrosion or subsidence. So early detection and maintenance is therefore essential.
Automatic equipment: carry out maintenance work with automatic equipment.
– Repair items: module, cable replacement, frame reinforcement,… (major repairs)
Businesses interested in O&M service and Solar Farm Construction, please contact Our Call Center via 1800 7171 or +84 9 1800 7171 or send an email to hello@vuphong.com for more information.
Vu Phong Energy Group