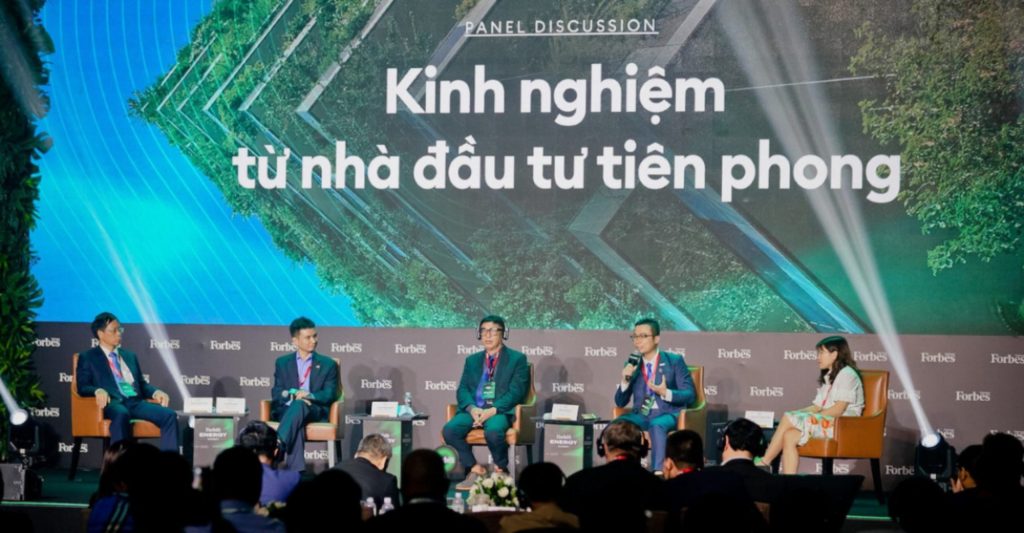 "In terms of policy, I believe that self-consuming rooftop solar has a tremendous opportunity ahead of it. Many factories in industrial zones have yet to install rooftop solar systems," shared Mr. An, Pham Dang, Deputy General Director of Vu Phong Energy Group, in June 30, 2023, in the panel discussion "The lessons learnt from the pioneer investors" at the Forbes Vietnam's Renewable Energy Summit 2023.
During the panel discussion, Mr. An, Pham Dang and other speakers, shared experiences, practical lessons, and insights into new opportunities from investing in the renewable energy sector. Mr. An was joined in the discussion session by other speakers, including Mr. Supa Waisayarat, Country Director (Vietnam), Super Energy Corporation PLC; Ms. Van, Nguyen Thanh, Head Of Engineering And Construction, UPC Renewables Vietnam; and Mr. Toan, Dang Quoc, President & CEO, Asia Petroleum Energy Corporation (ASIAPETRO).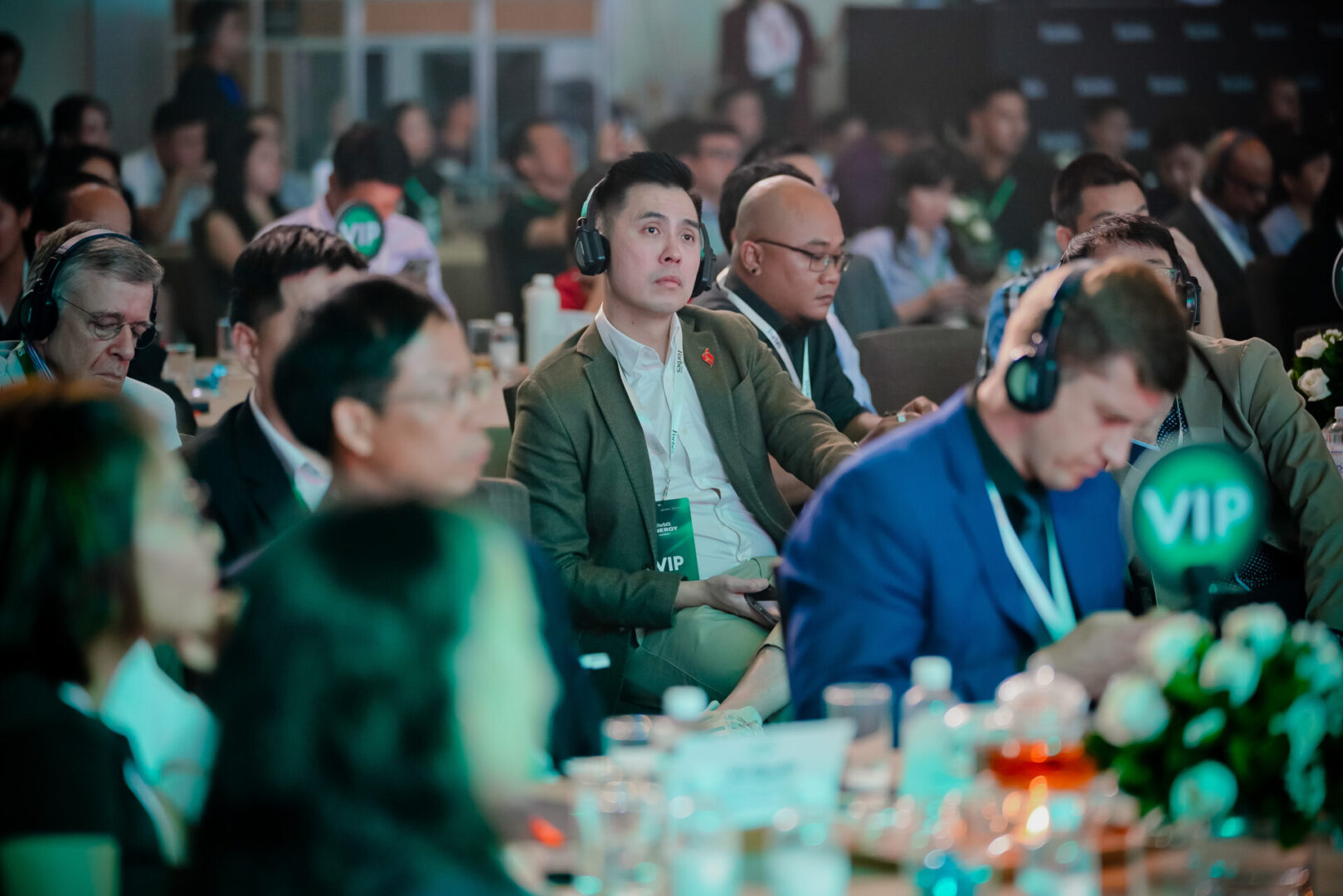 Energy experts and investors participated Renewable Energy Summit 2023
In the trend of transitioning to clean and renewable energy sources, together with policies promoting the development of solar and wind power via FIT (Feed-In Tariff) mechanisms, Vietnam has become one of the most rapidly developing countries in renewable energy over the period 2018-2022. Many private investors have entered the power generating industry, one of the three stages in the energy value chain, along with production, transmission, and distribution. Since pioneering the renewable energy sector in Vietnam in 2009, Vu Phong Energy Group has completed and transferred over 1,000 projects, including rooftop solar systems for businesses, households, and solar power plants.
In particular, in addition to participating in the construction of large-scale solar power plants, Vu Phong has begun to strengthen the deployment of rooftop solar systems for businesses, both through self-investment and power purchase agreements (PPA), in response to the transmission grid pressures caused by the rapid growth of large-scale solar farms. Vu Phong has now focused on rooftop solar for manufacturing businesses, particularly via PPA, allowing businesses to utilize renewable energy for green transformation and emission reduction targets without investing. Vu Phong has installed rooftop solar for over 100 factories and is now implementing projects for 12 factories in various industries.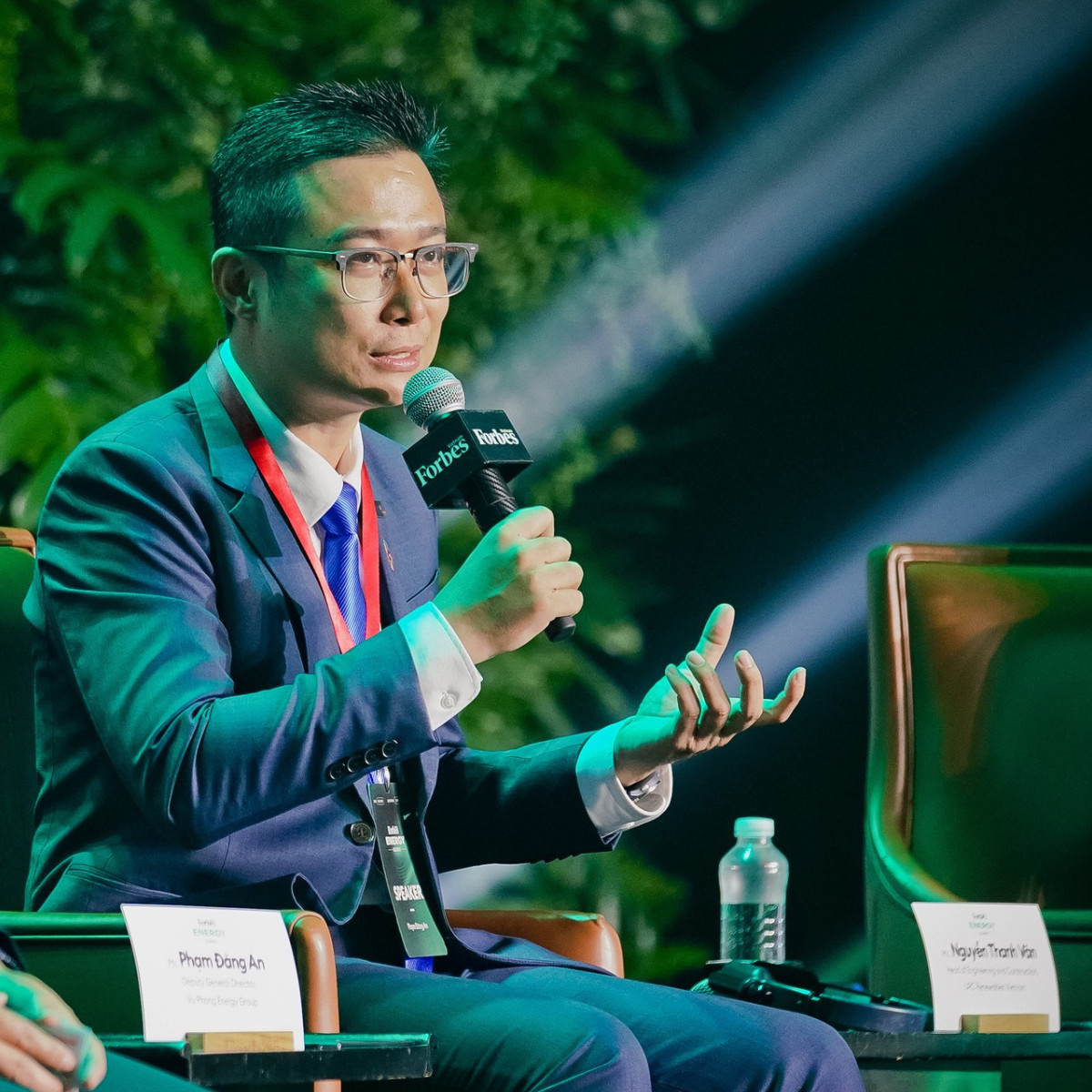 Mr. An, Pham Dang, Deputy General Director of Vu Phong Energy Group, shared at the Summit
Mr. An believes that the rooftop solar segment has great potential for development in the near future. This is demonstrated in Power Development Plan VIII, which prioritizes and encourages the development of wind and self-consuming solar power. This type of power source is prioritized without regard to capacity, with a target of having 50% of office buildings and 50% of residential houses by 2030 using self-generating and self-consuming rooftop solar power. Additionally, there is an internal demand from businesses, as they need green transformation to meet the requirements of global supply chains.
Utilizing renewable energy will help businesses enhance their competitiveness in the global market. With the Power Purchase Agreement (PPA) cooperation model, Vu Phong Energy Group, as an investor, developer, and operations and maintenance (O&M) partner, will accompany businesses throughout their use of clean energy. "The factories don't need to invest capital initially, as Vu Phong and our partners make the entire investment, enabling clean energy at a lower cost than purchasing from EVN and potentially obtaining relevant carbon credit," emphasized Mr. An, Pham Dang.
In addition to rooftop solar power, the panelists also discussed the potential for wind power development, the carbon credit market in Vietnam, and opportunities for supply chain development in the renewable energy industry. The discussion panel with practical insights from pioneering entities attracted the attention of many attendees.
The Renewable Energy Summit 2023: Investing in Renewable Energy, organized by Forbes Vietnam, aims to facilitate the meeting and exchange of information, perspectives, and development directions in the field of renewable energy, enabling the business community and policy-makers, together with the Government to contribute to solving the significant challenges in Vietnam's sustainable and efficient energy supply and utilization. The summit is attended by leaders, industry experts, and numerous major investors in the energy sector.
The summit had a presentation on "In the gold rush of renewable energy" by Mr. Son, Ha Dang, Deputy Chief Of Party, Vietnam Low Emission Energy Program II (V-LEEP II), USAID, as well as two discussion panels on " The lessons learnt from the pioneer investors" and "The flow of international capital" with speakers who are experts, business leaders, and major investors in the renewable energy sector.
* Image source: Forbes Vietnam
Vu Phong Energy Group