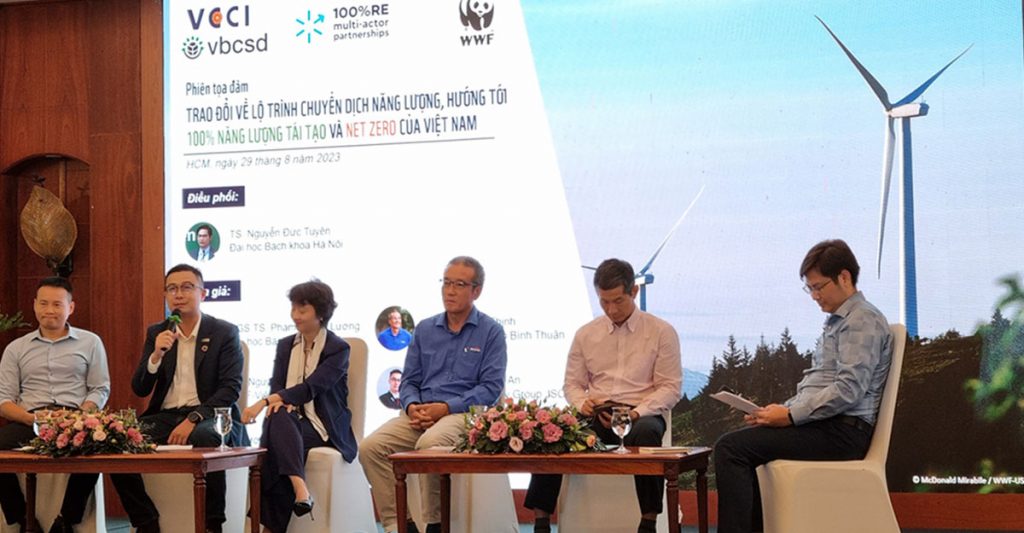 On August 29, 2023, during the Seminar "Discussion on the energy transition roadmap towards 100% renewable energy and Net Zero in Vietnam," many experts and energy industry leaders shared insights and discussed policy recommendations for achieving 100% renewable energy by 2050 in Vietnam. The seminar featured the participation of Mr. An, Pham Dang, Deputy General Director of Vu Phong Energy Group.
The seminar, "Discussion on the energy transition roadmap towards 100% renewable energy and Net Zero in Vietnam," was held as part of the "Multi-Actor Partnerships for 100% Renewable Energy implementing Nationally Determined Contributions (NDCs)" (100% RE MAP) project. This project, funded by the German government, is concurrently implemented in Vietnam, Uganda, and Nepal to introduce and connect multiple stakeholders to transition to 100% renewable energy (RE). The project has produced two significant outcomes in Vietnam: The Scenarios report "Energy Sector Vision: Towards 100% Renewable Energy for Viet Nam by 2050" and the Report "Policy recommendations to promote the 100% RE transition by 2050 in Vietnam".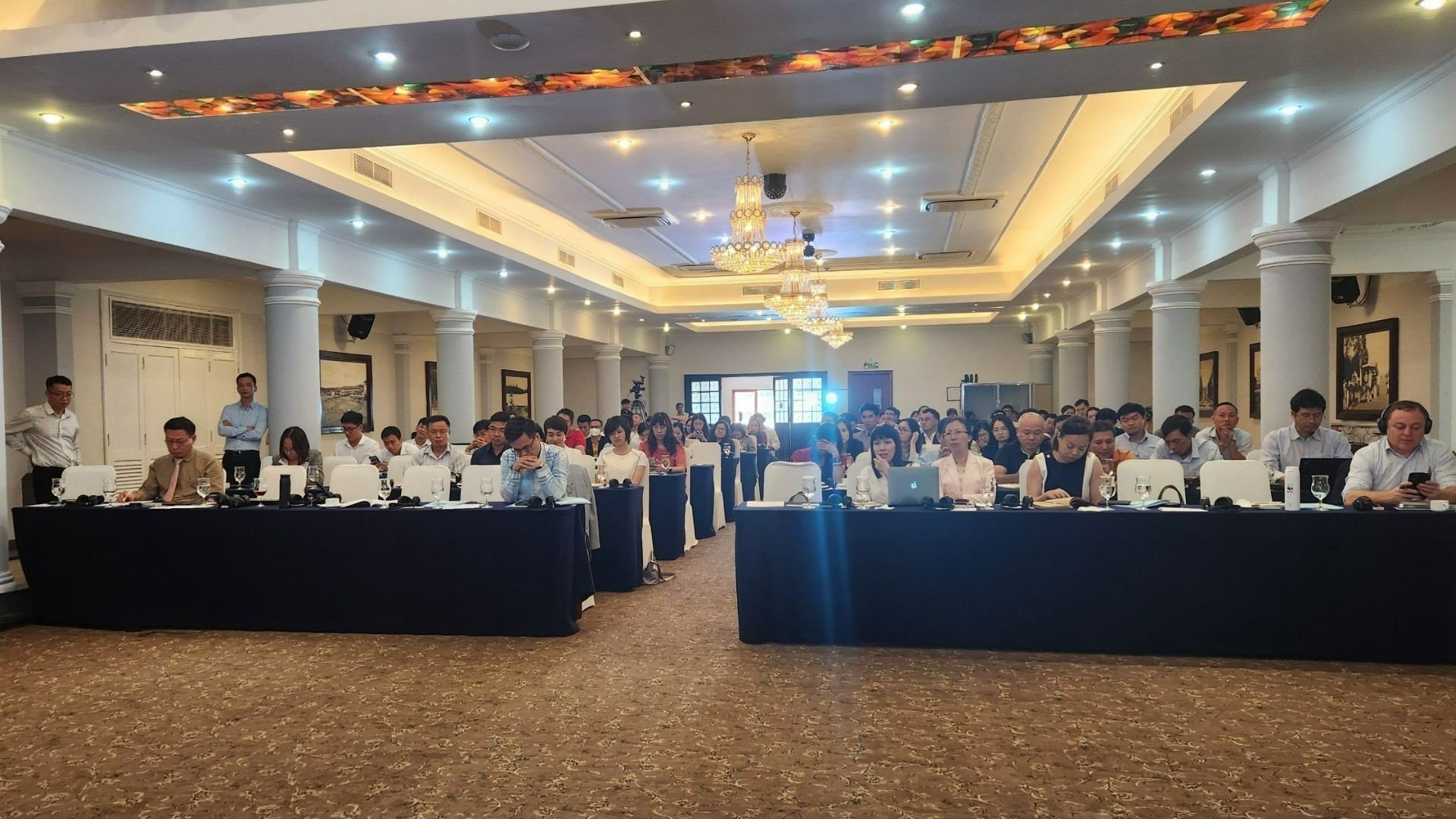 The Seminar saw the participation of numerous experts and leaders from various businesses
This Seminar, jointly organized by the Vietnam Chamber of Commerce and Industry – Ho Chi Minh City Branch (VCCI-HCM), the Vietnam Business Council for Sustainable Development (VBCSD), and the World Wide Fund for Nature in Vietnam (WWF Vietnam), aimed to share and update information about significant policies in the energy sector, as well as research findings from the Project with relevant stakeholders. Additionally, the Seminar encouraged discussion and policy recommendations for the energy transition process towards a future of 100% RE. This Project contributes to Vietnam's commitment to achieving "Net Zero" emissions by 2050 and limiting global temperature rise to 1.5 degrees Celsius.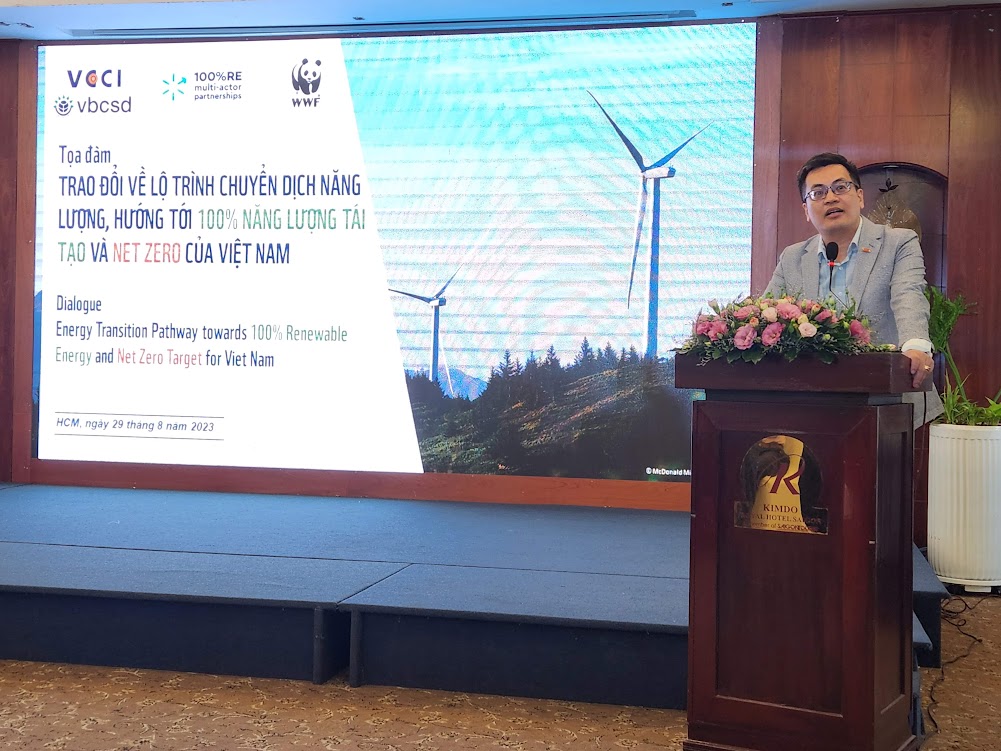 Mr. Huy, Nguyen Tien – Director of the Business for Sustainable Development Office at VCCI – gave the opening speech at the Seminar
During the Seminar, the report "Energy Sector Vision: Towards 100% Renewable Energy for Viet Nam by 2050" outlined three scenarios for Vietnam's energy sector up to 2050: the Business-As-Usual scenario (BAU), the 80% Renewable Energy scenario (80RE), and the 100% Renewable Energy scenario (100RE). Energy consumption is expected to grow from 65 to 244 million tonnes oil equivalent (MMTOE) by 2050 in the BAU scenario, 229 MMTOE in the 80RE scenario, and 223 MMTOE in the 100RE scenario.
Energy consumption in the 100RE scenario is about 8% lower than in the BAU scenario due to achieving higher energy efficiency in all sectors. In this scenario, all sectors transition to using RE through electrification and a shift to renewable fuels. The power system produces 100% of electricity from renewable sources, replacing coal and natural gas. The capacity of solar and wind power is expanded and ensured by high-capacity energy storage systems. The transmission capacity of the electrical grid is up to 8 times higher than in the BAU scenario.
The total economy-wide investment requirements are highest in the BAU scenario at $5,133 billion USD, lowest in the 80RE scenario at $3,817 billion USD (26% lower than BAU), followed by the 100RE scenario with a total investment of $4,089 billion USD (20% lower than BAU).
The report has made policy recommendations to encourage and integrate RE into the power system based on the research results. This includes creating incentives to apply RE solutions, enhancing the flexibility of power sources, improving energy efficiency, promoting electric vehicles, and various forms of transport powered by renewable fuels.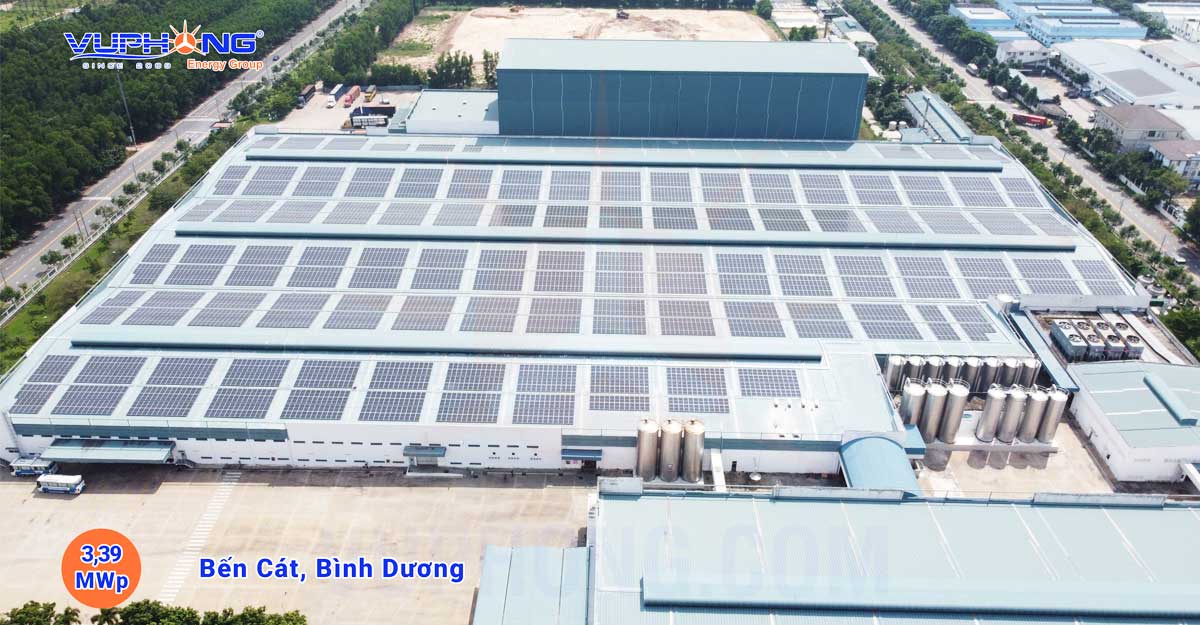 Towards 100% RE, it is necessary to create incentive mechanisms to apply RE solutions and enhance the ability to operate power sources flexibly (Illustration image)
According to Assoc. Prof. Dr. Luong, Pham Hoang, Director of the Vietnam-Japan International Institute of Science and Technology under the Hanoi University of Science and Technology, two key strategies to achieve Vietnam's 100% RE goal are electrification combined with improved energy efficiency and RE combined with energy storage. Therefore, in the policy roadmap to achieve 100% RE for the entire period from now until 2050, Assoc. Prof. Dr. Luong, Pham Hoang recommends that the energy sector's planning include policies for integrating RE sources, expanding the power grid, investing in offshore wind power, and better integrating energy storage into the power system. He also offers many recommendations regarding institutional structures, pricing, energy contracts, energy access, and decentralized energy. In the immediate period up to 2030, Assoc. Prof. Dr. Luong, Pham Hoang proposes four specific recommendations, including integrating RE development into the electricity sector, electrifying the transportation sector, developing offshore wind power, and aligning climate change goals with Vietnam's NDC targets.
During the Seminar, Ms. Mai, Vu Chi, Director of the CASE project, also shared insights into the global energy transition trends, particularly the RE targets for electricity production in some countries such as Germany (100% RE by 2035) and Sweden (100% RE by 2045). According to Ms. Mai, Vu Chi, while 100% RE brings many environmental and economic benefits, it also faces various challenges, including financial, technological, grid infrastructure, policy framework, and land allocation challenges.
An essential part of the program was the Panel Discussion with the participation of numerous energy sector experts and business leaders, including Assoc. Prof. Dr. Luong, Pham Hoang, Mr. Thinh, Bui Van – Chairman of the Binh Thuan Wind and Solar Power Association, Mr. An, Pham Dang- Deputy General Director of Vu Phong Energy Group, Ms. Trang, Bui My- Energy Program Manager at HSBC Bank, and Mr. Trung, Nguyen Thanh – 100RE-MAP Project Manager at WWF Viet Nam. The panel discussion was coordinated by Dr. Tuyen, Nguyen Duc – Director of the Electrical Engineering and Renewable Energy Training Program at Hanoi University of Science and Technology.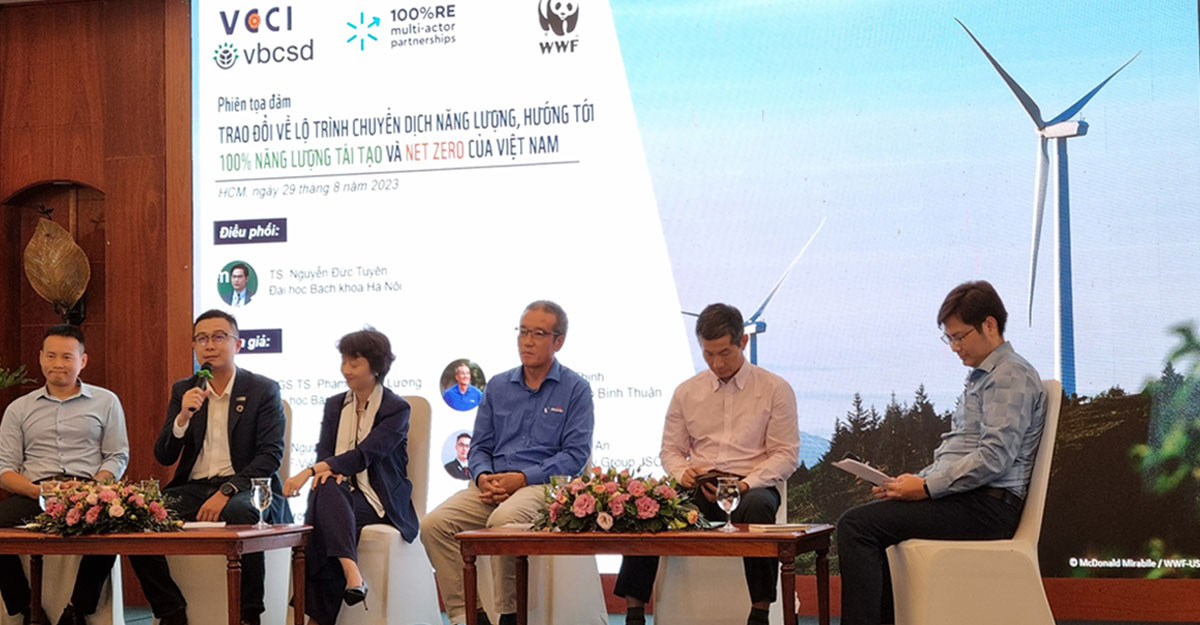 Mr. An, Pham Dang – Deputy General Director of Vu Phong Energy Group – Shared at the Panel Discussion
During the Panel Discussion, the speakers came together to share insights and discuss the opportunities and challenges in the energy transition process. They explored the roles of businesses in achieving the 100% RE and Net Zero goals, as well as the key policy, technology, and financial issues that companies in the RE sector and those using RE can leverage to maximize the potential of these energy sources. Drawing from his practical experience working with businesses, Mr. An, Pham Dang, Deputy General Director of Vu Phong Energy Group, shared insights into the general trends in RE usage and specifically rooftop solar in manufacturing businesses. These efforts aim to meet green standards and engage in Environmental, Social, and Governance (ESG) practices, aligning with global trends. Mr. An emphasized that in the foreseeable future, Power Purchase Agreement (PPA) involving investor participation will continue to be an optimal solution for businesses. It enables them to address financial challenges without the need for initial investment and system operation costs, allowing them to utilize solar power at a lower cost, with the system being transferred for free after the contract ends.
Mr. An, Pham Dang stated that currently, out of the top 2,000 largest public companies in the world on the Forbes Global 2000 list, 929 have set Net Zero targets (data from Net Zero Tracker). Meanwhile, RE100 – an initiative urging large businesses to use 100% renewable electricity – has over 400 members, including numerous multinational corporations and global industry leaders across various sectors. The European Union (EU), one of Vietnam's key trading partners, has introduced the Carbon Border Adjustment Mechanism (CBAM) legislation as one of its initiatives to promote greenhouse gas emission reduction and achieve carbon neutrality by 2050. The United Kingdom is also considering a similar mechanism. Previously, the United States introduced the Clean Competition Act and passed the Inflation Reduction Act (IRA) to work towards a carbon-neutral economy by 2050.
Therefore, this is a global trend and a matter of concern for businesses participating in the global supply chain. This also underscores the need to develop a carbon credit market in Vietnam. In the upcoming period, as businesses need to practice emission reduction according to Decree 06/2022/NĐ-CP, developing the carbon credit market and the trade of international renewable energy certificate (I-REC) will further boost the demand for rooftop solar in businesses. Looking ahead, in line with the carbon-neutral business trend, there is potential to develop solar power combined with energy storage solutions, electric vehicles, carbon capture, and more.
Manufacturing enterprises are given favorable conditions to use renewable energy to benefit their enterprises by practicing Environmental, Social, and Governance (ESG) principles and enhancing competitiveness. They also play a crucial role in Vietnam's journey towards 100% renewable energy – Mr. An, Pham Dang shared.
As a professional solar developer and a leading renewable energy company in Vietnam, Vu Phong Energy Group works alongside many businesses in their green manufacturing, sustainable development, emission reduction, and carbon-neutral journey. This includes industry-leading companies such as Vinamilk, Kem Nghia (Nghia Saigon Nippers), Duy Tan Plastic, Dalat Worsted Spinning,…
Businesses interested in clean energy solutions, please contact Our Call Center via 1800 7171 or +84 9 1800 7171 or send an email to hello@vuphong.com for more information.
Vu Phong Energy Group