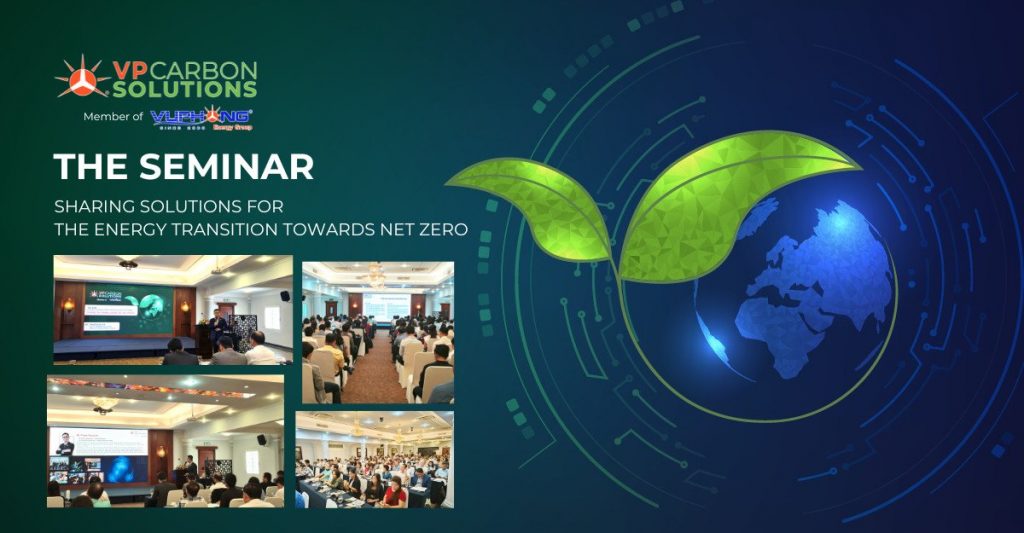 Recognize RECs to contribute to the development of renewable energy, to reach 100% renewable energy and the Net Zero objective in Vietnam. This perspective was offered by Mr. An, Pham Dang, Director of VP Carbon Solutions and Deputy General Director of Vu Phong Energy Group, at a Seminar on the transition to net-zero emissions on November 7, 2023.
The seminar, sharing solutions for the energy transition towards Net Zero, was jointly organized by the Vietnam Chamber of Commerce and Industry, Ho Chi Minh Branch (VCCI-HCM), the Vietnam Business Council for Sustainable Development (VBCSD), and the World Wide Fund for Nature in Vietnam (WWF).
The event aimed to share research findings from the project "Multi Actor Partnerships for Implementing NDCs with 100% Renewable Energy for All" and provide international experience in energy transition solutions contributing to Vietnam's commitment to achieving Net Zero emissions by 2050. The seminar took place in a worldwide push for energy transition and emission reduction. At COP26, Vietnam committed to achieving Net Zero emissions by 2050. Subsequently, in its updated NDC in 2022, Vietnam increased its emission reduction target for 2030 from 9% to 15.8% with domestic resources and from 27% to 43.5% with international support (compared to the Business As Usual development scenario).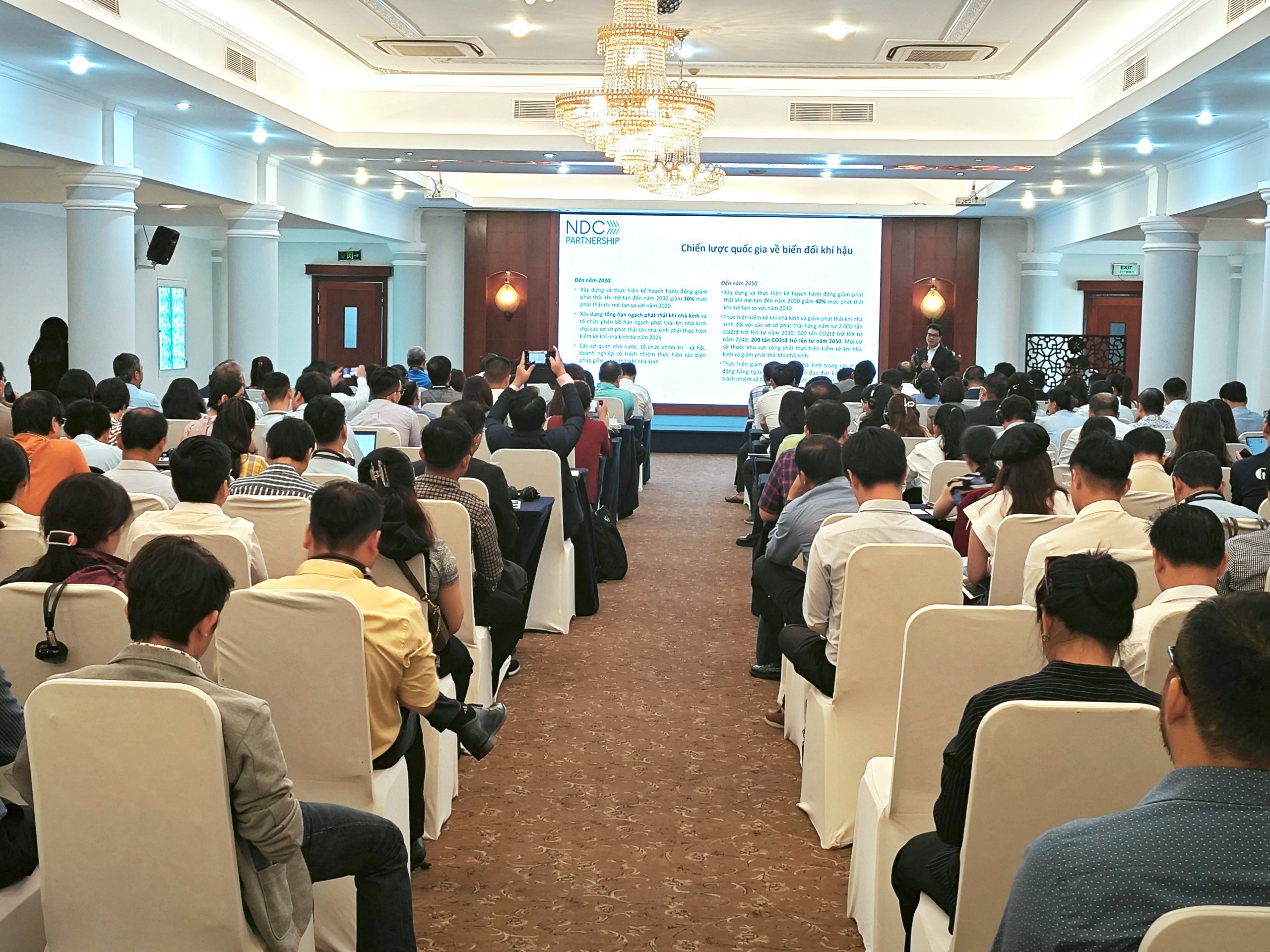 Many delegates from agencies, departments, organizations, businesses… attended the Seminar
During the seminar, Mr. An, Pham Dang, the Director of VP Carbon Solutions and Deputy General Director of Vu Phong Energy Group, shared about Renewable Energy Certificates (RECs). According to Mr. An, businesses that are in production are currently facing substantial pressure due to international demands for emissions reduction, such as the EU's Carbon Border Adjustment Mechanism (CBAM) and the Corporate Sustainability Reporting Directive (CSRD)… In addition to this, the transition to renewable energy with commitments toward 100% Renewable Energy (RE) is being strongly promoted by global corporations and companies, using RECs alongside renewable energy could be a parallel energy solution.
Specifically, businesses can directly utilize RE from their self-invested systems or collaborate in developing rooftop solar power systems and buy electricity through the Power Purchase Agreement (PPA). Subsequently, they can purchase electricity from concentrated RE projects using the Direct Power Purchase Agreement (DPPA) mechanism (currently under pilot phase development). In addition to using RE directly, businesses can engage in the RECs market to acquire certificates, fulfilling targets related to RE usage and indirect emission reduction within the scope of Scope 2. With globally recognized certifications like I-REC, businesses can easily demonstrate RE usage ratios in international markets.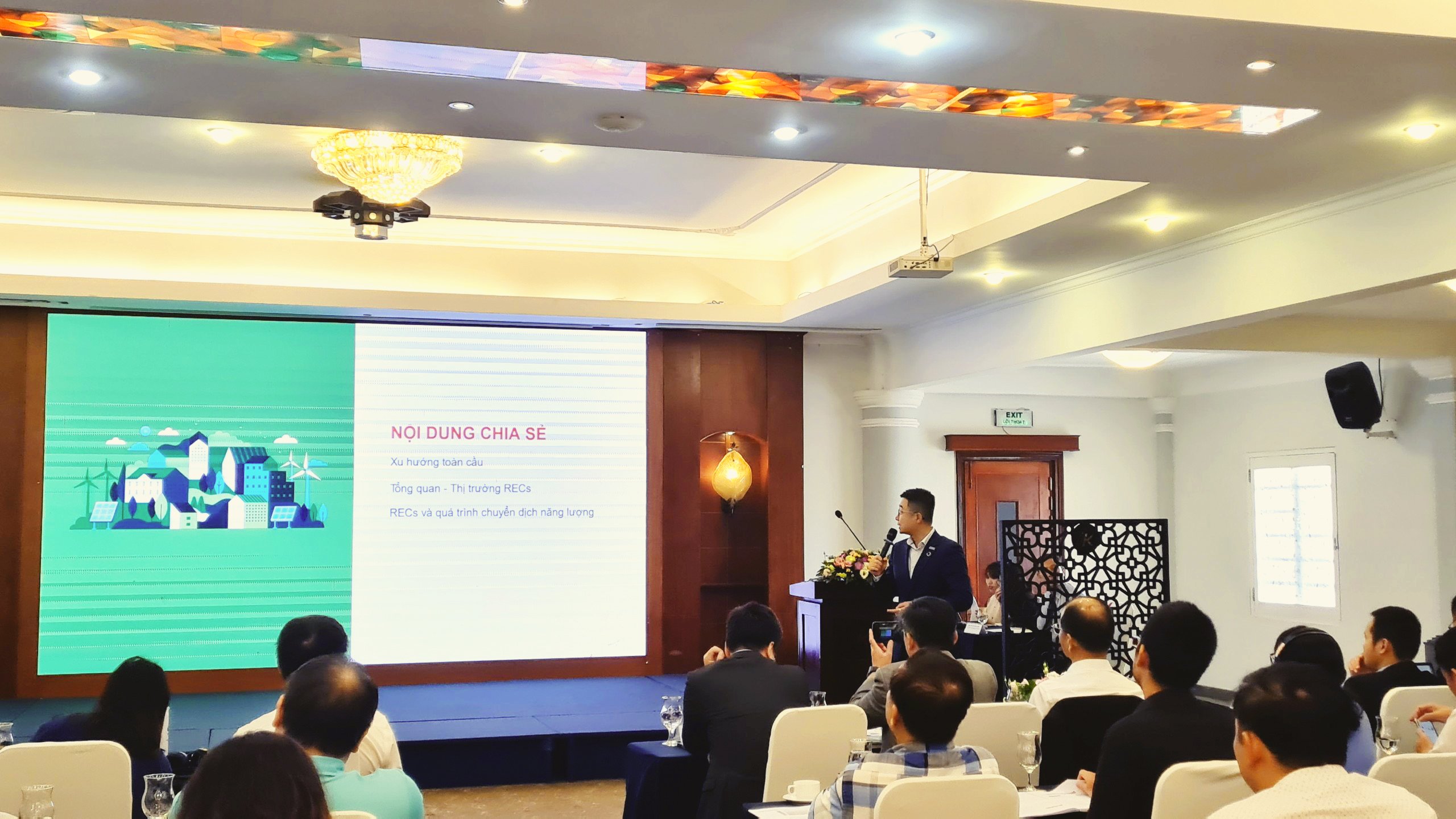 Sharing by Mr. An, Pham Dang, Director of VP Carbon Solutions at the Seminar
RECs not only contribute to solving the clean energy and emission reduction challenges for manufacturing businesses but also create additional revenue for RE projects through certificate transactions. Owning RECs, RE projects are more accessible to large manufacturing businesses, especially Foreign Direct Investment (FDI) companies, particularly with the DPPA mechanism in place.
Based on this, Mr. An commented on RECs as a contributing factor driving the development of RE projects, including both decentralized and centralized projects. This, in turn, accelerates the national energy transition and contributes to effective emissions reduction, aligning to achieve Net Zero by 2050.
During the seminar, Mr. An also provided information about the RECs market, including the international markets like I-REC, TIGR,.. and Vietnam. As of October 25, 2023, Vietnam had 492 projects certified with I-REC, predominantly in solar energy, with 353 projects totaling over 4,100 MW. I-REC issuer in Vietnam, the Green Certificate Company (GCC), one of the world's leading independent certification issuers for renewable energy, is responsible for issuing I-REC certificates. Currently, VP Carbon Solutions is collaborating with GCC to assist clients in I-REC certificate registration.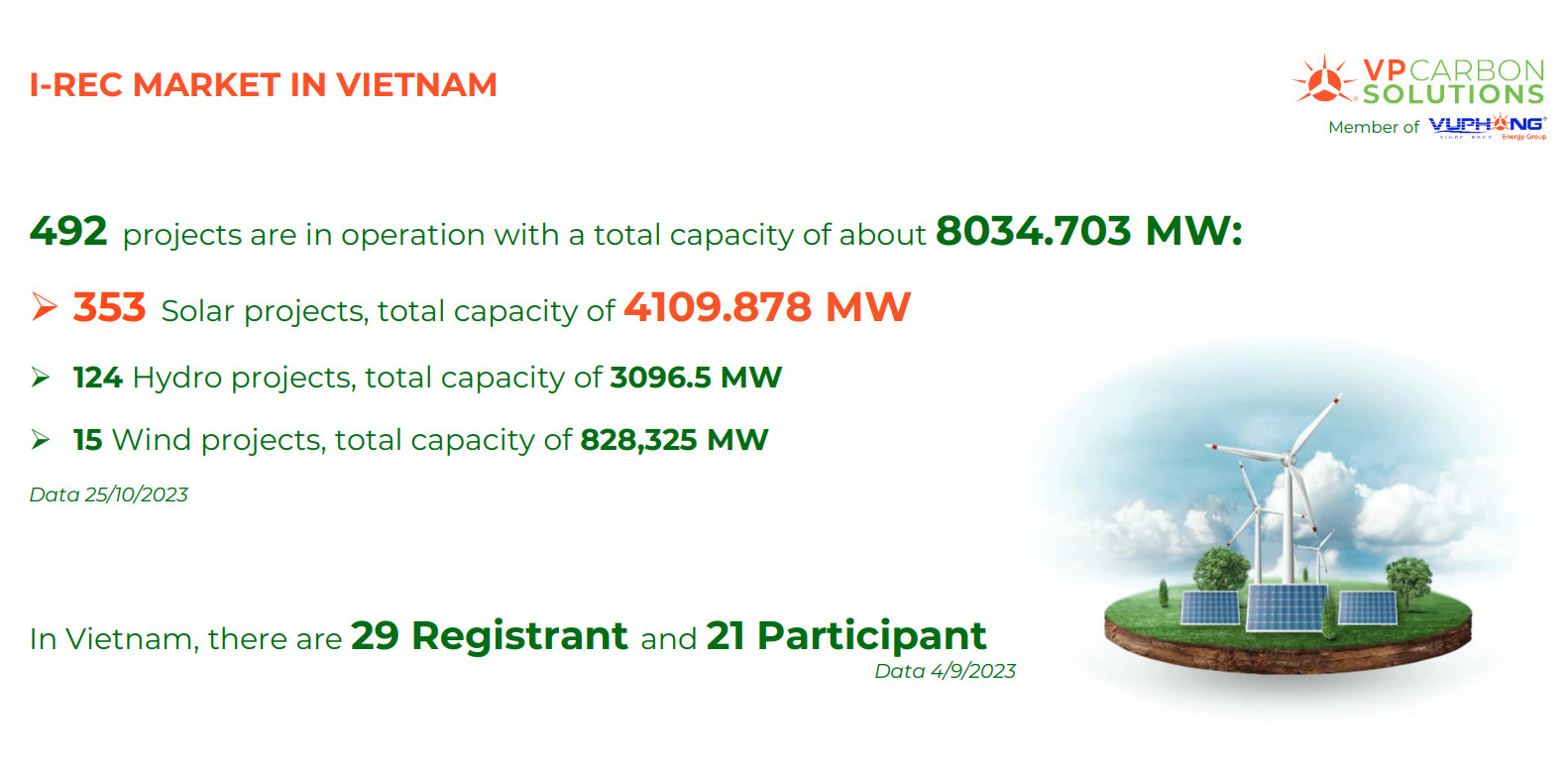 It's worth mentioning that the RECs market in Vietnam, including certificates like I-REC, TIGR,.. is still relatively new. Therefore, Mr. An's presentation drew significant interest from the seminar's attendees. On the sidelines of the seminar, Mr. An expressed his effort to update valuable information about the RECs market continually. This aims to provide optimal support to businesses on their journey towards emissions reduction, carbon neutrality, and sustainable development.
As a member company of Vu Phong Energy Group, VP Carbon Solutions specializes in providing solutions to help businesses efficiently reduce greenhouse gas emissions, towards carbon neutrality. The core services include Registration for issuance and transactions for an International Renewable Energy Certificate (I-REC); Consulting on registration of Certified Emission Reductions (CERs), and Consulting on ESG.
Businesses that need advice on emission reduction and carbon neutral solutions, especially in registering for the International Renewable Energy Certificate (I-REC), please contact VP Carbon Solutions at +84 9 1800 7171 or via email at hello@vpcarbonsolutions.com.
Details about VP Carbon Solutions:
Vu Phong Energy Group