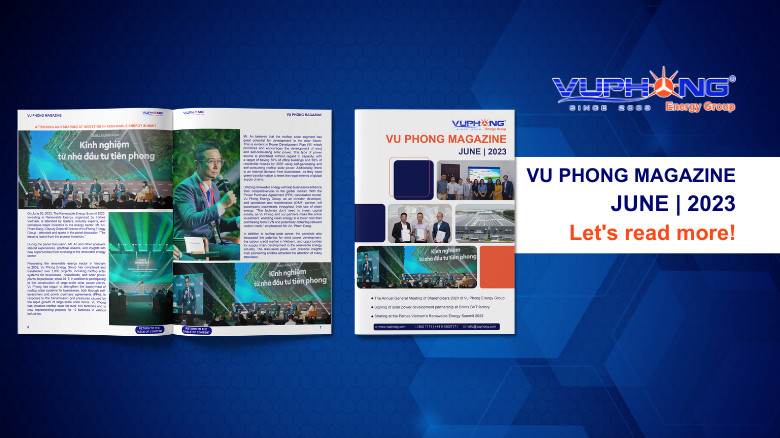 Vu Phong Energy Group had a productive June, as they successfully hosted our Annual General Shareholders' Meeting in 2023. In addition, we signed a collaboration agreement for a new project at the Shints BVT factory in Hai Duong and engaged in negotiations with several other factories. Vu Phong also maintained the deployment, installation, operation, and maintenance of solar power systems and participated in various significant renewable energy events.
Details of Vu Phong Energy Group's outstanding activities in June, let's read Vu Phong Magazine June 2023
One of the meaningful events that Vu Phong Energy Group participated in June 2023 was The Renewable Energy Summit 2023: Investing in Renewable Energy, organized by Forbes Vietnam. At the summit, Mr. An, Pham Dang, Deputy General Director of Vu Phong Energy Group, as a speaker on the panel discussion "The lessons learnt from the pioneer investors", and other speakers shared experiences, practical lessons, and insights into new opportunities from investing in the renewable energy sector such as rooftop solar power, wind power development, carbon credit market, supply chain in the renewable energy industry. The discussion panel, with practical insights from pioneering entities, attracted many attendees' attention.
The potential for rooftop solar power development was prominently highlighted in the government's Power Development Plan VIII, which was approved in mid-May 2023. This potential derives from businesses' increasing desire to adopt green solutions in order to satisfy requirements and gain an advantage in global supply chains. Vu Phong Energy Group is currently negotiating with many enterprises to develop rooftop solar power systems, assisting businesses in green transformation. One of the latest projects signed in June involves installing a solar power system on the rooftop of the Shints BVT factory, as Hai Duong's first foreign-invested enterprise specializes in sportswear, protective apparel, jackets, and gloves… The system will be developed under a Power Purchase Agreement (PPA) with ecoligo as the investor. Vu Phong, as the developer, operation and maintenance (O&M), will accompany Shints BVT throughout their utilization of clean energy.
Details of Vu Phong Energy Group's outstanding activities in June, let's read Vu Phong Magazine:
Vu Phong Energy Group