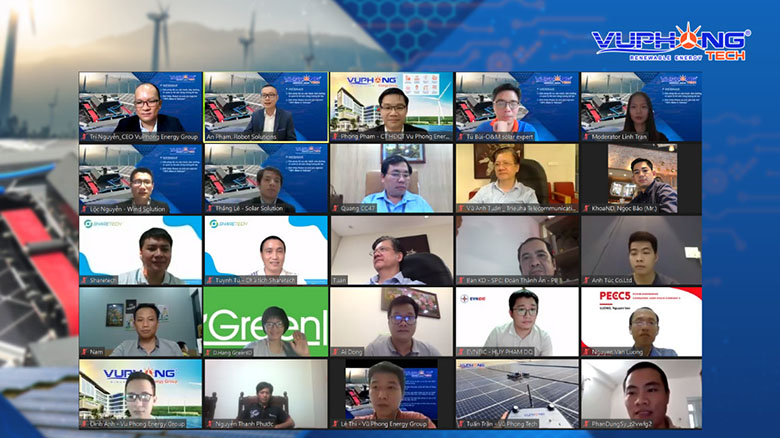 Vu Phong Tech, a technology subsidiary of the Vu Phong Energy Group, hosted a webinar on renewable energy industry solutions on September 10, 2021. The webinar drew over 300 people, including many renewable energy project investors and energy industry engineers.
With the topic: The optimal solution for O&M services and renewable asset management services – Introducing the solar panel cleaning robot – "100% Make in Vietnam". Webinar primarily shared and discussed solutions for O&M services, renewable asset management services and the VPT-RB1200-S1 robot – Vu Phong Tech's latest solar panel cleaning robot product, which was just launched.
The Webinar Hosted by Vu Phong Tech: Exploring Solutions for O&M Services and Renewable Asset Management
Mr. Phong, Pham Nam – Chairman of the board of Vu Phong Energy Group – welcomed and thanked the interest, attendance and online monitoring of more than 300 attendees at the start of the webinar. Renewable energy has expanded rapidly in Vietnam in the previous five years, according to Mr. Phong. In just two years, from 2019 to 2020, the total installed solar power capacity has reached 16GW. Vietnam will also have around 4-5GW of gridded wind power this year. As a result, the total renewable energy capacity has surpassed 20GW. Vu Phong Tech organized this webinar to have a discussion about how investors, providers of management, and operators can work together to find a solution and supporting tool (software, technological system, etc.) to optimize the management, create the most output for the systems, and ensure grid regulation.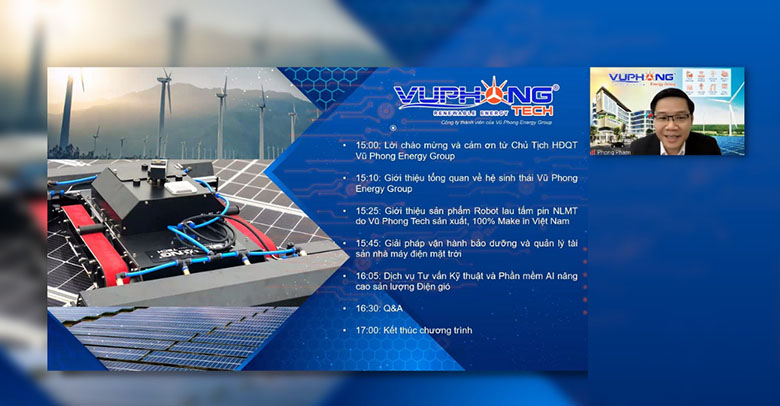 Mr. Phong, Pham Nam – Chairman of Vu Phong Energy Group – shared in webinar
Following that, Mr. Tri, Nguyen Quang – CEO Vu Phong Energy Group – presented an overview of the company's ecosystem. Vu Phong Energy Group, founded in 2009, we are known as a leading business in the renewable energy industry in Vietnam, with many clients and partners who are corporations and reputable firms in the country and worldwide. Vu Phong Energy Group has extensive experience and a team of highly professional engineers and has completed over 1,000 solar power projects, including several solar power plants, which have hundreds of MWp. Vu Phong also pioneered the development of the PPA (Power Purchase Agreement) and industrial rooftop solar system in Vietnam through collaboration with various big investment firms.
In addition to providing EPC general contractor services, management services, and renewable energy operation, Vu Phong also provides solutions for UPS technology, energy storage (ESS), and the development of an ecosystem with the mission "Develop clean energy for the green environment and sustainable development."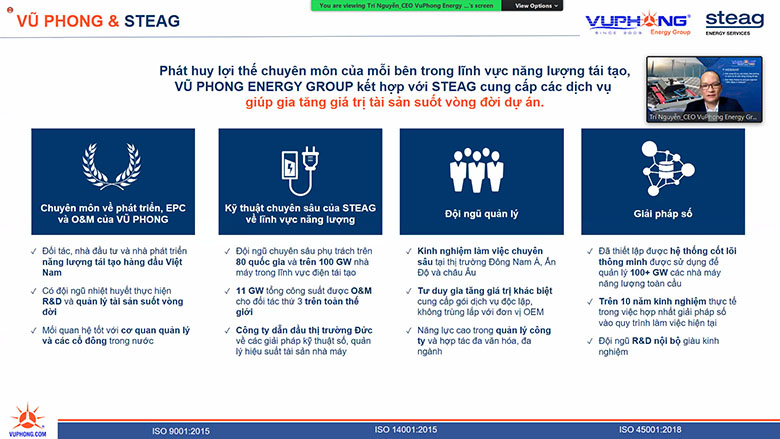 Mr. Tri, Nguyen Quang – CEO of Vu Phong Energy Group, gives an overview of the ecosystem and offers services
Introducing VPT-RB1200-S1: Vu Phong Tech's Revolutionary Solar Panel Cleaning Robot
Mr. An, Pham Dang, representative of Vu Phong Tech, introduced the VPT-RB1200-S1 solar panel cleaning robot in the following section. Additionally, this is the subject that generates the most interest among attendees. The VPT-RB1200-S1 robot is the latest product of Vu Phong Tech, which is a solution exclusively for mini-farm systems such as rooftop solar systems, offices, buildings, commercial centers, Solar Power and Agricultural Products (APV), etc. After three years of research and more than two years of operating on 300 MWp projects, the product has been completed and launched with outstanding advantages:
Better cleaning: With the ability to control the moving direction, rotation speed, and distance between the brush and the panel surface, which qualified to the system structure and dust properties.
More efficient: High productivity and reduced water consumption. The robot cleans in difficult-to-reach areas and can overcome the 400mm gap between panel arrays.
Easier: The robot is controlled from a distance, a better remote control design and interface could make things more efficient for users.
More flexible: Using a module design, which is easy to transport and integrate with a variety of brushes, it could be adapted for a variety of solar systems.
Workforce optimization: The robot can be operated by a single technician.
Safer: The robot can be controlled remotely from up to 200 meters away, making the O&M service safer because they will not have to move as much on the roof, reducing roof damage.
Upgradable: The robot can be upgraded to include IoT access control and drone control; The journey monitoring system and mop area calculation can be integrated by the robot.
The VPT-RB1200-S1 robot will save 40% of yearly costs compared to employing only workers in the first 5 years and up to 70% after 26-30 years.
In addition to the Robot VPT-RB1200-S1, Vu Phong Tech has researched and developed a variety of solar panel cleaning robots based on the characteristics of each construction to provide the best performance while serving a wide range of markets, including the Robot VPT-RB2300, Robot VPT-TRACKER-S2, Robot VP-DRY4000-S1, Automatic Semi-VPT-SA800-S3…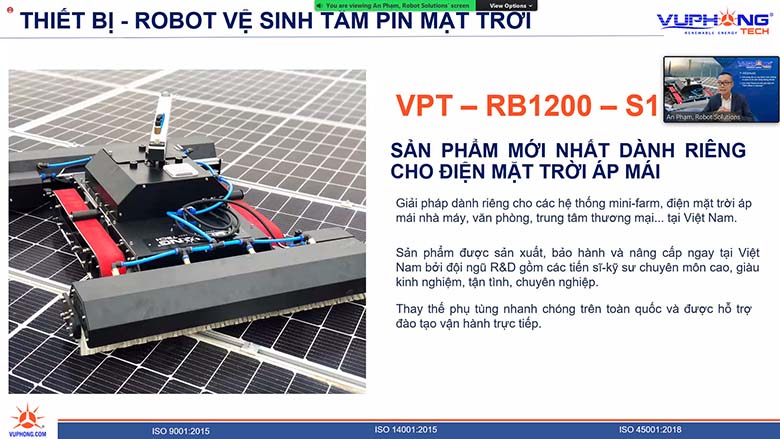 Robot VPT-RB1200-S1 – Products receive special attention from webinar attendees
Vu Phong Tech engineer has specific introduced activities in management, factory management, factory maintenance, maintenance of solar power system, management technical assets, and financial/commercial management for the project when presenting the entire O&M solution packages for solar power plants.
Through collaboration and knowledge transfer with major businesses such as Bouygues, AC renewable, with more than two years of actual operation management, Vu Phong Tech engineers have optimized the process, built a table of statistics consisting of hundreds of errors that frequently occur in the operation of solar power plants, and plans with the overcome process to optimize the factory's operational efficiency.
Optimizing Renewable Energy Services: The Key to Success in the Vietnamese Market
Vu Phong Tech – Vu Phong Energy Group has provided O&M service in 2020, helping the solar power plant with a capacity of 250 MWP in Ninh Thuan to operate with a 99.99 percent availability rate.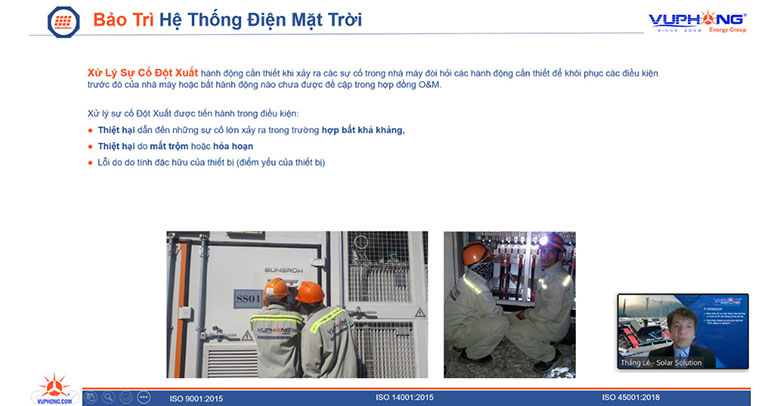 Engineer introduces solar power plant maintenance operations (O&M).
Vu Phong Energy Group collaborates with Steag Energy Services GmbH (SES – Germany) to provide Asset Management (AM) solutions for wind power plants with Remote Monitoring Center (RMC) that include Asset Monitor, Asset Guide, and Asset Pilot. Asset management solutions will increase the value of wind power plants, increase annual electricity output (AEP) through WTG optimization, early resolve problem, and smart maintenance, simultaneously lowering operating expenses (OPEX) through smart maintenance.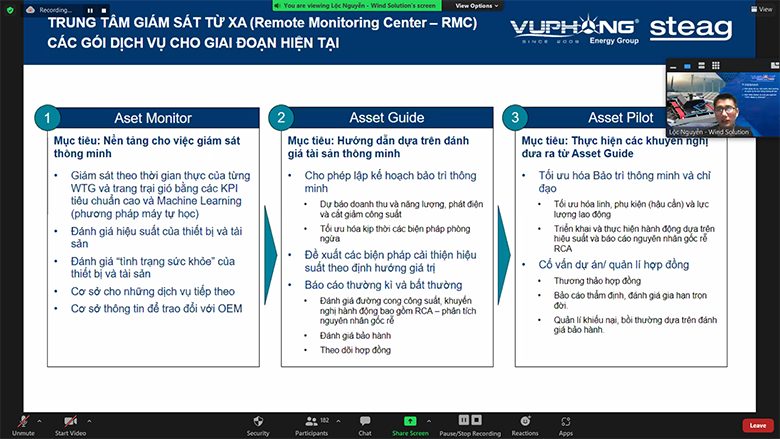 The webinar shares Asset Management Solution for the wind power plant.
Renewable energy is expanded rapidly in Vietnam, drawing financial investment from both domestic and foreign investors. The optimization of renewable energy services such as O&M, AM… by Vietnamese engineers trained by multinational businesses would deliver effective solutions at more appealing costs to investors. At the same time, there is a chance for local service providers to grow in more professional directions, fulfilling the demands of the Vietnam renewable energy industry and expanding into international markets.
Vu Phong Tech is a technology company that specializes in providing O&M services for solar power plants, AM wind power, and inspection services for solar rooftop systems. Vu Phong Tech also specializes in researching, developing, and supplying renewable energy equipment such as solar panel cleaning robots, mini-SCADA, etc. Vu Phong Tech is a pioneer business in the localization of solar industry equipment and equipment in Vietnam.The result of a collaboration between Vu Phong Energy Group and Sharetech Vietnam, Vu Phong Tech has extensive R&D skills, with a staff of 3 professors, 5 doctors (in materials, robots, environment and mechanics), 2 masters, and 12 engineers. Who join Fukushima Renewable Energy Project (Japan), Military Equipment Design (Vietnam), Automatic Robot Program (Sweden), Composite Materials Program and 3D printing (Japan), product design with major brands in Vietnam.
Information of webinar:
Vũ Phong Energy Group