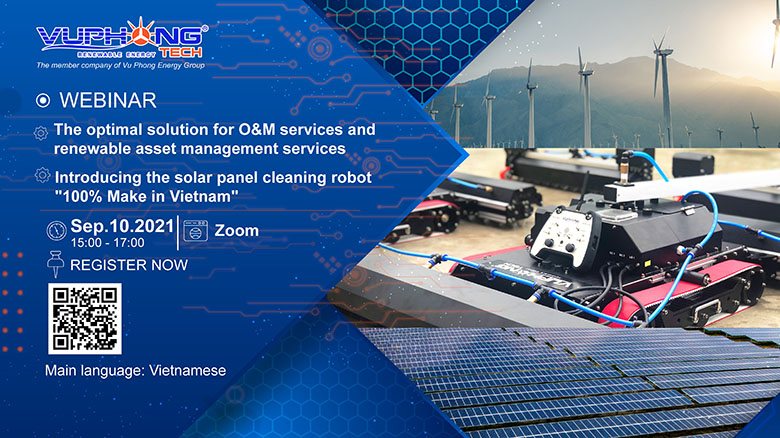 The optimal solution for O&M services and renewable asset management services. Introducing the solar panel cleaning robot –  "100% Make in Vietnam". The webinar is held by Vu Phong Tech – a technology member company of the Vu Phong Energy Group. It will be start from 15:00 to 17:00 on September 10, 2021 via Zoom.
The renewable energy business has grown rapidly in Vietnam, garnering significant investments from both domestic and foreign investors. The optimization of renewable energy services like O&M (Operation & Maintenance) and Asset Management by well-trained Vietnamese engineers from multinational organizations would provide investors with cost-effective solutions. At the same time, there provides an opportunity for domestic service providers to grow more professionally, serving the needs of Vietnam's renewable energy sector while expanding into international markets.
With a proactive spirit to overcome challenges, Vu Phong Tech will host this webinar to present and discuss O&M, AM solutions for power plants. In Vietnam, solar and wind energy are being used. The webinar will also introduce our new solar panel cleaning robot – the product's of  Vu Phong Tech has just introduced – the solution for mini-farm systems such as installation systems on factory rooftops, corporate offices, buildings, commercial centers, Solar Power and Agricultural Products (APV), etc.
Read more: