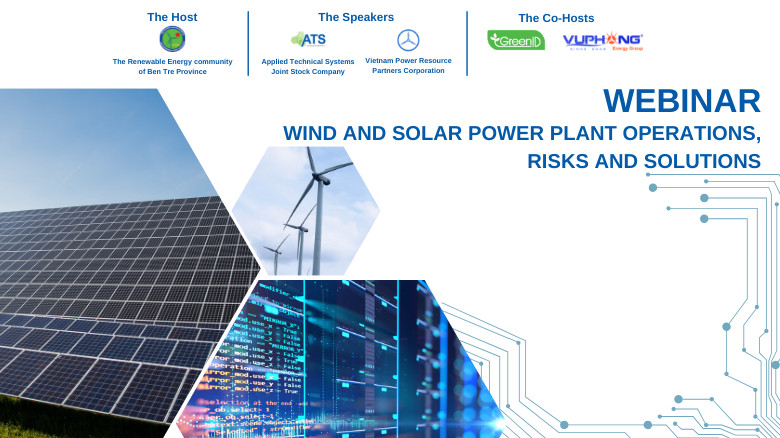 The webinar Wind and solar power plant operation, risks and solutions was hosted in the afternoon of November 21, 2021, with over 200 participants. The webinar was hosted by the Ben Tre Renewable Energy Association (BTREA) in collaboration with ATS/PRP; co-hosts include the Green Innovation and Development Centre (GreenID) and Vu Phong Energy Group.
Renewable energy sources such as solar and wind power have grown in popularity and investment in recent years. With the global trend of shifting clean energy and Vietnam's commitment at COP26 reaching "zero" net emissions by 2050, the utilizing of renewable energy sources and promoting the development of clean energy sources becomes more important.
Ben Tre is actively developing clean energy sources toward sustainable growth. Ben Tre province has set a goal of being one of the most sustainable developing locations in the marine economy, focusing on renewable energy, fisheries, and tourism. Ben Tre, has focused on wind power projects, with the goal of reaching over 1,385MW of wind power and over 200MW of solar power by 2030. Webinar Wind and solar power plant operation – risks and solutions organized by the Ben Tre Renewable Energy Community to create an open mind discussion about solutions to operate wind power plants and solar energy that can help investors solve challenges when entering the market, particularly those related to the electric power transmission system and reducing power generation capacity as required by the electrical company…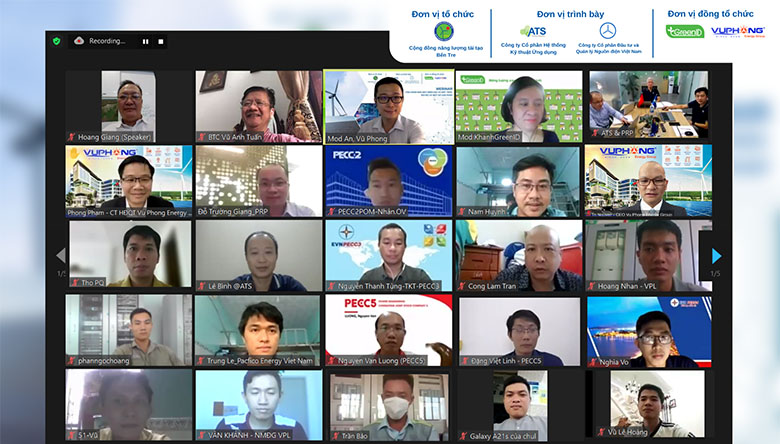 The webinar – Wind and solar power plant operations, Risks and Solutions
After nearly a year of establishment, Dr. Hoang Giang, Founder of Ben Tre Renewable Energy Association, introduced the Community, and wind power projects in the province have begun commercial operation and construction. Following that, ATS engineers provided an overview of the process of implementing a renewable energy project, as well as factors to consider before deployment, such as consulting, analyzing, and calculating electricity systems. Engineers also shared OCC data collection and processing solutions for grid and power plant operation management and solutions for grid impact studies, curtailment analysis, and wind power plant Integrated Monitoring and Control System.
With the support of Ms. Khanh. Nguy Thi – Founder & CEO of GreenID and Mr. An, Pham Dang – Head of Marketing Vu Phong in the role of Moderator, the webinar was a success, thanks to the participants' practical technical sharing and open-minded discussion. It promises the next fascinating webinar to jointly build Vietnam's renewable energy industry.
Vũ Phong Energy Group