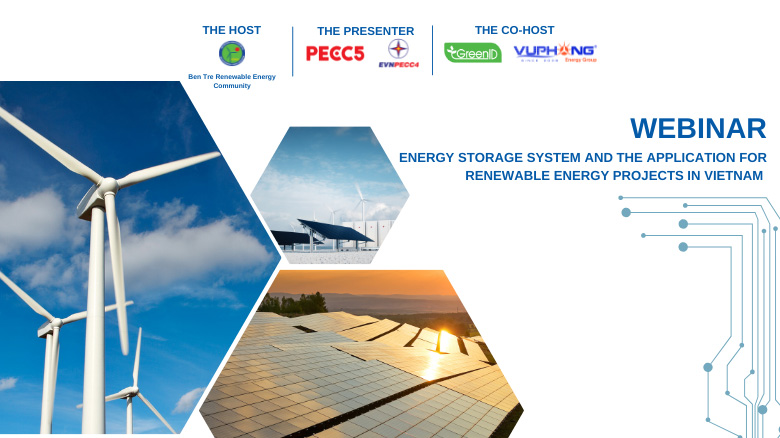 Following the first webinar wind and solar power plant operation, the Ben Tre Renewable Energy Association (BTREA) collaborated with the Green Innovation and Development Centre (GreenID) and Vu Phong Energy Group to host the second webinar "Energy storage system and the application for renewable energy projects in Vietnam". The webinar drew more than 140 participants, with two technical sharing topics from PECC4 and PECC5.
Mr. Luong Nguyen Van, Deputy General Manager of Power Engineering Consulting Joint Stock Company 5 (PECC5) presented an overview of Vietnam's power system and Energy Storage Solutions (ESS). According to PECC5 statistical figures, renewable energy sources contribute to a high proportion (27%) of the country's total installed source capacity through December 2021, while the proportion of maximum output is low, just approximately 9.6%. The demand for electrical load is high in the South and North, but relatively low in the Central area. There is a significant disparity between maximum total output and electrical load demand in the Central and Southern areas, particularly in the Central area. In other areas, the local area power system has been unable to meet the requirements about releasing the source capacity, forcing many renewable energy projects to cut the capacity…
The integration of energy storage has a positive role in Vietnam's power system and is expected to expand rapidly, with major market expansion potential. ESS solutions will improve grid status, enhance power system stability, reduce capacity redundancy requirements on the system, and actively adjust load graphs between high/low modes, increase flexibility in power system operation.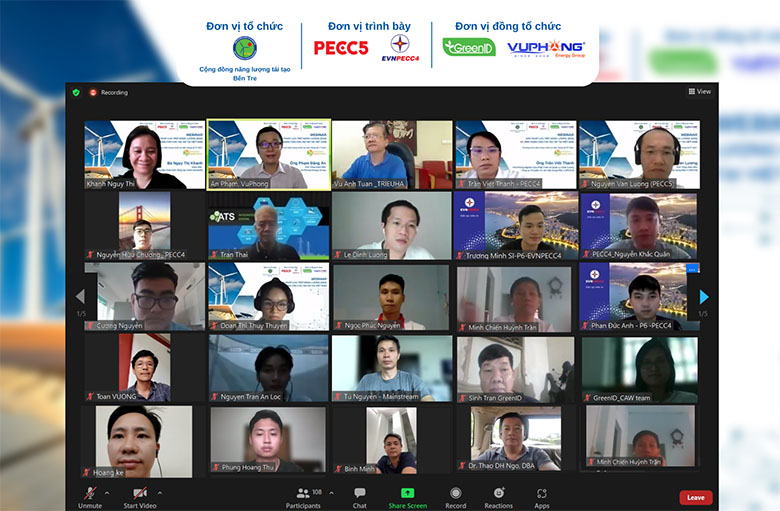 More than 140 participants attended the webinar, which was moderated by Mrs. Khanh, Nguy Thi, Director of GreenID, and Mr. An, Pham Dang, Deputy Director of Vu Phong Energy Group.
According to Mr. Luong, the three most popular energy storage technologies are: rotary/capacitor storage meets short time; electrochemical storage – battery storage (BESS), which has an average storage time of several hours with a not too large capacity; and storage hydroelectricity with longer storage times of months or years and storage capacity of several GW. According to IEA figures, the total installed battery storage capacity globally by the end of 2020 will be around 17 GW (5 GW in 2020). Renewable energy will continue to develop in the next years towards greenhouse gas emission reduction goals, and the BESS market is anticipated to grow even more. Mr. Luong also presented some overseas experiences in integrating the ESS system, such as in Japan and Korea, and emphasized that it is necessary to analyze and calculate the ESS master plan for Vietnam's power system.
Mr. Thanh, Tran Viet, Deputy Research & Development and Quality Management Department – Power Construction Consulting Joint Stock Company 4 (PECC4) said, "The rapid and explosive development of renewable energy projects, and the progress of investment in the electric transmission grid, hasn't met the requirement for capacity transmission. As a result, the market for investment in storage batteries in areas with many renewable energy plants in Vietnam is quite big. The energy storage system decreases grid transmission pressure, increases power system stability, and decreases capacity cutbacks for renewable energy plants." Mr. Thanh also provided case studies and methodologies for determining BESS capacity in renewable energy plants such as wind power plants.
Two topics about ESS solutions received the attention and open mind discussion of the attendees. Experts believe that in order to implement BESS and ESS storage solutions in Vietnam, the government needs the storage development mechanisms and policies to synchronize with the renewable energy development mechanism. Continue to implement pilot projects in areas with high renewable energy sources and overloaded power systems; put into the Power Development Plan VIII the scale of investment in the storage system suitable to the scenario of power source and grid development.
In addition to sharing and discussing ESS, Mrs. Khanh, Nguyen Thi – Director of GreenID – introduced Renewable Energy Month (REM21) – an expanded version of Renewable Energy Week, an annual event established by Vietnam Sustainable Energy Alliance (VSEA) in 2016. REM21's theme is "Initiating a Journey to Net-Zero Emissions in Vietnam." The program will comprise a variety of sessions with varying sharing materials to: Update the most recent information on the global and Vietnamese contexts of the clean energy transition; Discuss the opportunities, challenges, and role of the renewable energy industry in Vietnam's journey to net-zero emissions; and Propose and promote initiatives, solutions to accelerate the growth of clean energy under Power Master Plan VIII, towards net-zero emissions goal.
Vu Phong Energy Group is one of the units accompanying this program.
Vũ Phong Energy Group