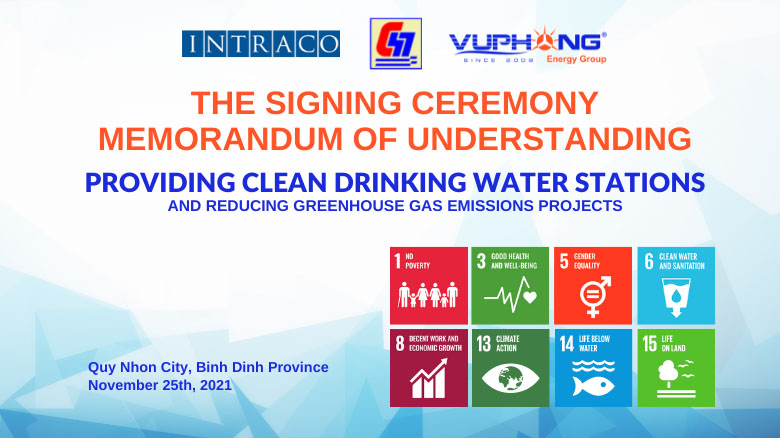 The tripartite cooperation: Vu Phong Energy Group will cooperate with Construction Joint Stock Company 47 (C47) and Investment and Trade Consultancy Company Limited (INTRACO) in the program: "Providing clean drinking water stations project and other reduce greenhouse gas emissions projects" (such as afforestation and protection of marine ecosystems), towards sustainable development goals on November 25, 2021.
Tripartite Cooperation for Sustainable Development Goals
WATER is an important component and the core element in sustainable development, particularly in a nation with a strong agricultural industry such as Vietnam. There are many Goals related to water resources among the 17 Sustainable Development Goals (SDGs) adopted by the United Nations to eradicate poverty, protect the environment and the earth's climate, and ensure, including Goals 1, 3, 5, 6, 8, 13, and 15.
Economic Growth and Tripartite Cooperation
As a result, the cooperation between Vu Phong Energy Group, Construction Joint Stock Company 47 (C47), and INTRACO Co., Ltd. marks an important milestone to build ecosystem businesses. In practical projects that will contribute to realizing the Sustainable Development Goals, especially water resources – water security.
The project aims to provide 1,000 drinking water stations with a capacity of 2,000 liters/hour each year through all provinces in Vietnam. Following that, the project will be able to extend into the fields of afforestation and marine ecosystems protection. This program is also a joint effort to reduce greenhouse gas emissions, in accordance with the Prime Minister's commitment at COP26 to reach "zero" net emissions by 2050.
The event will be livestreamed on the fanpage of three companies. We invite everyone who is interested in the environment and sustainable development goals, particularly water resources.
Join with us at 3:30 PM (GMT +7) on November 25, 2021!
Vu Phong Energy Group JSC
Read more: