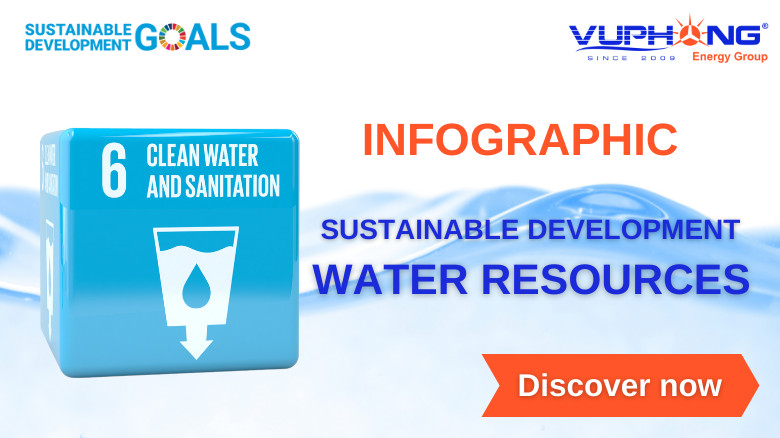 In November 2021, Vu Phong Energy Group, Construction Company 47 (C47), and INTRACO signed a Memorandum of Understanding (MOU) on "Providing clean drinking water stations and reducing greenhouse gas emissions projects" toward the Sustainable Development Goals. It includes Goal 6 – Ensure availability and sustainable management of water and sanitation for all.
Goal 6 is one of a series of United Nations Sustainable Development Goals (SDGs) that Vu Phong Energy Group is working hard to achieve, along with Goals 7, 8, 17, 13, 3, 4, 5… Construction Joint Stock Company 47, our associated company is known as an enterprise with a long tradition in the field of construction of hydroelectric projects, irrigation, and has been making an important contribution to the effective management and use of water resources towards sustainable development.
According to National Report 2020: Five-year progress of Sustainable Development Goals implementation, to achieve Goal 6, Vietnam will face difficulties and challenges. Although it is possible to achieve three-sixths of the specific targets by 2030. Goal 6.3 on controlling water quality and pollution and Target 6.4 on efficient water use will be challenging to achieve.
Detailed information about Goal 6:

Reference info:
The National Action Plan for the implementation of the 2030 Sustainable Development Agenda (Decision 622/QĐ-TTg dated May 10, 2017)
The Roadmap for implementation of objectives for sustainable development of Vietnam until 2030 (Decision 681/QD-TTg date 4th June, 2019)
Resolution on Sustainable development (Resolution No. 136/NQ-CP dated September 25, 2020)
The National Report 2020: Five-year progress of Sustainable Development Goals implementation
Read more:
Vu Phong Energy Group