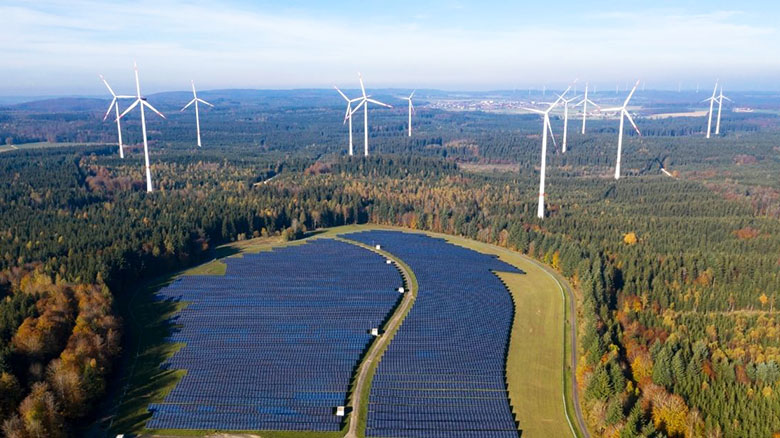 According to Rystad Energy (Norway) research, global energy costing will reach a new record of more than $2.1 trillion in 2022. Spending on green energy will account for around 31% of total expenditure and will grow by approximately 24% over the same time in 2021, equating to an increase of 125 billion USD.
Solar energy costs increased by 64%
Rystad Energy predicts that global solar and wind capacity will increase by 250 GW in 2022 based on current projects (including 140 GW of concentrated solar and 110 GW of wind). Spending on green energy would grow by around 24 percent, amounting to a USD 125 billion increase over the same time last year. Solar power, carbon capture and storage (CCS), hydrogen, and geothermal are the fastest-growing, with growth rates ranging from 40 to 60 percent. Solar power costing climbed the greatest, by 64%, and is forecast to reach 191.47 billion USD. Onshore wind power is anticipated to increase by 24 percent, reaching more than 209 billion USD.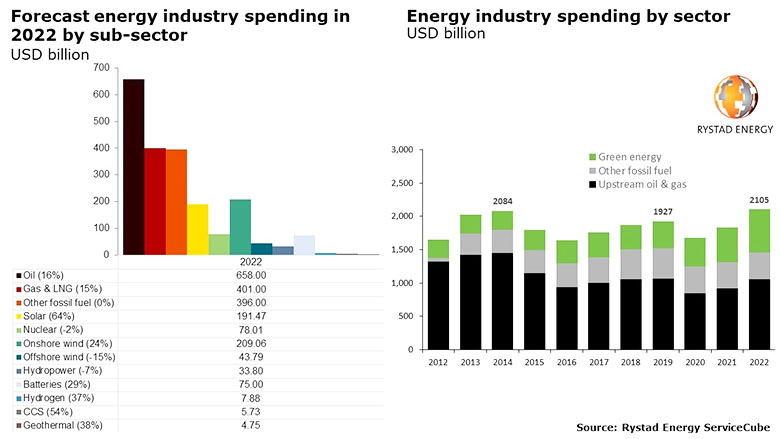 Global energy spending (Source: Rystad Energy)
Inflation following the Covid-19 pandemic and increases in oil, gas, and power prices in the context of the European Union's (EU) efforts to reduce reliance on Russian gas is thought to be the causes pushing up global energy costs in 2022. With green energy sources, growing raw material prices such as lithium, nickel, copper, polysilicon… are also contributing to increased costs. The main reason for the increase in the share of renewable energy costs in total global energy expenditure and the increasing capital inflow into green energy is, of course, the trend of the energy transition, which is accelerating energy development and energy development of low-emission energy sources with the goal of reducing greenhouse gas emissions to net-zero emissions by mid-century.
Renewable energy will continue to grow
Global renewable power capacity will reach a new high in 2021, with roughly 290 GW of new capacity put into operation. Solar power accounts for more than half of the entire amount of additional renewable electricity generated in the year, followed by wind energy and hydroelectricity. Despite the complicated developments of the Covid-19 pandemic, wind power continued to have a successful year, adding 93.6 GW to the overall cumulative global wind power capacity of 837 GW.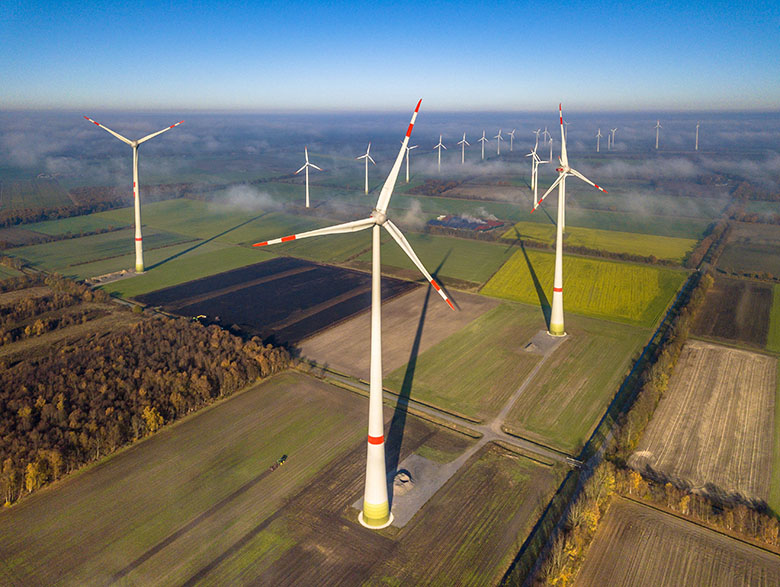 Wind power continues to grow significantly in 2021, with approximately 94 GW of additional capacity (Internet photo)
In addition to the energy shift trend and countries' attempts to reduce greenhouse gas emissions, the impact of the Russia-Ukraine military tension will push renewable energy to continue to expand. According to the European Commission, the EU must decrease gas imports from Russia by two-thirds this year and remove this source by 2027. The EU government and major corporations are collaborating to promote renewable energy sources such as solar and wind power in search of alternatives. According to current plans, the EU will increase the percentage of renewable energy in final consumption to 40% by 2030. On April 10, 2022, the Commissioner for the EU climate policy indicated that it might set more ambitious goals for the transition to renewable energy, with the EU Repower initiative, which includes accelerating the energy transition.
Previously, the EU's 27 member states committed to reducing overall net emissions by 55% from 1990 levels by 2030, to reach the EU's shared goal of Net Zero emissions by 2050.
By the end of 2021, the total installed capacity of renewable energy sources in Vietnam will be 20,670 MW, accounting for 27% of the total installed capacity of the whole system (76,620 MW). Renewable energy generated 31,508 billion kWh of total power generation, accounting for 12.27 percent of total system output.
The Ministry of Industry and Trade is currently finalizing the Power Plan VIII. The Office of the Government most recently issued a notification on the conclusion of the permanent Government on Power Planning VIII on March 31, 2022. The Ministry of Industry and Trade has been tasked with completing Power Plan VIII for it to be approved in April 2022. In particular, the construction perspective must be directed toward developing an independent and self-sufficient economy, with a focus on enhancing the autonomy of the energy industry and reducing dependence on foreign countries. This is closely connected to the point of view of maximizing and rationally exploiting primary energy resources in the country for power generation, such as natural gas, wind, solar, ocean waves, and so on; while also balancing and using imported LNG sources in a reasonable manner.
Particularly for rooftop solar power that has been invested, if it is by regulations, for the right purposes, and does not take advantage of the profit mechanism, then calculate the balance for energy consumption and exclude the capacity of 7,755 MW of rooftop solar powerhouse from the data of total power capacity in the planning.
Refer data: Rystad Energy, GWEC, EVN
Vu Phong Energy Group