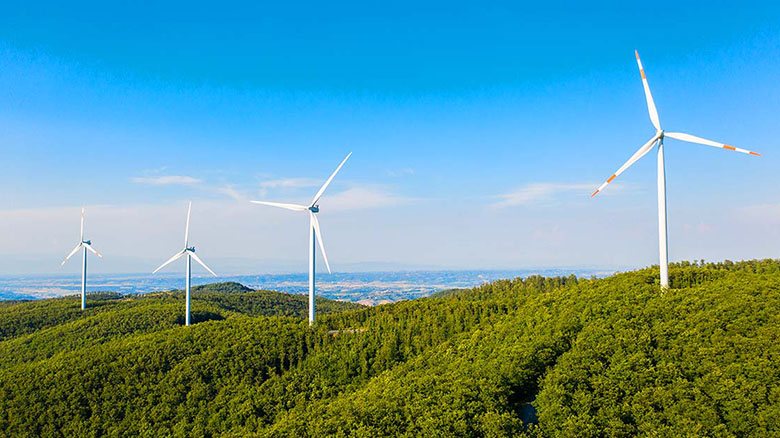 According to the IEA (International Energy Agency), renewable energy capacity will rise rapidly over the next five years, accounting for approximately 95 percent of the increase in worldwide power capacity through 2026. Renewable power capacity will expand by more than 60% between 2020 and 2026, reaching more than 4,800 GW.
Renewable energy achieves a new record despite covid-19 and growing costs
In 2021, Covid-19 continued to increase, which is a challenge to the global economy, despite a series of nations have shifted toward treating Covid-19 as an endemic rather than a pandemic thanks to the promotion of mass vaccination campaigns, then, apply a strategy of safe adaptation to control the pandemic as well as recuperating and strengthening the economy. The direct effects of Covid-19 on the global supply chain, particularly the renewable energy industry, include increased logistical costs and prolonged clearance times.
Challenges and Opportunities for Renewable Energy amid Covid-19 and Supply Chain Disruptions
Not only facing challenges from the Covid-19 epidemic, but the supply chain for the renewable energy industry, particularly solar power, is also under significant strain as a result of the United States imposing import restrictions on solar cell materials from several companies in Xinjiang, China, and widespread power outages in China. The price of silicon and polysilicon and other raw materials such as PV tempered glass, EVA plastic, aluminum, steel, copper, and so on increased quickly, raising the price of solar power modules and wind turbines. Many European and American wind turbine manufacturers have announced price hikes ranging from 10% to 25% for new orders. According to the IEA, investment costs for concentrated solar and onshore wind power are expected to be 25% higher than in 2019.
Higher natural gas and coal prices, on the other hand, have improved the competitiveness of wind and solar electricity. Renewable energy continued its impressive development in 2021. According to the IEA's assessment in the early December 2021 report, with about 290 GW added, 2021 will be a record-setting year for additional renewable energy capacity and 3 percent more than the already extremely strong growth rate exceptional of 2020. Solar energy will account for more than half of the total increase in renewable electricity in 2021, followed by wind energy and hydroelectricity.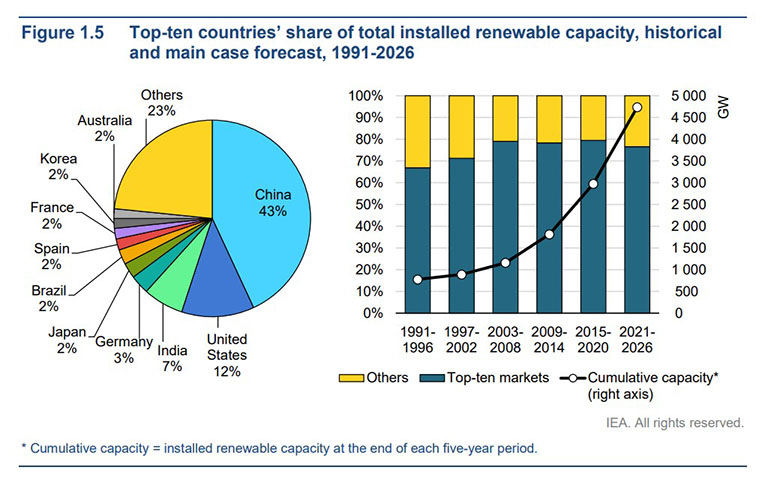 Top countries for renewable energy capacity (Source IEA)
The future predictions for clean energy
According to the IEA, renewable energy capacity will grow faster over the next five years, accounting for about 95%of the growth in global power capacity through 2026. Between 2020 and 2026, renewable power capacity will expand by more than 60%, reaching over 4,800 GW. China, Europe, the United States, and India are the largest markets, accounting for 80% of global renewable energy capacity expansion.
Some IEA forecasts for the period 2021-2026:
– Renewable power output will increase by approximately 52%, reaching more than 11,300 TWh in 2026; renewable energy will as the largest source of power generation
– Additional annual renewable capacity of 305 GW in the base scenario and more than 380 GW in the growth scenario
– In the base scenario, solar power will account for 60% of total extra renewable energy capacity, with about 1,100 GW
– The annual additional capacity of offshore wind power is 21 GW, with onshore wind at 75 GW
– Offshore wind power has the fastest growth rate (240%) of all renewables
– The cumulative capacity of offshore wind power will reach nearly 120 GW by 2026 in the base scenario, reaching 134 GW in the growth scenario
However, the IEA emphasizes that there is still a substantial gap between projections in both the base and growth scenarios compared to the trajectory required to reach the Net Zero goal by 2050. In 2021-2026, renewable energy growth needs to be 80 percent faster than the growth scenario.
*Source: Renewable Energy Report 2021 – Analysis and Forecast to 2026, IEA
To review the overall picture of the world and Vietnam's renewable energy markets in 2021, as well as the critical milestones and impressive achievements of Vu Phong Energy Group in the previous year, please visit Vu Phong Magazine Special Edition – 2021 HIGHLIGHTS.
Vũ Phong Energy Group