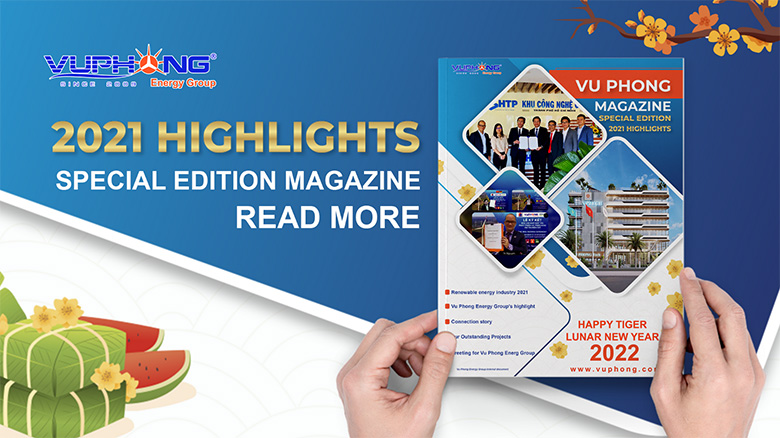 Vu Phong Energy Group was implemented the Vu Phong Magazine Special edition – 2021 Highlights with a lot of efforts as a gift to all customers, partners and people who always believe and support Vu Phong throughout our development journey.
Vu Phong Magazine Special Edition – 2021 Highlights is the publication for celebrating the Lunar New Year 2022, present our activities, highlights of Vu Phong in 2021. Our Magazine also share the interesting stories of our customers and partners via "Connection Story" section, and the Lunar New Year greeting from our Board of Directors (BOD) and Board of Manager.
The message from Mr. Phong, Pham Nam Chairman of the Board of Directors of Vu Phong Energy Group, begins our magazine, sharing about Vu Phong's efforts with the spirit of "Proactively overcoming challenges," "Care and Respect," and with the trust and companionship of our partners and customers, to achieve many important milestones in 2021. It is the effort and enthusiasm of the whole team with "the efforts and determination together in transforming Vu Phong Energy Group into a public corporation leading the energy industry, bringing many values and prosperity to our collective, customers, partners, and sharing with the community."
The Vu Phong Magazine also reviews the global renewable energy industry market (with Renewable Energy Achieves a new record despite Covid-19 and growing article, COP 26, and the future of clean energy article) and Vietnam's renewable energy market (The "race" of wind power; New policy expectations).
The main part of the publication is the highlights of Vu Phong Energy Group in 2021, such as: the Journey of Connecting hearts, building CORE VALUE OF VU PHONG; business activities, sharing activities with the community, impressive achievements in 2021, as well as preparation to be ready for a new step, profoundly participating in the value chain in the energy industry. Especially the participation in the wind power segment, the carbon credit market, and the Vu Phong Tech Renewable Energy Equipment Research and Production Center project in the Saigon Hi-Tech Park (SHTP).
Introduce The Vu Phong Magazine Special edition – The 2021 Highlights
The publication also shares fascinating stories about Vu Phong's connections with several close Customers and Partners, including STEAG, ecoligo, TotalEnergies, Shire Oak International, and Proinso, as well as introducing some impressive projects completed by Vu Phong Energy Group in 2021 and the previous period.
Vu Phong Magazine, in particular, has dedicated a portion of The New Year's greetings to conveying thanks and promising New Year wishes from the Board of Directors and the Board of Directors of Vu Phong Energy Group to all consumers., Partner and collective Vu Phong Energy Group sincerely wishes Tet, bringing faith and hope for a healthy recovery and development in the new year and new adventure.
Let's check Vu Phong magazine Special Edition – 2021 Highlight!
Vu Phong Energy Group