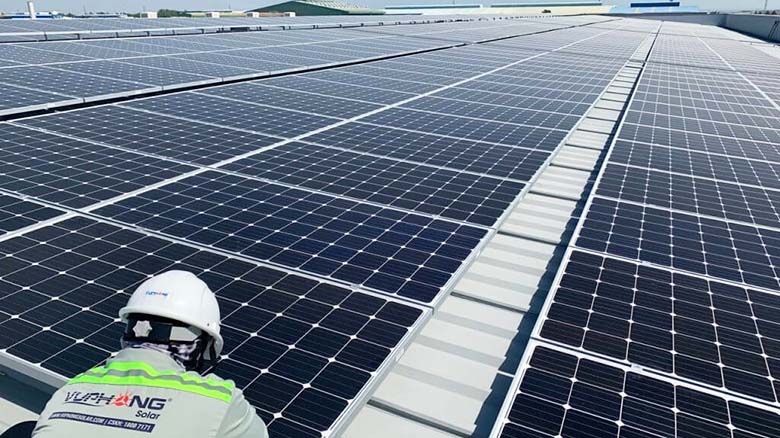 HANOI, Feb 20 (Vietnam News/ANN) — The Ministry of Industry and Trade (MoIT) has had a change of heart on the bidding mechanism for solar power tariffs in Việt Nam.
In the middle of last month, the ministry was still studying a bidding plan for solar projects in the country. However, it now says using a bidding mechanism for solar power tariffs could have negative impacts.
The ministry sent a report to the government on Tuesday, suggesting that solar power projects approved before November 23, 2019 that begin operating before January 1, 2021 should enjoy fixed feed-in-tariffs (FIT) of 7.09 cents a kWh for plants on land and 7.69 cents for floating plants.
In the previous proposal, MoIT suggested fixed rates would have applied only to projects that had begun construction before November 2019, operated this year; and signed power purchase agreements (PPAs).
In the letter sent on Tuesday, it said: "Investors of the projects that have been granted investment certificates have spent a lot of time and money on planning, site clearance, preparations for construction and technical design evaluation. Not getting a PPA is an unwanted issue," adding the previous regulation would slow down a project of those without a PPA.
MoIT thought using a bidding mechanism could waste more time, money and resources for investors.
MoIT said 36 projects nationwide, with a total capacity of 2,989 MW, have received investment certificates before November 23, 2019. Seven more, with a total capacity of 517 MW, have signed PPA contracts and are currently under construction.
Earlier on February 12, the World Bank released a new report titled Vietnam Solar Competitive Bidding Strategy and Framework, which was compiled over more than two years in partnership with the government of Viet Nam.
It said: "Viet Nam could boost its portfolio of solar energy from the current 4.5GW to tens of gigawatts in ten years, create thousands of jobs as well as achieve the government's Nationally Determined Contribution climate change target."
According to the report, there could be 25,000 jobs in project development, services, operations and maintenance created annually through 2030 and another 20,000 in manufacturing.
The report recommends Viet Nam adopt two new deployment schemes for projects: competitive bidding for solar parks and substation-based bidding.
The schemes will help to address curtailment – or underuse of solar generation capacity – as well as improve risk allocation between public and private investors.
The report recommends setting yearly and medium-term solar deployment targets and revisions to the legal framework covering the competitive selection of independent power producers.
At that time, Hoàng Tiến Dũng, General Director of Electricity and Renewable Energy Authority, MoIT said: "The World Bank's support for the Government's efforts in shifting from FIT to a competitive bidding mechanism for solar PV could be applied to other types of renewable energy in the future. It contributes to the sustainable and transparent development of renewable energy in Viet Nam by harmonising the interests of private investors, the government and customers."
Facing a grid capacity shortage, Việt Nam has been licensing a number of solar plants. So far, solar plants with a total capacity of 25,000 MW have been licensed, far exceeding the government's target of 4,000 MW by 2025. — VNS
Read more:
Source: Thestar.com.my