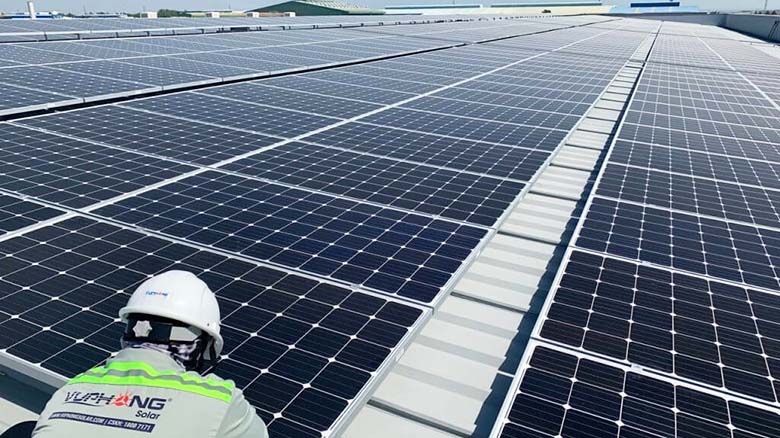 Update: 20 February, HANOI (Vietnam News/ANN) — The bidding process for solar electricity tariffs in Vietnam has undergone a change of heart according to the Ministry of Industry and Trade (MoIT).
The current state of renewable energy in Vietnam
The government was still looking through a bid strategy for national solar projects in the middle of last month. The use of a bidding system for solar power tariffs, however, may now have unfavorable effects, according to the report.
In a report it issued to the government on Tuesday, the ministry recommended fixed feed-in-tariffs (FIT) of 7.09 cents per kWh for on-land plants and 7.69 cents for floating plants for solar power projects that were approved before November 23, 2019 and started operating before January 1, 2021.
Prior to November 2019, only projects that have started construction and signed power purchase agreements would have been subject to the prior proposal's fixed tariffs (PPAs).
Impact of the new regulations on the renewable energy sector
"Investors of the projects that have been given investment certificates have invested a lot of time and money on planning, site clearing, preparations for construction, and technical design review," it was said in the letter that was delivered on Tuesday. Being denied a PPA is a problem, as the prior rule would slow down projects for those without one.
MoIT believed that employing a bidding process would cause investors to lose more time, money, and resources.
Before November 23, 2019, 36 projects around the country with a combined capacity of 2,989 MW acquired investment certificates, according to MoIT. Seven additional have PPA contracts and are now being built, with a combined capacity of 517 MW.
The Vietnam Solar Competitive Bidding Strategy and Framework study, which was developed over the course of more than two years in collaboration with the government of Viet Nam, was previously made available by the World Bank on February 12.
It stated that Vietnam could increase its solar energy portfolio from the present level of 4.5 GW to tens of gigawatts in ten years, generate thousands of employment, and meet the government's climate change objective.
The paper estimates that until 2030, 25,000 employment might be produced yearly in project development, services, operations, and maintenance, and another 20,000 jobs could be created in manufacturing.
The paper suggests Viet Nam use two new project deployment strategies: competitive solar park bidding and substation-based bidding.
The programs will assist in improving risk distribution between public and private investors as well as curtailment, or underuse of solar generation capacity.
The paper suggests establishing short- and long-term goals for solar deployment as well as changes to the regulatory framework governing the selection of independent electricity providers through competition.
Hoàng Tin Dng, General Director of the Electricity and Renewable Energy Authority, MoIT, stated at the time that the World Bank's support for the government's initiatives to switch from a FIT to a competitive bidding mechanism for solar PV could be applied to other forms of renewable energy in the future. By balancing the interests of private investors, the government, and consumers, it aids in the transparent and sustainable growth of renewable energy in Vietnam.
Due to a lack of grid capacity, Vietnam has been granting licenses to several solar farms. Currently, 25,000 MW worth of solar power plants have received licenses, greatly above the government's goal of 4,000 MW by 2025. — VNS
Read more: