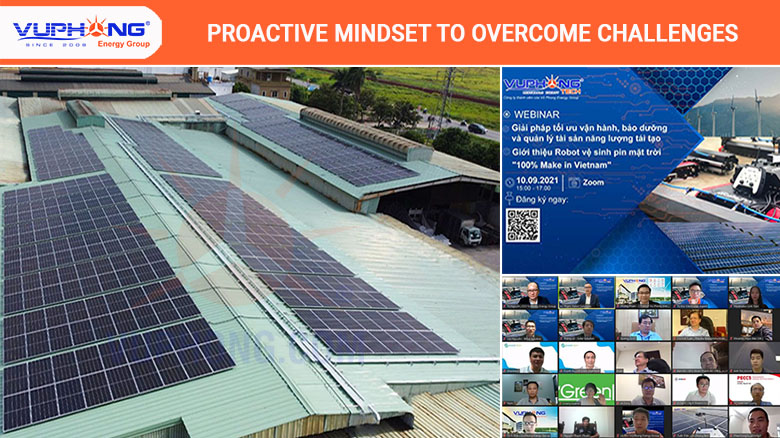 Although the impacts and effects of the Covid-19 epidemic are still complicated, but the proactive mindset to overcome challenges, Vu Phong Energy Group still maintains business activities, and is actively preparing for the upcoming "new normal" period.
Vu Phong Energy Group has been actively implementing a flexible working solution with the support of digital tools since the beginning of June 2021. Despite working from home, Vu Phong Energy Group finishes works effectively with a proactive, creative spirit and plentiful energy. In addition to proactively caring for existing clients, Vu Phong has established relationships with a number of new customers and partners, as well as successfully negotiating and signing a number of big contracts. Right from the beginning of June 2021, Vu Phong Energy Group has actively implemented a flexible working solution with the support of digital tools. Although working from home, with a proactive, creative spirit and abundant energy, Vu Phong Energy Group still have high performance. Besides actively taking care of old customers, Vu Phong has promoted connections with many new customers and partners and successfully negotiated and signed many large contracts. These include the 2 MWp solar power project under the PPA cooperation model, which will be constructed and installed on the roof of a leading large ceramic tile factory in Southeast Asia (in Quang Nam); rooftop solar power system project for a factory in Hung Yen, which is one of the largest suppliers of cotton materials for the Vietnamese garment industry…
Vu Phong Energy Group, on the other hand, has been promoting the construction of a number of projects in Hung Yen, Nam Dinh… Vu Phong engineers particularly abide by "5K" (Face masks, Disinfection, Distancing, No Gatherings, Health Declarations) standards. Engineers also conduct temperature checks at the construction gate at the start of each shift to actively prevent epidemics and work with customers to provide a safe working environment. In addition, Vu Phong Energy Group has finished the planning stages for a number of other projects, which will begin building as soon as Ho Chi Minh City and the southern provinces and cities loosen social distancing.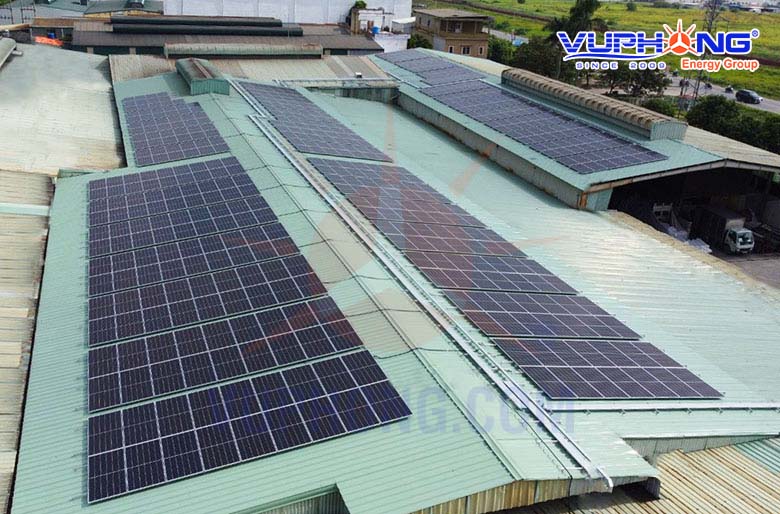 Solar power system at a factory in Hung Yen – newly installed by Vu Phong Energy Group in the midst of the Covid-19 epidemic
Recently, Vu Phong Energy Group and Steag collaborated to develop asset management solution packages (Asset Monitor, Asset Guide, and Asset Pilot) that are tailored to the needs of wind power plants in Vietnam, to bring maximum benefits for investors. Vu Phong also encourages ViSCADA product research and development to be released to the market as soon as possible. ViSCADA will be Vietnam's first remote monitoring and control platform for solar power systems, not only assisting investors in understanding the system's operational state, monitoring power output, and calculating return on investment. It also assists the power authority in monitoring solar power systems in real-time in each location, making system control more convenient.
The webinar on the topic: The optimal solution for O&M services and renewable asset management services – Introducing the solar panel cleaning robot – "100% Make in Vietnam" was another exceptional activity that Vu Phong Energy Group successfully implemented in September. The webinar had 300 participants, including many renewable energy project investors and energy industry engineers. The webinar received a positive response and lively discussion from the attendees. Following that, information on the webinar was published in a number of prominent media, including Business Forum Magazine and Vietnam+ (the official electronic newspaper of Vietnam News Agency) …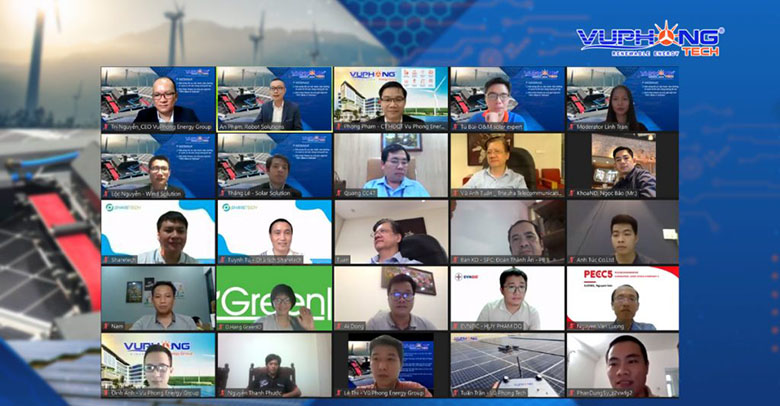 Webinar on renewable energy industry solutions was organized by Vu Phong Tech – Vu Phong Energy Group on September 10, 2021
Sharing activities with the community has always been an important part of Vu Phong. Vu Phong has made numerous journeys carrying food to support who in need, and those who are working day and night relentlessly to combat the sickness in hospitals and concentrated isolation zones. Many of the journeys to prolong the breathing of the Covid-19 patients through the oxygen ATM program, which is run by the Vietnam Youth Union in Ho Chi Minh City. At the same time, employees of the Vu Phong Energy Group donate blood voluntarily so that more people have a chance to live, in the context of a decrease in the national blood reserve owing to the impact of the Covid-19 outbreak.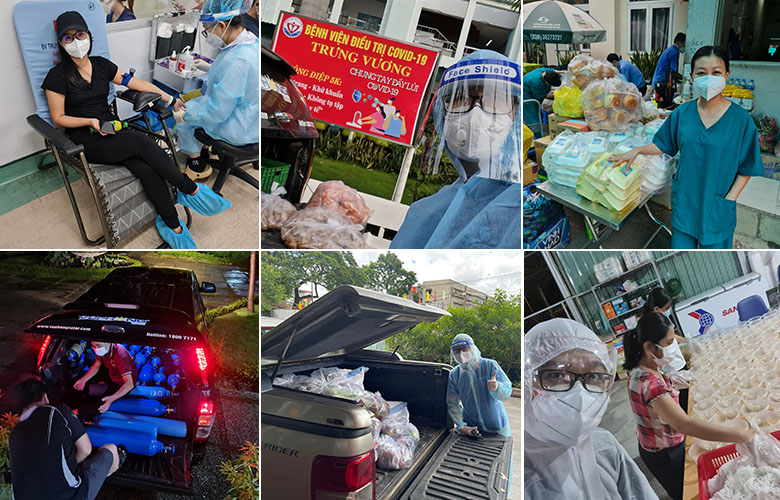 Vu Phong Energy Group spreads positive energy, join hands with the whole country to overcome the epidemic
In order to be best prepared for the upcoming "new normal," Vu Phong Energy Group has been proactive in administering Covid-19 vaccines to employees, as well as forming "New Normal" Departments to oversee. Develop medical declaration procedures, online check-in, response flowcharts in the event of F0, and implement the "New Normal Handbook" to help each employee have more specific information, practical to protect their health and that of their families, while also being more proactive in arising situations.
It can be said that the complicated development of the Covid-19 epidemic has put a lot of pressure on the Vu Phong Energy Group for a long time. However, with the initiative, Vu Phong has been rapidly innovating in the face of these challenges, in order to continue to develop and provide the highest services to customers, on the mission "Develop clean energy for the green environment and sustainable development".
Vũ Phong Energy Group