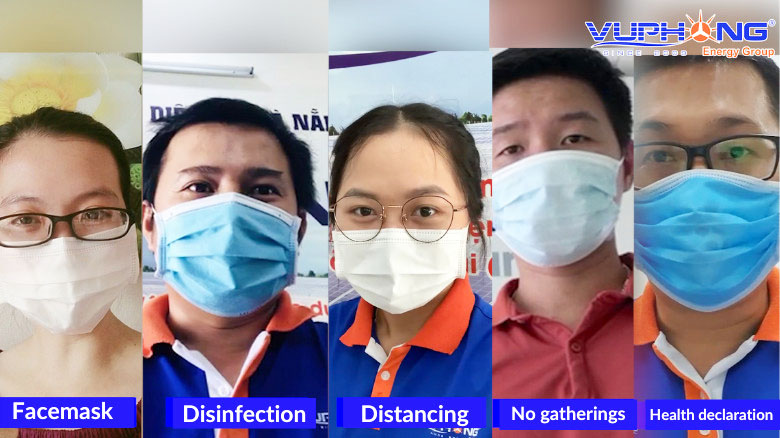 Vietnam is closely monitoring the fourth wave of the Covid-19 pandemic. Vu Phong Energy Group has implemented numerous epidemic prevention measures, joining forces with the entire country to combat the epidemic as quickly as possible while still providing the best customer service.
Starting June 1, 2021, all employees will work from home, using digital tools and online meetings to prevent and control the covid-19 pandemic, except for engineers working on construction sites, who will be self-imposed quarantined onsite, and a few personnel who will be assigned work at Head Office and representative offices.
However, regardless of position, follow the "5K" (Face Mask, Disinfection, Distance, Do Not Gather, Medical Declaration) is always prioritized. Engineers working on construction sites, in particular, have their body temperature checked regularly at the gate site, in addition to wearing masks, disinfecting, and adhering to the rules… Head Office and representative offices across the country, Vu Phong, are equipped with disinfectants for the convenience of employees and customers. Every day, every employee who comes into the office has their temperature taken. Employees of Vu Phong Energy Group must also sign a health declaration form.
With Vu Phong's people's proactive approach to overcoming the challenge, each Vu Phong Energy Group employee is doing their best to both serve customers well and work together to prevent epidemics!
These efforts, combined with customer cooperation, will have a greater positive impact on anti-epidemic work and ensure quality as well as project progress.
Customers who need assistance should call toll-free +84 9 1800 7171, or email hello@vuphong.com. Vu Phong is always willing to assist!
* Information materials from Thanh Nien, VTV 4, VTV 1, and VTV 24 were used in the production of the video. 
Read more:
Vu Phong Energy Group